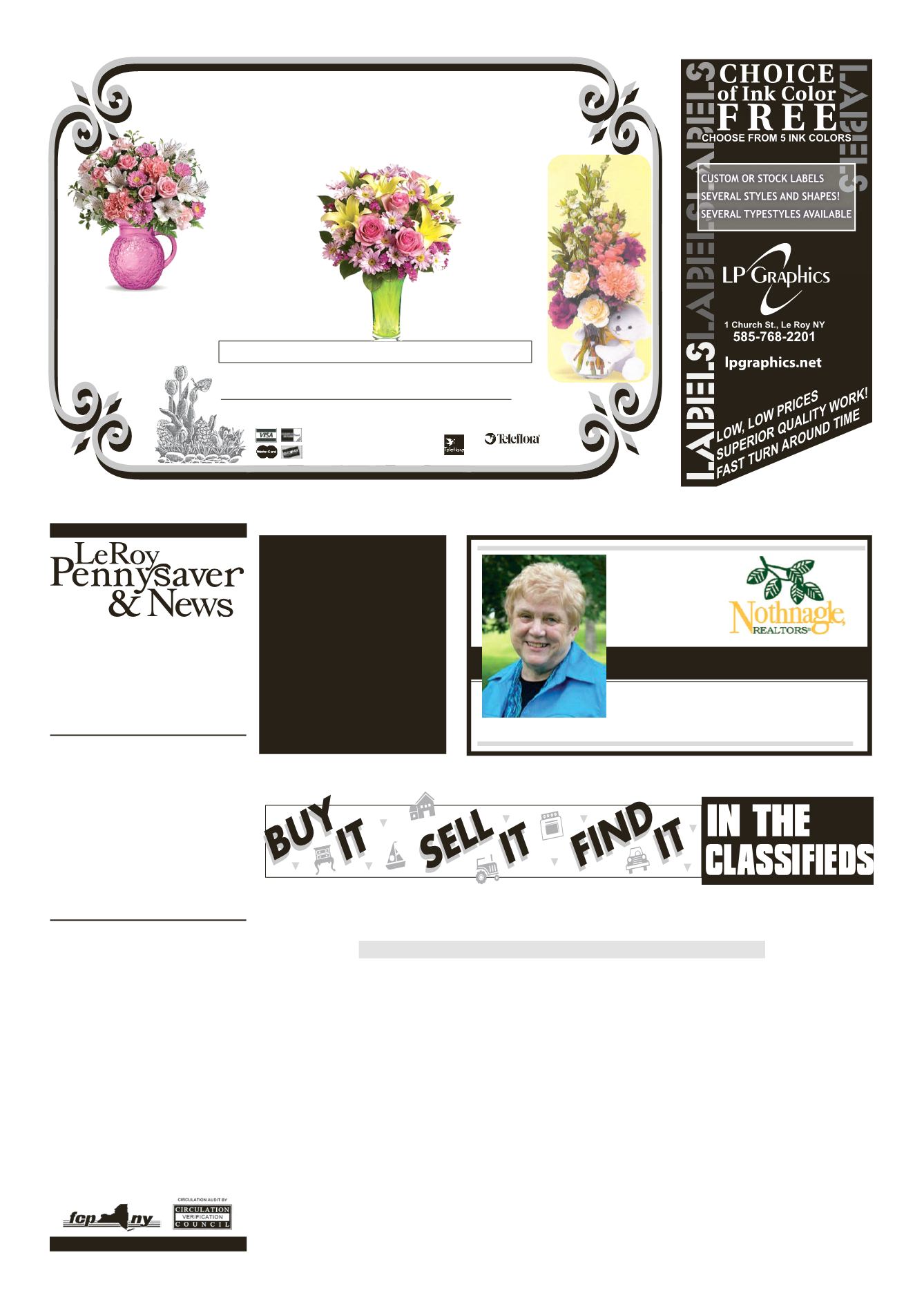 LEROYPENNYSAVER&NEWS - FEBRUARY 15, 2015
LeRoy'sBestAdvertisingMedium
The Le Roy Pennysaver will not knowingly accept or
publish advertising which is fraudulent or misleading
in nature. The publisher reserves the right to reject or
cancel anyadvertising.TheLeRoyPennysaverassumes
no financial responsibility for typographical errors in
advertisements, but if at fault, will reprint the portion of
the ad in which the error appears. Style, size of type
and locationof advertisement are left to thediscretionof
the publisher. The opinions expressed in this publication
are not necessarily those of the publisher. We cannot
guarantee the returnof photographs.
CALL
768-2201
NANCYCROCKER
LicensedReal EstateSalesperson
570EastMainStreet •Batavia, NewYork 14020
Cell: 585.314.7982 • Fax 585.343.8502
Multi-MillionDollar
Producer
LookatourWEBSITE for lotsof ideas
9
Lakestreet Florist&Gift Shoppe
WeDeliver To: LEROY, Byron, Bergen, Caledonia,Mumford, Pavilion,Wyoming, Stafford&Batavia
TelefloraWireServiceForFamily&FriendsOut of Town
768-7720
110LakeSt., LeRoy
HOURS:
M-T9-5:30
F 9-6:00
Sat. 9-4:00
byGreg "Porp"Rogers,
Mayor
The Village has accepted a
three year bid fromWasteMan-
agement to pick up garbage and
recyclables. The accepted bid
came in slightly lower than our
last contract with our last pro-
vider. Waste Management will
begin service on April 1st. Not
much will change, the day will
remain the same and the bag
charge the same. The bags tags
will be available at Tops, Wal-
greens,Woody's, Crocker's and
Save-A-Lot, LeRoy locations.
On January 30th the LeRoy
FireDepartmentheld theirannual
Banquet.DaleEhrhartwillbe the
newChief, replacingTomWood.
Onbehalfof theVillage,wewish
Dale good luck and thanks to
Tom for a job well done during
his tenure. Themost prestigious
honor of the night went toDave
Ehrhart for Fireman of theYear.
Davehasbeena top tenresponder
for decades, and has been a key
member since he started. We
would also like to extend our
thanksandgratitude toDaveand
the whole department for going
above and beyond to protect our
If you haven't noticed, we
have been getting hit pretty
hard by snow, Bob Lathan and
his crew have been working
diligently to keep the streets
and sidewalks clear. Please be
patient incaseswherewecannot
"Apupilwho is never required
to do what he cannot do, never
doeswhat he can do."
John StuartMill
Notes From TheMayor's Office