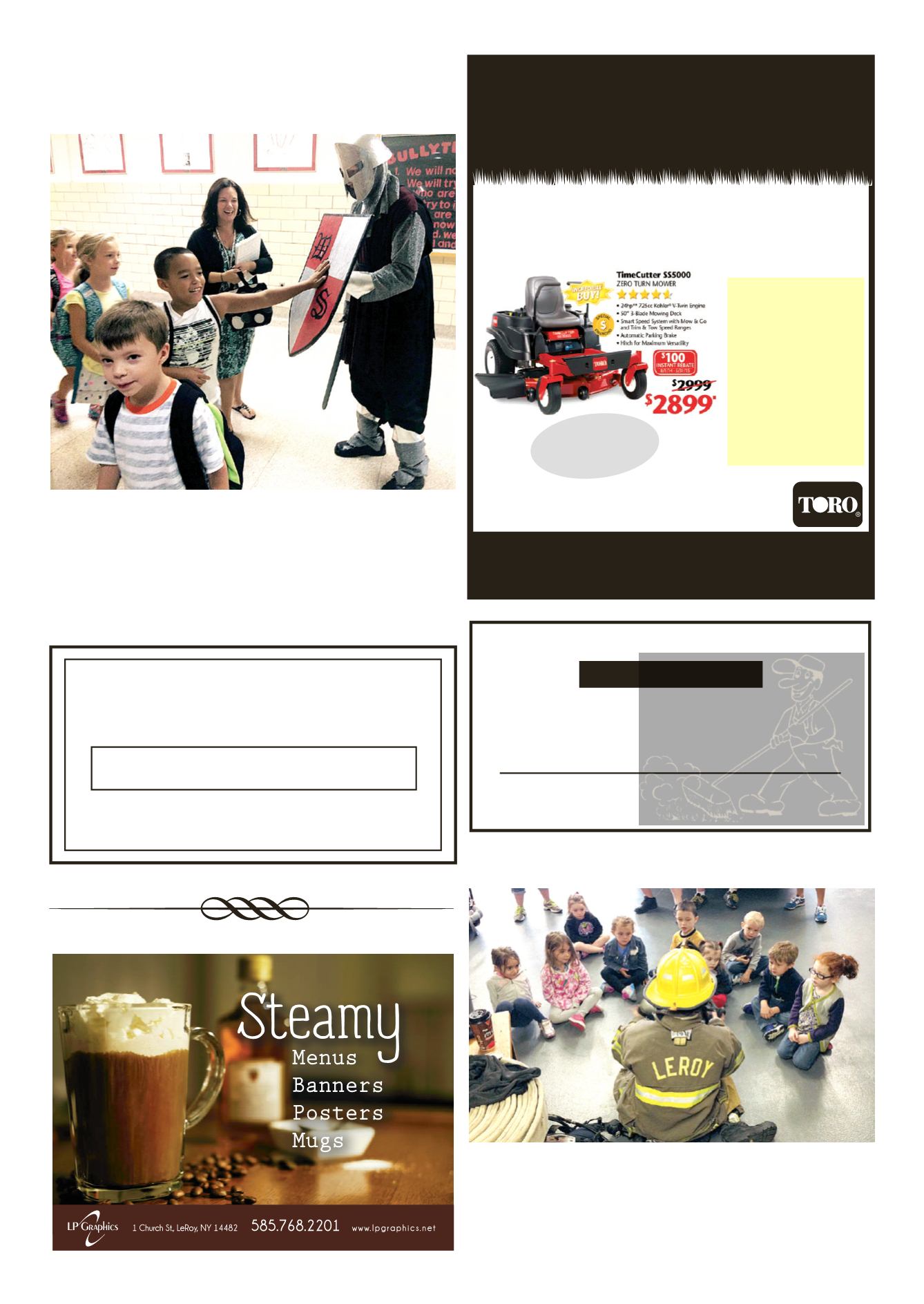 LEROYPENNYSAVER&NEWS -OCTOBER 12, 2014
TOROTimeMaster
TOROTitanMX6080
TOROZMaster 3000
LINWOOD
1818 LinwoodRd., Linwood, NY
HOURS:Mon.-Fri. 8am-5:00pm, Sat. 8am-12:00noon
0%
FinancingAvailable
QuantitiesLimitedTo
StockonHand
Snowblowers in stock!
Fall ServiceSpecials starting soon…
The students atWolcott Street School recently celebrated their
commitment tobuildingourcharactereducationprogram. This
included a series of daily events such as "Friendship Friday"
in which the students at each grade level wore the same color
andhad theirpicture takenwith their friends inaphotobooth.
They even had a guest appearance from the "Knight of Good
Character" at theirkick-off assembly!
WSSCharacter
Kick-OffWeek
SunshineNurserySchool'sPre-Kstudentsvisited theLeRoyFire
Department.They'vebeen learningabout fire safety, practicing
fire drills, "stay low and go" and how to yell "I'm over here!"
Picturedabove, firefighterChristina isputtingonherprotective
gear.Sunshinestudentshave learned that theyshouldn'tbeafraid
of thepersonbehind themask.
FireSafetyAt SNS
Plumbing • Heating
Installation&Repair Service
For All Residential &Commercial Work
CleaningService
•Carpet &UpholsteryCleaning
•Spot Cleaning&Odor Removal
•Tile&WoodFloor Cleaning&Waxing
•Complete Janitorial Services