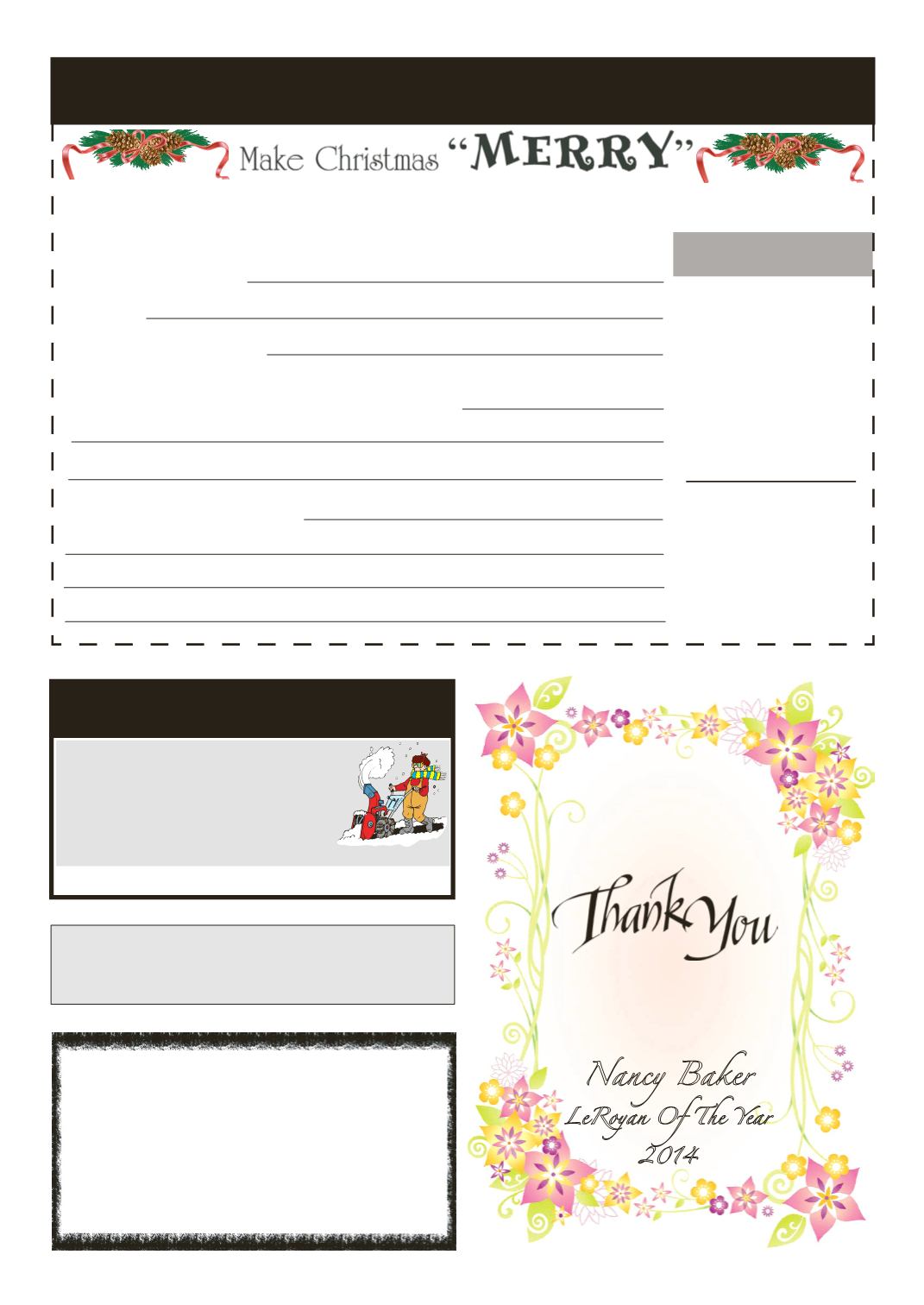 LEROYPENNYSAVER&NEWS -OCTOBER 12, 2014
SUPPORTYOUR LOCALADVERTISERS!
They help sponsor the local news section of the Le Roy Pennysaver.
THANKS FORYOUR SUPPORT!
• Engine andTransmissionRebuilds
• Lawn andGardenEquipment
•ATV's, Dirt Bikes • Light Equipment
• PickUp andDeliveryAvailable
• Snowblowers • Snowmobiles •Generators
TheLeRoyPantry&HelpFundwill be considering recipients for this year's food baskets andgifts programs. If youor if you know of
someonewho you feel should be considered, please fill out the formbelow: Applicantsmust live in the
LeRoyCentralSchoolDistrict.
MAILTO
LeRoyPantry&HelpFund
APPLICATION
DEADLINE
November 9th, 2014
Submitting aname does not
The allocations committeemust
balance need against available
resources andmust reserve for
itself the right tomake decisions
on its perceptionof greatest
need. Youwill be notified only
ALLWHOWISHTOBECONSIDEREDMUSTSUBMITTHISFORM
BasketsDelivered
Please stay at home.
Pickupmay be arranged
Established 1980
Prefer local number
(names, male or female and date of birth)
MaintenanceForemanCaledonia area,
$16.00 per hour, 401K, health insurance
anduseof company truck. Routinemaintenance,
light plumbing andelectrical and groundswork at
2 senior apartment complexes.
LeRoyPartnership
Williamsville, NY14221 or