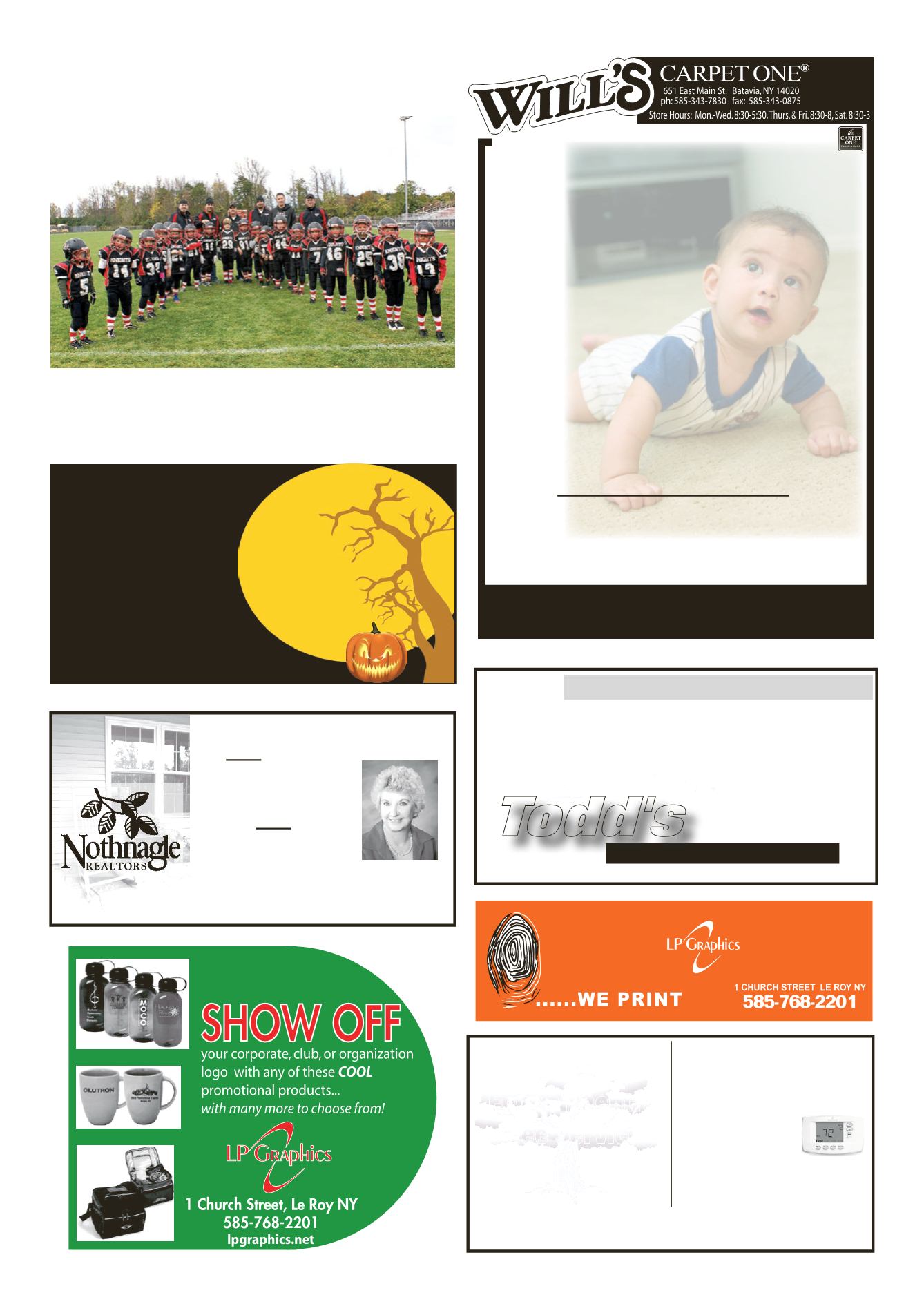 LEROYPENNYSAVER&NEWS -OCTOBER 12, 2014
FLOOR
&HOME
TheONE store for your perfect floor.
Malovich
Environmental
Tree Service
•TreeTrimming
•TreeRemoval
•StumpGrinding
FreeEstimates • Fully Insured
24Hour Service
• Residential
•MobileHomes
• ServiceRepairs
•New Installations
•ChimneyCleaning/Repairs
•ChimneyLiners
• Plumbing&Electrical
585-409-6509
NewHomes •Additions •Garages •PoleBarns
ToddCarli • Phone 703-0964
Todd's
Decks •Windows •Doors
Kitchens •Baths
CeramicTile
Basement Finishing
CustomShelves/Built-Ins
Siding •Remodeling
Roofing • SnowPlowing
FULLY INSURED
Urine-Off
™
Odor&Stain
Remover
"Now this is clean!"
• Eliminates all urine ... even cat urine!
• Removes all wine stains ... even oldones!
•Works onhardwood, carpet, concrete,
tile, fabric andmore!
MONEY-BACKGUARANTEE!
FIND IT!TREAT IT!
FinallySomethingThatWorks!
Batavia
585-343-6750
NOW is theBEST time
toBUYwith the interest rates
at their lowest!
Don't wait
toBUY -
call
LindaBeaumont
for all your real
estateneeds.
LindaBeaumont
Home (585) 768-6315
LicensedReal Estate
Salesperson
Multi-MillionDollar Producer
LeRoy's 1st Annual
Trick
orTrot
5KWalk/
Run
LHSEcologyClub
2:00pm
Saturday,
October25th
Treats forkids,Halloween
costume contest prizes, games.
Go to: Active.comorTRItheOatka.com
to register today.
The LeRoy Pee-Wee Football teamwore their striped socks at
theirgame lastSunday,Oct. 5th to show support for theRonald
McDonaldHouseofRochester.ThePeeWee team ismadeupof
LeRoy 1st& 2nd graders.Thekidswere really excited todo it!
LeRoyPeeWeeFootball
SupportsTheRonaldMcDonaldHouse
lpgraphics.net