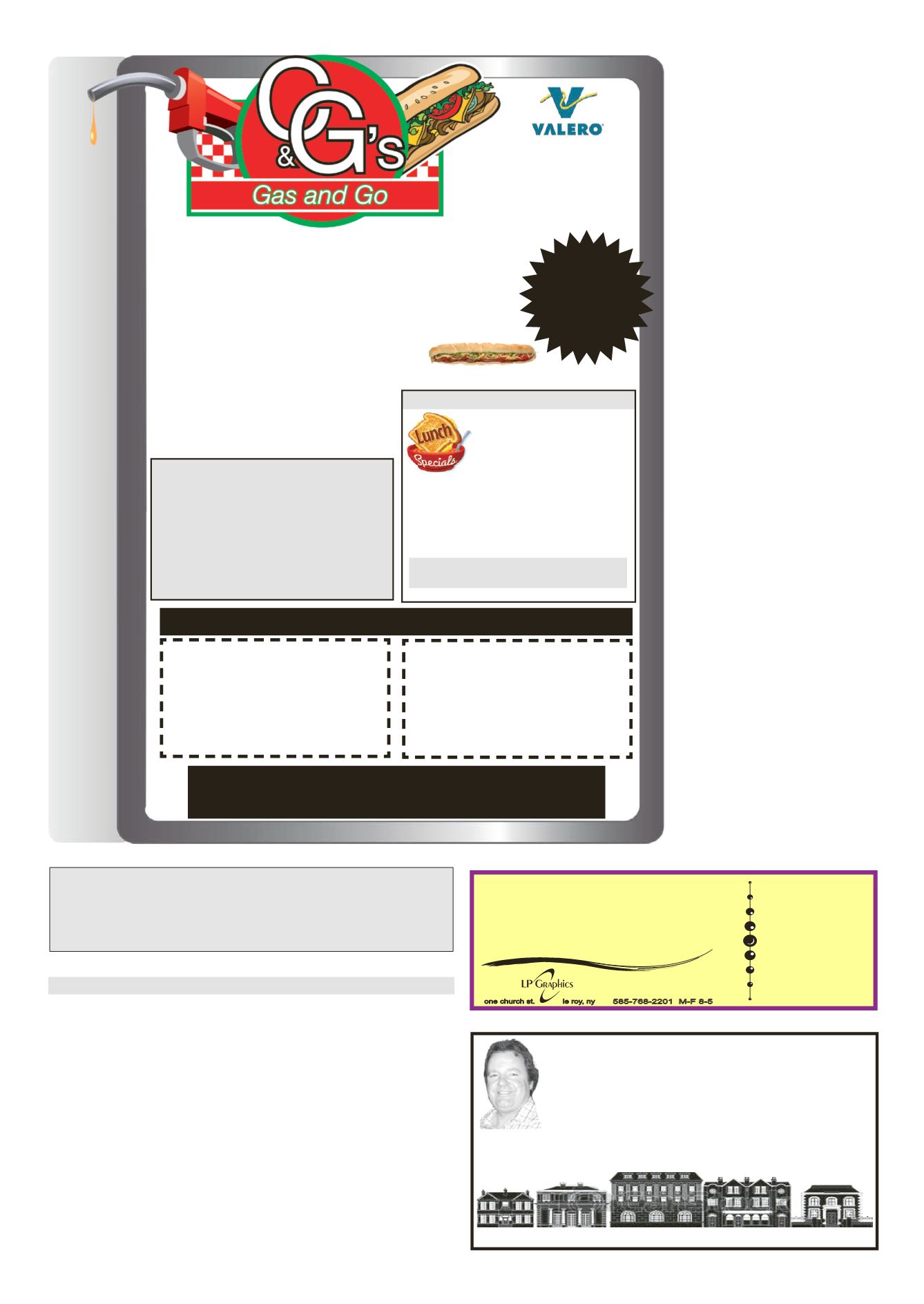 LEROYPENNYSAVER&NEWS -OCTOBER 12, 2014
SUPPORTYOUR LOCALADVERTISERS!
They help sponsor the local news section of the Le Roy Pennysaver.
THANKS FORYOUR SUPPORT!
FreeAnnual
Women's and
Men'sHealth
Screenings
UnitedMemorialMedicalCen-
ter and theCancer Services Part-
nership will provide free health
screenings to Genesee County
residents who meet specific age
criteria residents of Genesee
County,womenbetween theages
of 40-64 and men aged 50-64
withno insuranceorhighdeduct-
ibles, on Wednesday, October
29th from 4-8 pm at the Jerome
Center, 16Bank Street, Batavia.
Appointments are necessary for
For women age 40-64, nurse
midwife, Cecilia Stearns, MSN
will perform women's health
screenings, includingpapsmears,
pelvic exams and clinical breast
Guthinger,MDwillprovidepros-
tatescreenings tomenage50-64.
Additional services available at
theevent includemammography,
total cholesterol and take home
colorectal cancer screening kits.
All screenings will be pro-
vided at no charge. Funds are
available for follow-up care if
necessary. Please call United
Memorial's Healthy Living De-
partment to schedule an appoint-
ment at (585)344-5331. Light
refreshments, health information
and free giveaways will also be
Rider Real Estate
"Not TheBiggest, Just TheBest"
Howard E. Hotze, Jr.
Sales Associate
20YearsOf Appraisal&MortgageFinancing
Specializing InAssistingSeniors SellingTheirHomes
Cell Phone: 690-7811
"PeopleYouKnow&Trust"
byGreg "Porp"Rogers
Mayor
At the meeting on October
15th the Village Board will be
entertaining the ideaofdedicating
Fillmore St. to Robbins Road.
Thiswillbean informationmeet-
ing, and we hope to have much
input from thecommunity. There
will alsobeapublichearingona
zoning change at the PODMall
Lastly, we have changed our
meeting dates to October 15th,
Notes From TheMayor's Office
October 29th, November 19th,
and December 17th. Hopefully
this is not an inconvenience, but
this has been a holiday tradition
for November and December
meetings, the October meetings
where changed due to the public
"The first man to use abusive
language instead of his fist was
the founder of civilization."
one church st. le roy, ny
one church st. le roy, ny
Buy 1LargeCheesePizza
..................................$8.99
Get SecondLargeCheesePizza
.....................$5.00
Extra toppings $1.50.
NoCouponsPlease.
EARLY BIRD PIZZA SPECIAL!!
Sun. •Mon. •Tues. -LargeCheese - 16"
FRESHMADE TOORDER SUBS
ColdSub
......................$7.99
Hot Sub
.............................$8.99
MEAL DEAL
NoCouponsPlease
LargeCheesePizza&
12BuffaloWingsBone-in
CheckOut
Our GAS PRICE
5¢OFF
Every SUNDAY
ExpiresOctober 31st
ExpiresOctober 31st
NotGoodWith Specials
NoCouponsPlease
Saturday& Sunday ONLY
SUPERSUBSPECIAL
(ColdSub)
LotteryHasArrived!
Monday-Friday
$5.00
IncludesFountainDrink
Homemade Chili Available
Monday- 1/2HamSub&mac salad
Wednesday-Spaghetti&Meatballsw/garlicbread
Thursday- Sloppy Joe&bagof chips
Friday- Chili dog&bag of chips
All ComeWith16oz. Fountain
Drink orLargeCoffee!
*Subject to change