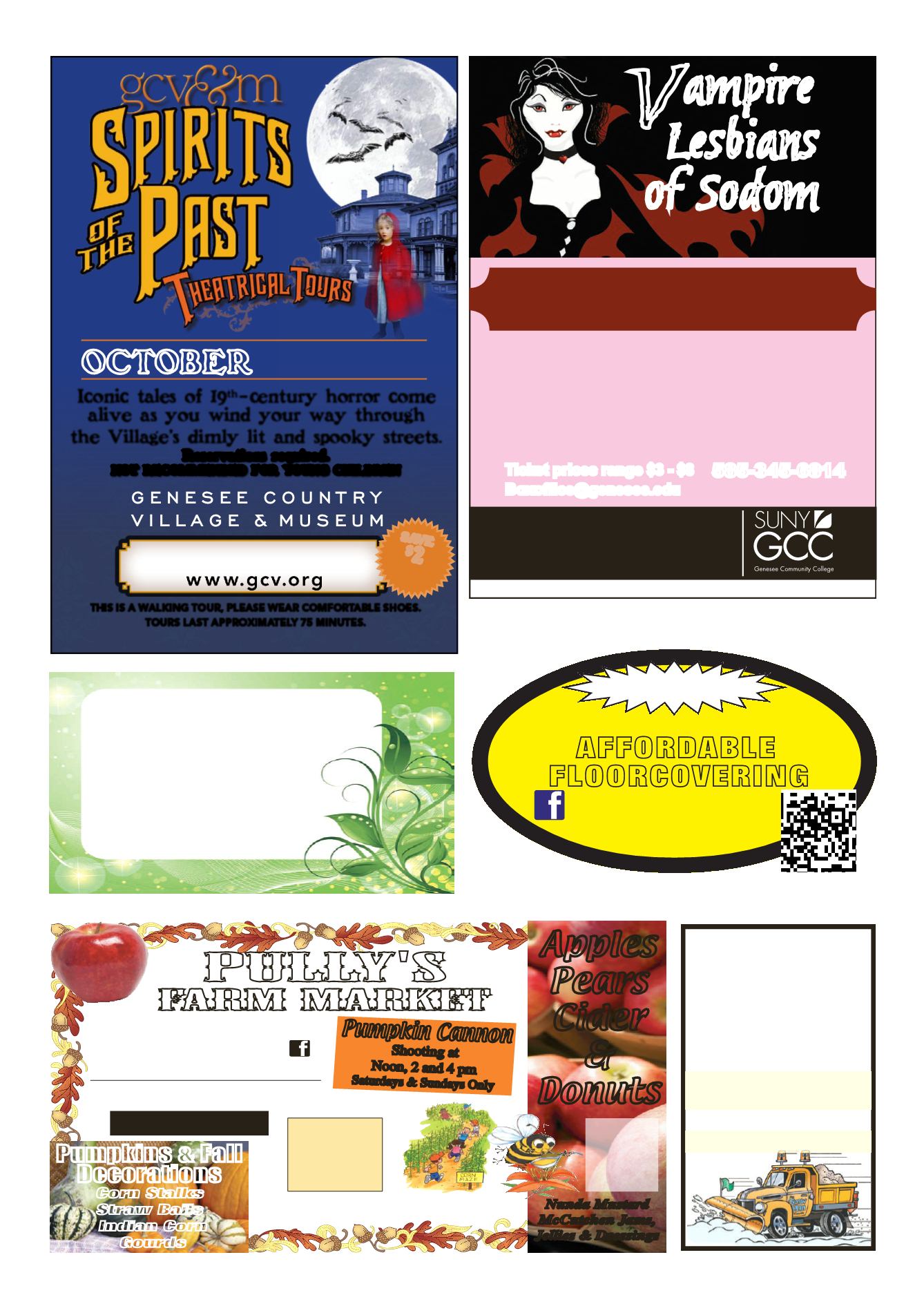 LEROYPENNYSAVER&NEWS -OCTOBER 12, 2014
8160LakeRd. (Rt. 19) LeRoy, NY
768-2280 • 704-1157
Hours:Mon.-Sat. 9-6, Sunday 9-5
pullysfarmmarket.com
• Sweet
Corn
• Fall
Squash
Corn Stalks
StrawBails
Indian Corn
Gourds
MUMS
Grown At Our Own Facility!
NundaMustard
McCutchenJams,
Jellies&Dressings
DuckRacesEVERYDAY!
CornBox!BirdSeed
CornMazeOPEN
VALU HOME PLAZA • WEST MAIN • BATAVIA
AFFORDABLE
FLOORCOVERING
AFFORDABLEFC.COM
585-345-1108
Tuesday-Friday 9-6
10
%
OFF
CASH&
CARRY
Stuart Steiner Theatre
OneCollegeRoad •Batavia, NY
Thurs.-Sat.,October 16-18@7:30p.m.
Sun.,October 19@2:00p.m.
With flashy costumes, awful puns and harmless
depravity –GCC's ForumPlayersEnsemble
brings to life the story of two fatally seductive
vampiresseswhose paths collide through time.
Ticket prices range$3 - $8
GeneseeCommunityCollege isan equal opportunity/affirmativeaction institution.
Presented by special arrangement withSamuel French, Inc.
Must be 16 yearsof age.
byCharlesBusch
CALL 585-538-6822 FOR RESERVATIONS
1410 FLINT HILL ROAD, MUMFORD, NY 14511
alive as you wind your way through
the Village's dimly lit and spooky streets.
NOT RECOMMENDED FOR YOUNG CHILDREN
THIS ISAWALKING TOUR, PLEASEWEARCOMFORTABLE SHOES.
TOURS LASTAPPROXIMATELY75MINUTES.
Stop inor send resumes to:
Bubba's Landscape
81 Lake St., LeRoy,NY 14482
i