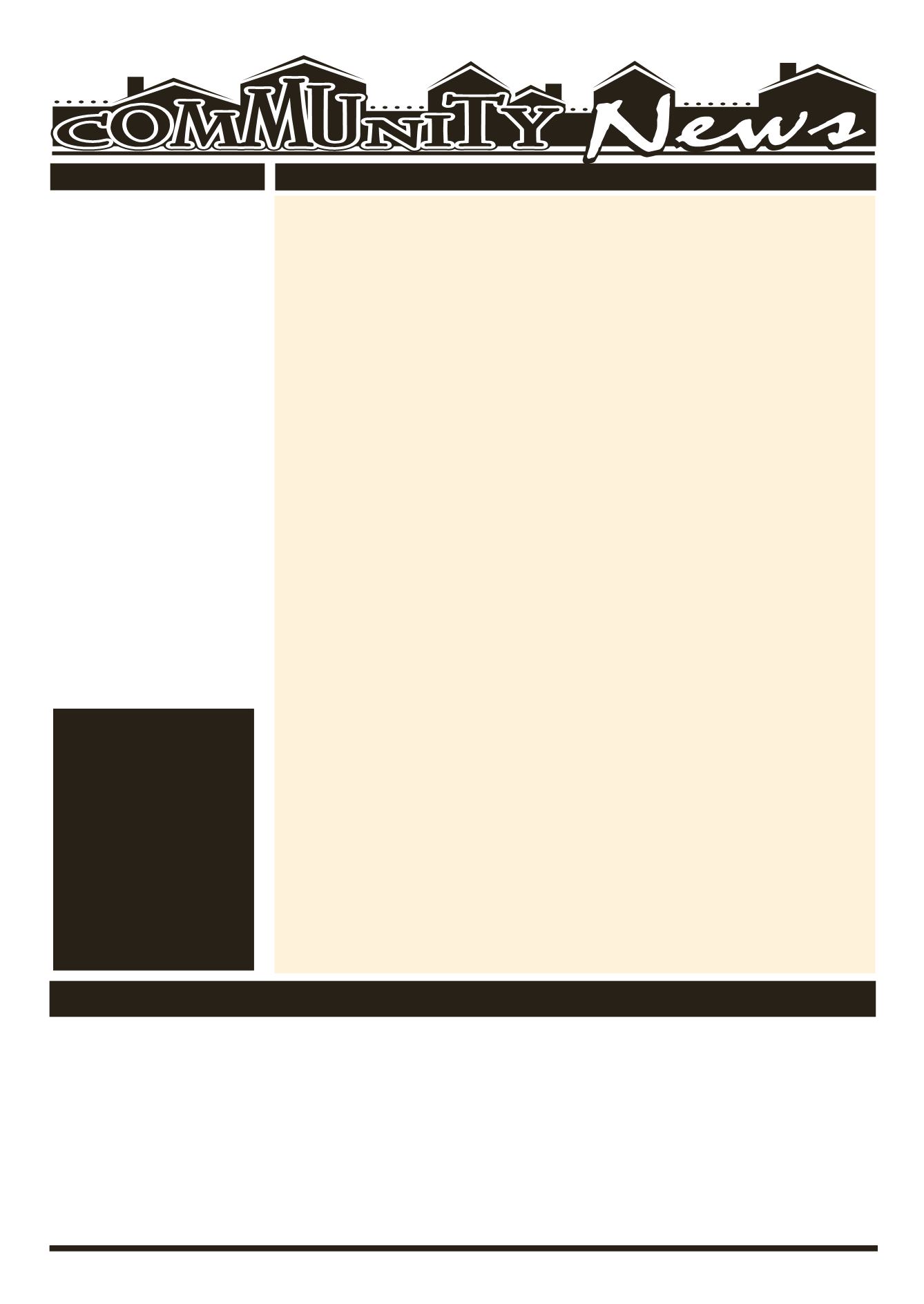 LEROYPENNYSAVER&NEWS -OCTOBER 12, 2014
Le Roy
Pennysaver
All GeneseeCounty residents, 60andolder, can takepart in thisweek'sactivitiesat theBataviaSenior Center, 2BankSt., Batavia. Formore information, call 343-1611.
WEEKLYEVENTS
OBITUARIES
ColumbusDayHoliday–SeniorCenterClosed
Alzheimer'sAssociationMeeting
Cribbage
FoodStampOutreachMeetin
RSVP/BHSDayof Caring
Quilters
are scheduled tomeet at 9:00 a.m.;
Euchregame
Tai Chi Class
GentleFitness
OPENEnrollmentVenderFair takesplace from10:00a.m. to4:00
p.m. …. LifespanMeeting
CribbageandBridge
is scheduled for 1:00p.m,;
MusicalKeyboardingLessons
LineDancingandArtClass
is set tobeginat 10:00am. ;
Euchre
is set tobeginat 1:00p.m.
SUNDAY,OCTOBER12
AWANA Program at Penuel Christian Fellowship.
Sundays 12:15 to 1:45 pm. Ages 5-17 broken into groups. Developing
friendships.Having fun. LearningaboutGod. Safeenvironment.
Konnect YouthGroup at LivingWaters Church,
Sundays from6:30 to8:30pm for ages12-18. "BringDownall theWalls!
ConnectwithGodandConnectwithothers." Formore information, check
usoutonlineat: livingwatersleroy.org/konnect-youth-ministry/
MONDAY,OCTOBER13
TOPS (TakeOffPounds Sensibly)
meetsMonday evenings from 6:30-
7:15pm at the LeRoy Presbyterian Church, corner of Clay&Main Streets.
Visitorsalwayswelcome. Call 768-2933 formore info.
TUESDAY,OCTOBER14
PreschoolStorytime:
EveryTuesdayat11amfeaturingstories,craftand
songsatPavilionPublicLibrary,5WoodrowDr.,Pavilion.For info:584-8843.
LCCP'sGRACE'SKITCHEN:
A FREEdinner everyTuesdayevening, 5-6:30
pmattheLeRoyUnitedMethodistChurch,10TrigonPark.Parkingavailable
onTrigonPark& the lots to the left andbackof theChurch.Handicapped
Entrance in the back of the Church. Takeout &delivery are available. For
WEDNESDAY,OCTOBER15
The Genesee Valley Civil War Roundtable
son-Hovey on"St. Alban's Raid" at 7 pm at the LeRoy UnitedMethodist
Church on Trigon Park in LeRoy NY. Please use the front door on the
far right at the end of the sidewalk. Discussion periodwill follow. New
members alwayswelcome. Itwill be amost interesting program. Doors
VillageofLeRoyBoardMeeting
,7pmattheVillageHall,3WestMainSt.
THURSDAY,OCTOBER16
Genesee Veterans Support Network
(GVSN) supports the develop-
ment of Veterans focused AAmeetings every Thursday, 6-7 pm at the
First Baptist Church, 306 E. Main St., Batavia. Meetings led by MikeW.
& are open to non-veterans aswell. Handicap accessible. For additional
information call 585-302-0825.
GRACE'SCLOSET:
A clothinggiveawayprogram
UnitedMethodistChurch,10TrigonPark,LeRoy 9:30amto11:30amevery
Thursday.Wehaveclothingforallages. FALL&WINTERclothingnowbeing
put inplace.Weare inneedofWARMER clothingespecially coats, jackets
boots,pajamas.Weneedbeddingofallkindsespeciallyblankets.Weaccept
donations be dropped off at the house next to the church. Please put all
bags INSIDEonthebackporch. NOELECTRONICS, COMPUTERS,DISHES,etc.
Anyquestions call theoffice768-8980.
Movie Showing of Million Dollar Arm
MemorialLibrary. Themovie isratedPGand is124minutes. Registration is
required. Call768-8300oronlineat
Gen.Co.2014Anti-RabiesImmunizationClinic,
wayGarage,58NorthSt.,LeRoy,NYat4:00to7:00pm.A$5.00voluntary
donation per dog, cat or ferret is appreciated to offset clinic expenses.
Nowavailable, save timebyfillingout your registration formbefore the
FRIDAY,OCTOBER17
PenuelChristianFellowship,
OneSteptoFreedomaddictionsministry,
aChrist CenteredAddictions program, aweeklymeetingevery Fridayat
7pm. Call theChurch formore informationat768-6901or406-3863.
FallFest:BookSale,PavilionPublicLibrary
Book Sale &Bake Sale, Sat., Oct. 18,
to 12:30 pm. Games for kids 11 am to 12 noon. Friends of the Library
membershipsanytime. Info: 584-8843.
SATURDAY,OCTOBER18
Tasty Chicken&Biscuit Dinner
at 1st Congregations Church of Riga,
7057Chili-RigaCenterRd.(Rt.33A&36),October18that4:30pm.Entree,
veggies, salad, beverages&pies!!!
UPCOMINGEVENTS
LCCP'sMommy&MePlaygroup: Every2nd&4th Friday,
1:30, Le Roy Physical Therapy (in the back gym). Anymoms and their
birth-kindergarten children arewelcome to come enjoy socialization,
lunch, coffee, structuredgames& freeplay.
Play eat and trick-or-treat
- Saturday, October 25 10 am to 2 pm
GeneseeCommunityCollege
, an indoor trick-or-treatandHalloween
partyforkidsfeaturingbouncehouses,facepainting,crafts,games,candy,
movieson thebig screen, anda special visit fromQueenElsa. Also, huge
basket raffle and food. Tickets are three dollars per trick-or-treater, all
proceedsbenefitWGCC90.7FM
TheStaffordHistorical Society
Annual FallHarvest
Auction
onWednesday,October22,2014at7:00P.M. in thecourt room
in the Town Hall, 8903 Route 237, Stafford, NY. Please contact Sue at
344-0834 if youwish to contributeusable-sellableproduceor items.
CommunityCalendar Submissions shouldbe sent to:
LEROY—JoanW.Mills,81,ofBlackStreetRoad,
LeRoy, passed away Thursday (Oct. 2, 2014) at
CrossroadsHouse inBatavia. In lieuof flowers the
familyasks thatmemorialsbemade toCrossroads
House, 11 Liberty St., Batavia, NY 14020; The
Leukemia Foundation, 1311 Mamaroneck Ave.,
Suite 310, White Plains, NY 10605; or The First
Presbyterian Church of Le Roy, 7 Clay St, Le
LE ROY — Richard D. Bastedo, 61, of East
Bethany-LeRoyRoad, a devoted and proud bus
operator forRTS,diedsuddenlyThursday (Oct.2,
2014). In lieuof flowersmemorialsmay bemade
toHospice of Orleans or the church.
PAVILION— Florence M. Crofoot died Sunday
(Oct. 5, 2014)at age95.Memorialsmaybemade
to thePavilionUnitedMethodistChurch, 11115E.
ParkSt., Pavilion, NY14525, or thePavilionFire
Department, POBox 156, Pavilion, NY 14525 in
CALEDONIA—Richard ''Hulio'' Vangalio, 63, of
Ida's Lane, passedawaySunday afternoon (Oct.
5, 2014) at home surroundedbyhis loving family.
Memorial contributionsaresuggested to theStray
AnimalFund,YorkAnimalHospital,2275MainSt.,
LE ROY— Kathleen M. Foster, 90, of Le Roy
passedawayonMonday (Oct.6,2014)atRoches-
terGeneral Hospital. In lieuof flowers,memorials
maybemade toGeneseeCancerAssistance, 16
BankSt., Batavia, NY14020.