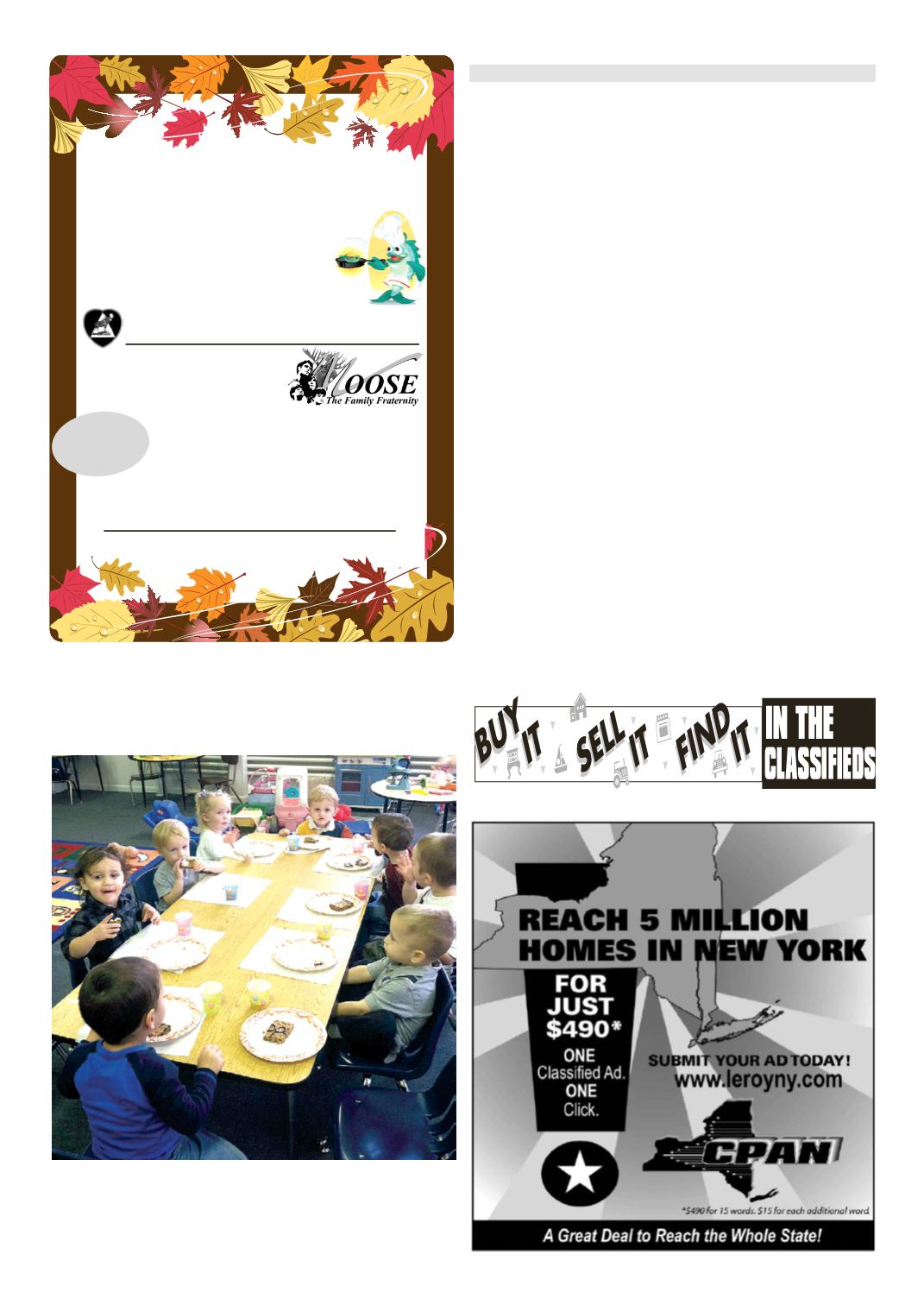 LEROYPENNYSAVER&NEWS -OCTOBER 12, 2014
byKimM. Cox
Superintendent of Schools
ItwasagloriousOctobermorn-
ing and approximately 300 chil-
drenand their familiesparticipat-
ed in "National Walk to School
Day". Theeagerpedestriansmet
bright andearlyat theKnightsof
Columbus to fuel up on healthy
snacks providedbymanygener-
ouspatronsand tohearsafety tips
fromLeRoyPoliceChief, Chris
The group then began its jour-
ney leadby theLeRoyDrumline
and the LeRoymascot "LeRoy
Knight". Asstudentsprogressed
on their walk, theywere greeted
bymany trustedadults that stand
ready to assist them each and
everydayon theirwalk toschool.
TheAnnualWalk toSchoolDay
is a national effort to encourage
walking to school as a safe and
healthy choice to get to school
eachday.Wellnesschairs, Jackie
Rehberg and Laurie Locke, and
the entire wellness committee,
planned thisevent.WolcottStreet
Principal Mrs. Messura stated,
"Walking to school is a positive
healthy lifestylechoice.Wehope
youwill do it every day."
TheWellnessCommitteewould
like to express their thanks and
gratitude to themany businesses
and individuals that donated
items to make the "Walk to
SchoolDay" a great success:
• Genesee County Health De-
•ChrisHaywardand theLeRoy
•GaryPriviteraandTheKnights
• Le Roy Jr./Sr. High School
StudentHelpers andDrumline
• The Le RoyBoard of Educa-
tion, Administrative Team and
You all helped to make this a
fun andmemorable event for all.
Can'twait until next year! Until
then, keepwalking to school!
FISH FRY
LeRoyWomenOf TheMoose, Chapter 370
21BankSt., LeRoy •768-6170
OpenTo
ThePublic
Saturday,Oct. 18th
5:00 to 8:00pm
TurkeyDinnerWithAll TheTrimmings, Dessert&Coffee
PLUS -DJBegins at 9:00pm
5:00 to 8:00pm
NewMenu Items&Weekly Specials!
ForMembers andQualifyingGuests
Full Menuand SaladBar Available!
The Playgroup children at Love Bugs Preschool have been
enjoying their first fewweeks of school. They've played games,
sang songs and painted special projects to bring home tomom
and dad. One of their favorite parts of themorning is coming
together to enjoy a yummy snack!
LittleBugsPlaygroup
IsBack!