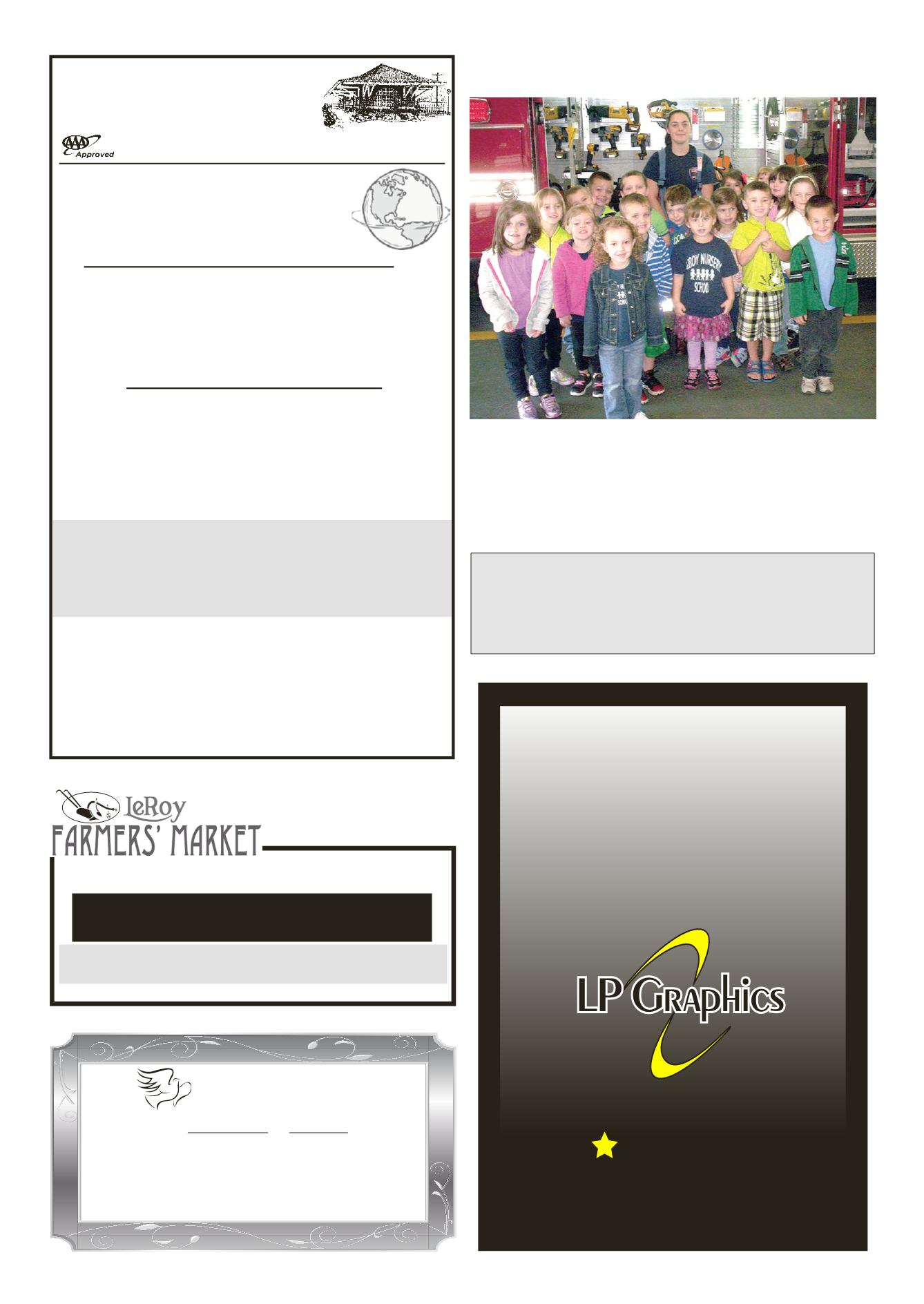 LEROYPENNYSAVER&NEWS -OCTOBER 12, 2014
D&RDepot
63LakeSt. (Rt. 19), LeRoy• 768-6270
Let'sMeetAt The ...
OpenForBreakfast, Lunch&Dinner - 7DaysAWeek 7am-9pm
F
ALCONE
F
AMILY
Funeral&Cremation Service, Inc.
Director/Owner
Director /Owner
FuneralDirector
Oneof thebest partsof traveling iseating the
local Fare. In case youdidn't get a chance to
globe trot thispast summer, we'regoing tohelp
you to take a culinary vacation. Our upcoming
all inclusiveSunday specialswill featuredishes
from around theworld! –And all for 17.99or less!
SUNDAY,OCTOBER 12thCOLUMBUSDAYWEEKEND
AROUNDTHEWORLDDINNERSPECIAL
We're off toSouthAfrica –The abundance of rain in the north allows
for bananas, pineapples&mangoes to grow,making delicious desserts.
TheDepot is featuringBoboie – aperfect blend of fresh anddried
fruits, lamb, beef& spices. Includes greenbean saladand tradi-
tional pineapple sherbet fordessert -
SUNDAY,OCTOBER 19th, DEPOTOKTOBERFESTBUFFET
Food has always been amajor part ofGerman culture. Even thewell-
knownGerman fairy tale, Hansel andGretel,makes reference to food.
Oktoberfest buffet includes sausage& cabbage soup,
sauerbraten& ginger snap gravy, bratwurst& sauerkraut,
spaetzel& greenbeans, potatopancakes, applekuchen,
German chocolate cake, breadpudding andmore!
It's not too early tomake yourThanksgivingDay dinner reservations
at the D&RDepot Restaurant serving dinner from 11 am - 7 pm on
ThanksgivingDay and featuring our famous 'leftovers to go'
offering a limited dinnermenu includingRoast Turkey, PrimeRibs of
Beef, Seafood dishes,Vegetarian options, Gluten free choices.
TheDepot's new sister company, DoubleLRentals - offering tables, chairs,
heaters, bars, linens, dishes& catering supplies for your special occasions!
10%Discount
when youuse both the
D&RCateringServices
andDoubleLRental for your event.
Visit doublelrental.com or call us at (585) 344-0023
SUPPORTYOUR LOCALADVERTISERS!
They help sponsor the local news section of the Le Roy Pennysaver.
THANKS FORYOUR SUPPORT!
eRoyFarmer'sMarket onFacebook
TRIGON PARK
Saturday, Oct. 11th
9:00 am-12:30 pm
LOCAL • FRESH•DELICIOUS •NUTRITIOUS
More variety arrivingweekly as the growing season progresses. Support your neighbor! Buy Local!
Jams, jellies, eggs, gluten free baked goods,Yancey'sFancyCheeses, Tracy's Teas,
NaturalDogTreats byEva, NundaMustards, OnceAgainNut Butters,
First Light CreameryCheeses andYogurts, bakedgoods, organic produce, honey,
maple syrup and fresh, locally grown produce.
alMarket for the 2014 season
LeRoyCubScouts Pack 23will be selling popcorn in our community booth.
LeRoyNurserySchool'sPre-KClassvisitedtheFireDept. to learn
aboutFireSafety.Theysawavideoabout safety tips, saw thefire
trucks and evengot togo in thebrandnewone. Picturedhere is
firefighterChristinawith the3DayClass.Shewasshowing them
all the important tools in the fire truck that they have to use.A
great beginning toFirePreventionWeek!
FireSafetyAtLNS
1CHURCHST, • LEROY, NY • lpgraphics.net
WEHANDLEALLASPECTSOFPRINTING...
PROGRAMS
LETTERHEADS
BILLHEADS
FLYERS
BROCHURES
POSTERS
CARBONLESSFORMS
ENVELOPES
RAFFLETICKETS
NEWSLETTERS
RESUMES
TYPESETTING
RUBBERSTAMPS
ENGRAVEDSIGNS
NAMETAGS
COPIES
LAMINATION
COMMUNITYFAX
NEWSANDPICTURES
ADVERTISING
BUSINESSCARDS
HOURS: Monday thruFriday 8:00 to 5:00