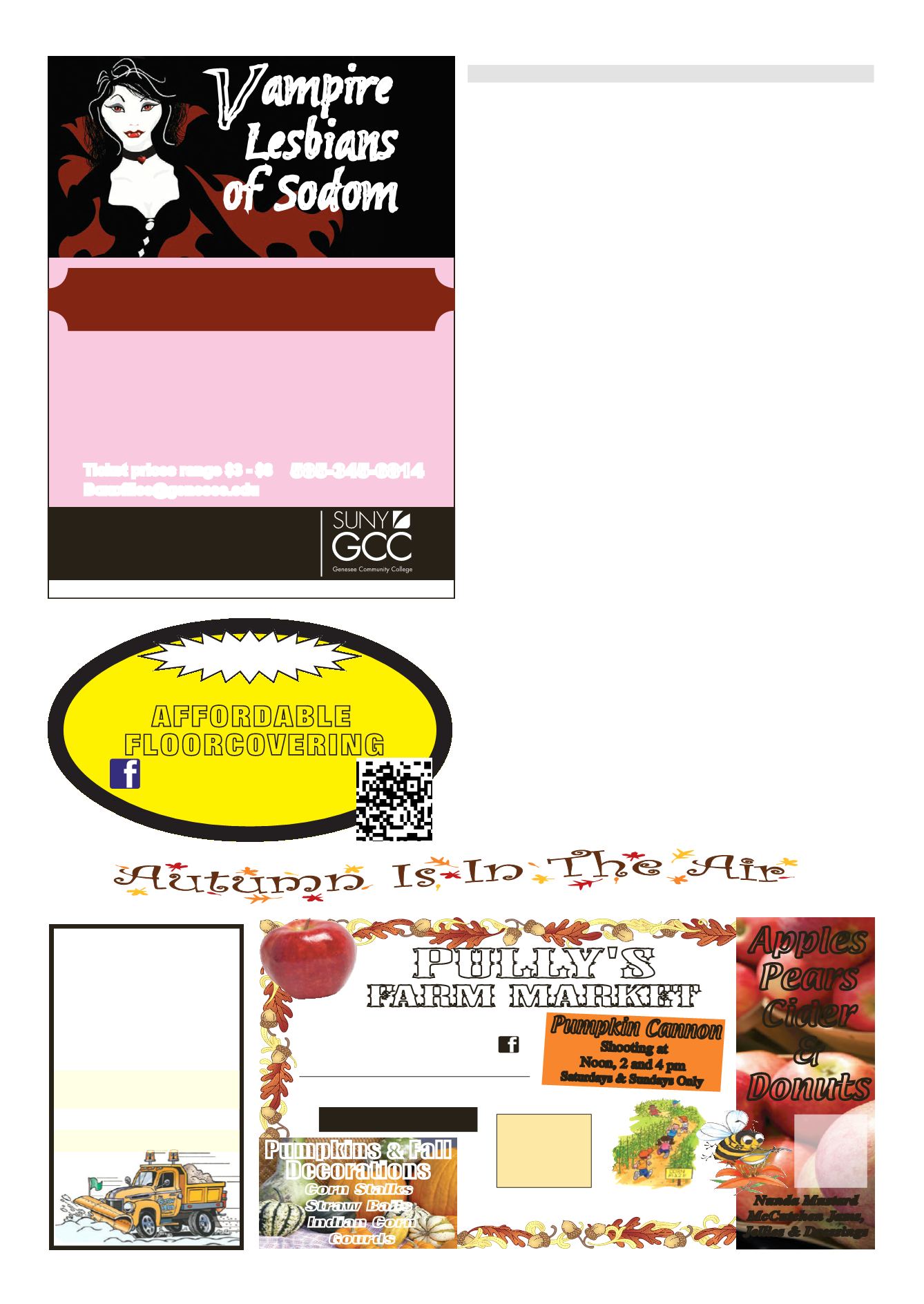 LE ROY PENNYSAVER & NEWS - OCTOBER 5, 2014
8160 Lake Rd. (Rt. 19) Le Roy, NY
1/2 mile south of Thruway
768-2280 • 704-1157
Hours: Mon.-Sat. 9-6, Sunday 9-5
pullysfarmmarket.com
• Sweet
Corn
• Fall
Squash
Corn Stalks
Straw Bails
Indian Corn
Gourds
MUMS
Grown At Our Own Facility!
Nunda Mustard
McCutchen Jams,
Jellies & Dressings
Duck Races EVERYDAY!
Corn Box! Bird Seed
Corn Maze OPEN
Stop in or send resumes to:
Bubba's Landscape
81 Lake St., LeRoy, NY 14482
i
by Kim Cox
Superintendent of Schools
Happy October!
year is off to a great start! We
were so pleased to welcome so
many of you to Open House and
Back-to-School Night at our
schools over the course of these
past weeks. Your participation in
your child's education is crucial
to their success. Please feel free
to contact us if you have any
questions or concerns regarding
your child's program. Together,
we will continue to seek ways to
help all students explore their full
academic and personal potential.
On Wednesday, October 8th,
the Wolcott Street School will
once again be participating in
Annual Walk to School
Day
to a great turnout. Please join
us at the Knights of Columbus
building on Main Street at 8:30
and walk to school with friends
"Friday
Morning Lights"
Welker, will be featuring Le
Roy Jr./Sr. High School next
Friday morning, October 10,
2014, beginning at 6:00 am. The
show will showcase fall sports
teams, the marching band and our
tremendous supportive student
body! Although not a school
day, we hope to have many Jr./
Sr. High students attend, dressed
in school colors, to support their
school. Please have students
report to the Jr./Sr. High School
gym at 6:30 am to participate.
This is a great opportunity to let
Le Roy shine. Let's show them
what pride in a community is all
about! Don't forget to tune into
WHAM Channel 13 and FOX
Channel 12 on October 10th!
Another fun fall activity is the
"Fall Fest"
by the Rotary Interact Club.
This year's festival will be held
Sunday, October 19, 2014 from
2:00-4:00 in Trigon Park. In case
of inclement weather, the festival
will be in the Trigon Building
Gymnasium. This is a fun filled
event for children 3 and up that
includes fall activities such as
pumpkin painting, bobbing for
apples, and even a costume
contest. The entire event is free
to all. The Interact Club is ask-
ing everyone to please bring a
non-perishable food item for the
local food pantry as a donation.
Be watching for more informa-
R.I. T. E. Projec
received a lot of positive feed-
back. For more information on
the project, please check out
R.I.T. E.
Project
I hope you and family have an
opportunity to enjoy the beauty
Stuart Steiner Theatre
One College Road • Batavia, NY
Thurs.-Sat., October 16-18 @ 7:30 p.m.
Sun., October 19 @ 2:00 p.m.
With flashy costumes, awful puns and harmless
depravity – GCC's Forum Players Ensemble
brings to life the story of two fatally seductive
vampiresses whose paths collide through time.
Ticket prices range $3 - $8
Genesee Community College is an equal opportunity/affirmative action institution.
Presented by special arrangement with Samuel French, Inc.
Must be 16 years of age.
by Charles Busch
VALU HOME PLAZA • WEST MAIN • BATAVIA
AFFORDABLE
FLOORCOVERING
AFFORDABLEFC . COM
585-345-1108
Tuesday-Friday 9-6
10
%
OFF
CASH &
CARRY