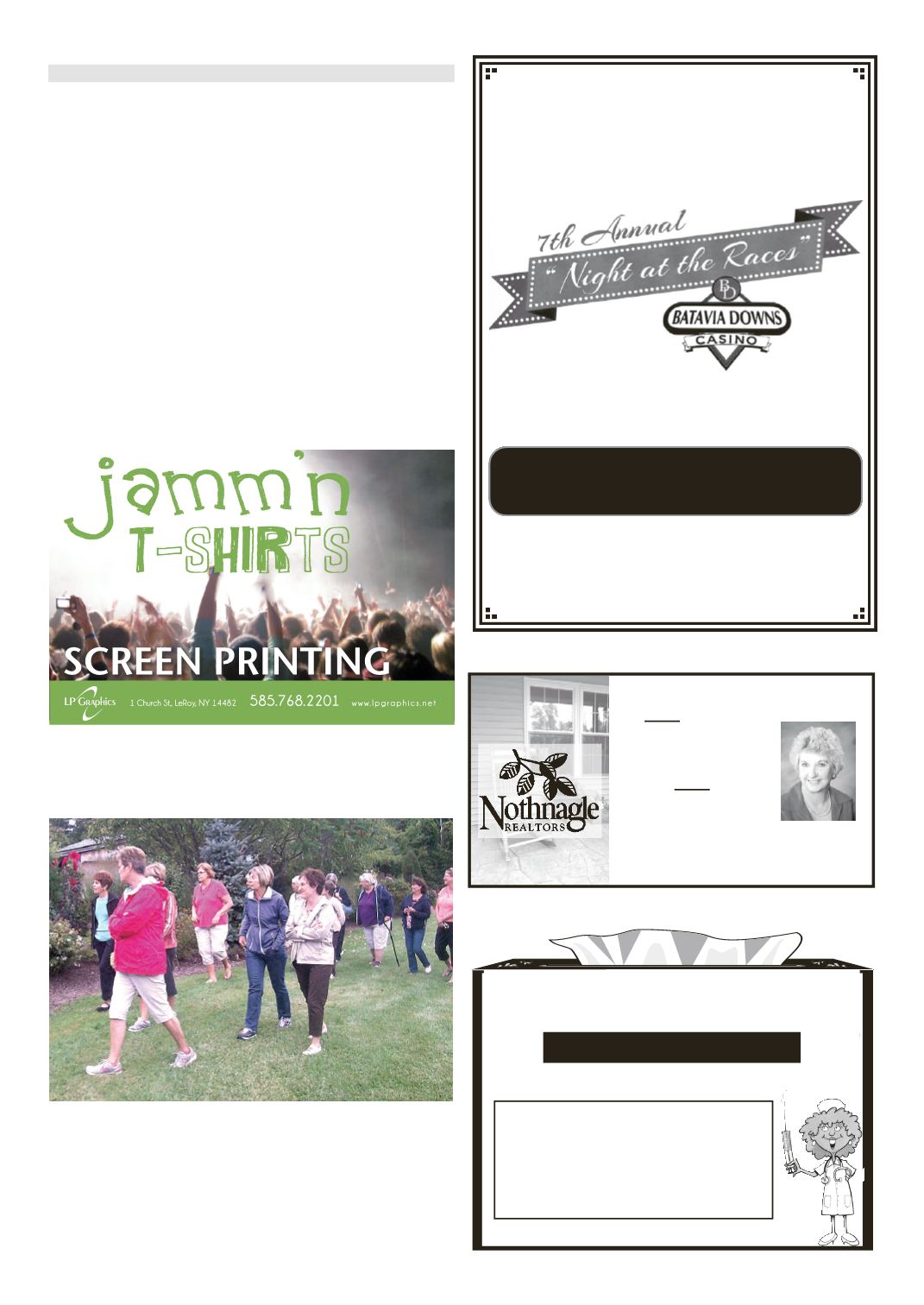 LE ROY PENNYSAVER & NEWS - OCTOBER 5, 2014
Batavia
585-343-6750
NOW is the BEST time
to BUY with the interest rates
at their lowest!
Don't wait
to BUY -
call
Linda Beaumont
for all your real
estate needs.
Linda Beaumont
Home (585) 768-6315
Licensed Real Estate
Salesperson
Multi-Million Dollar Producer
ATTENTION PATIENTS OF
Le Roy Family Medical Care
FLU SHOT CLINICS
Please call 768-4400 to schedule your appt.
by Greg "Porp" Rogers
Mayor
On behalf of the Village, I would
like to extend a huge congratula-
tion to the Loyal Order of the
Moose of LeRoy on celebrating
100 years of community service.
The good works of the Club are
far reaching and too numerous to
mention, but their generosity and
community dedication are second
to none. If you would like to be
part of something special and
look out for your fellow man,
think about joining the Moose
Club, it will be very rewarding.
The Elm Street project is finally
complete; hopefully the work done
will eliminate the standing water
we used to get during heavy rains.
Leaf season will be here be-
fore we know it. Please keep
the leaves out of the street and
up on the terrace, this will keep
the drains clear and eliminate
unnecessary work to unclog the
The Farmers' Market is coming
to a close soon, so take time to
patronize our local farmers and
stand operators at this event, the
market is part of the charm of
the Village and Upstate living at
"Be not afraid of going slowly
be afraid of standing still" Chi-
Notes From The Mayor's Office
Assemblyman Steve Hawley
ASSISTANT MINORITY LEADER
Rob Astorino
CANDIDATE N.Y.S. GOVERNOR
(ARRIVING APPROX. 8:30PM)
October 15 • 6pm till ?
Includes Cocktails, Hearty Hors d'Oeuvres,
$25 Free Play per person
Call for info 585-356-0686
$60 per Guest, $100 per Couple
Please RSVP by October 8th
The September meeting of the LeRoy Town & Country Garden
Club was held at Carol Grooms' home. Shown here are Garden
Club members strolling through her gardens. Carol gave us an
informative & pleasurable tour of her diverse collection of flow-
ers, shrubs, trees and decorations. The October meeting will be
held on the 8th in Batavia.Amanda and Lance Taylor will help us
make an item out of glass. For information contact AnnWalters
at 737-9481 or 768-8130.
Garden Cub
Enjoyed A Tour