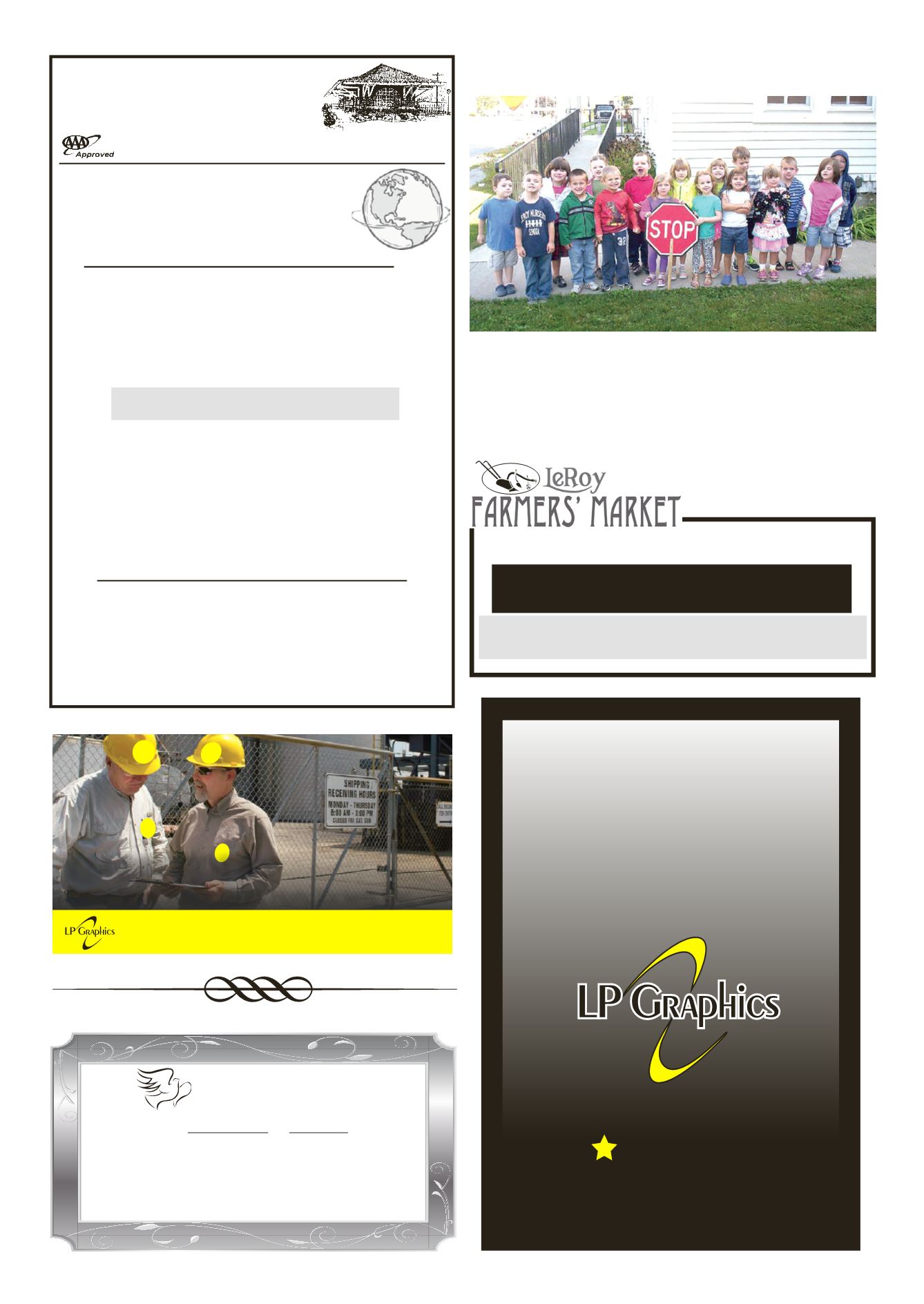 LE ROY PENNYSAVER & NEWS - OCTOBER 5, 2014
D & R Depot
63 Lake St. (Rt. 19), LeRoy • 768-6270
Let's Meet At The ...
Open For Breakfast, Lunch & Dinner - 7 Days A Week 7 am-9 pm
F
ALCONE
F
AMILY
Funeral & Cremation Service, Inc.
Director/Owner
Director / Owner
Funeral Director
One of the best parts of traveling is eating the
local Fare. In case you didn't get a chance to
globe trot this past summer, we're going to help
you to take a culinary vacation. Our upcoming
all inclusive Sunday specials will feature dishes
from around the world! – And all for 17.99 or less!
SUNDAY, OCTOBER 12th COLUMBUS DAY WEEKEND
AROUND THE WORLD DINNER SPECIAL
We're off to South Africa – The abundance of rain in the north allows
for bananas, pineapples & mangoes to grow, making delicious desserts.
The Depot is featuring Boboie – a perfect blend of fresh and dried
fruits, lamb, beef & spices. Includes green bean salad and tradi-
tional pineapple sherbet for dessert -
COLUMBUS DAY MONDAY
the Depot is open regular hours – 7 am til 9 pm
SUNDAY, OCTOBER 19th
DEPOT OKTOBERFEST BUFFET
Food has always been a major part of German culture.
Even the well-known German fairy tale, Hansel and Gretel,
Oktoberfest buffet includes Sausage & Cabbage Soup,
Sauerbraten & Ginger Snap Gravy, Bratwurst & Sauerkraut,
Spaetzel & Green Beans, Potato Pancakes, Apple Kuchen,
German Chocolate Cake, Bread Pudding and more!
The Depot's new sister company, Double L Rentals - offering tables, chairs,
heaters, bars, linens, dishes & catering supplies for your special occasions!
10% Discount
when you use both the
D & R Catering Services
and Double L Rental for your event.
Visit doublelrental.com or call us at (585) 344-0023
• Le Roy Farmer's Market on Facebook
TRIGON PARK
Saturday, Oct. 11th
9:00 am-12:30 pm
LOCAL • FRESH • DELICIOUS • NUTRITIOUS
More variety arriving weekly as the growing season progresses. Support your neighbor! Buy Local!
Jams, jellies, eggs, gluten free baked goods, Yancey's Fancy Cheeses, Tracy's Teas,
Natural Dog Treats by Eva, Nunda Mustards, Once Again Nut Butters,
First Light Creamery Cheeses and Yogurts, baked goods, organic produce, honey,
maple syrup and fresh, locally grown produce.
1
e selling popcorn and Sunshine Nursery School will
10/11 -
Final Market for the 2014 season- LeRoy Cub Scouts Pack 23 will be selling popcorn.
LeRoy Nursery School had their annual visit from Myrtle the
famous Crossing Guard. She told the children about what she
does to keep people safe. Then she took them outside for a walk
and taught them to always walk on the sidewalks, cross at the
crosswalks and obey the signs. A very important lesson for the
many walking field trips they go on.
LNS Teaches Street Safety
Dress Shirts, Polos, Vests, Hats, Jackets, Etc.
1 Church St.
LeRoy, NY 14482
585.768.2201
1 CHURCH ST, • LE ROY, NY • lpgraphics.net
WE HANDLE ALL ASPECTS OF PRINTING...
PROGRAMS
LETTERHEADS
BILL HEADS
FLYERS
BROCHURES
POSTERS
CARBONLESS FORMS
ENVELOPES
RAFFLE TICKETS
NEWSLETTERS
RESUMES
TYPESETTING
RUBBER STAMPS
ENGRAVED SIGNS
NAME TAGS
COPIES
LAMINATION
COMMUNITY FAX
NEWS AND PICTURES
ADVERTISING
BUSINESS CARDS
HOURS: Monday thru Friday 8:00 to 5:00