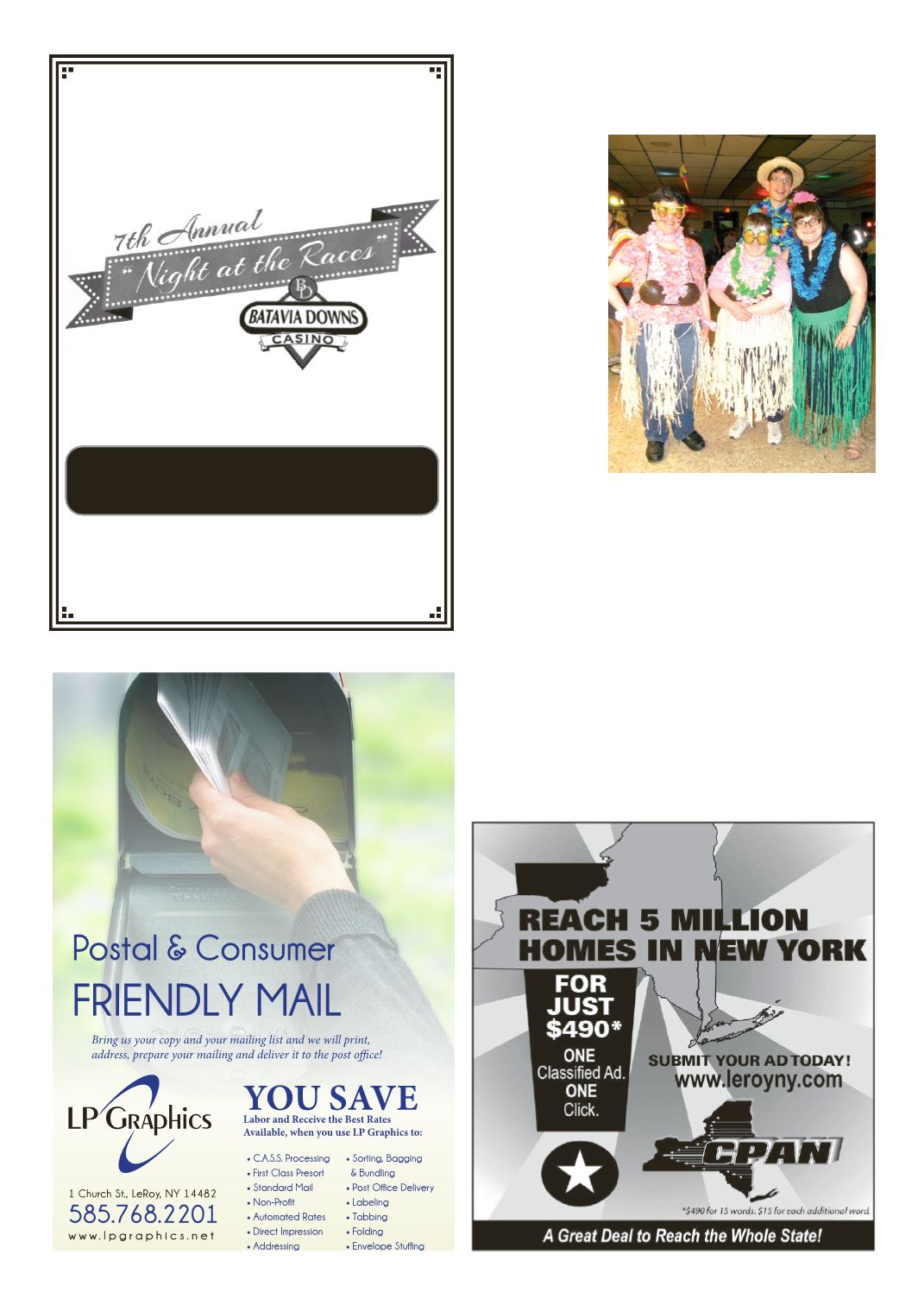 LE ROY PENNYSAVER & NEWS - OCTOBER 5, 2014
colorful shirts, some even came
wearing grass skirts with coconut
tops! DJ, Tom, played Hawaiian
and other standard favorite tunes
and folks partnered up and danced.
Half way through the night the
volunteers brought out the Limbo
stick and folks lined up to do their
best dancing under the stick. The
usual circle dances ended with the
birthday song for those with May
The DJ announced that there
would be only 3 dances during
the 11th season. Also, due to
water damage at the Byron Fire
Hall, the upcoming dance, the
Halloween Dance will be held at
the South Byron Fire Hall on Rt.
237 on Thursday, October 16th.
The 6:30 pm-8:30 pm time will
remain the same. The South Byron
Fire Department was kind enough
to allow us the use of their hall.
A handicapped entrance in the
back of the hall will allow those
with mobility issues to enter at
The dances are sponsored by
Byron Ladies Auxiliary, and are
open to all folks with developmen-
tal disabilities ages 13 and up liv-
ing in Genesee County, adequate
supervision is required. Anyone
wanting more information may
call Pat Iamon at 245-2918 or
Hawaiian Dance Ends
10th Season
Assemblyman Steve Hawley
ASSISTANT MINORITY LEADER
Rob Astorino
CANDIDATE N.Y.S. GOVERNOR
(ARRIVING APPROX. 8:30PM)
October 15 • 6pm till ?
Includes Cocktails, Hearty Hors d'Oeuvres,
$25 Free Play per person
Call for info 585-356-0686
$60 per Guest, $100 per Couple
Please RSVP by October 8th