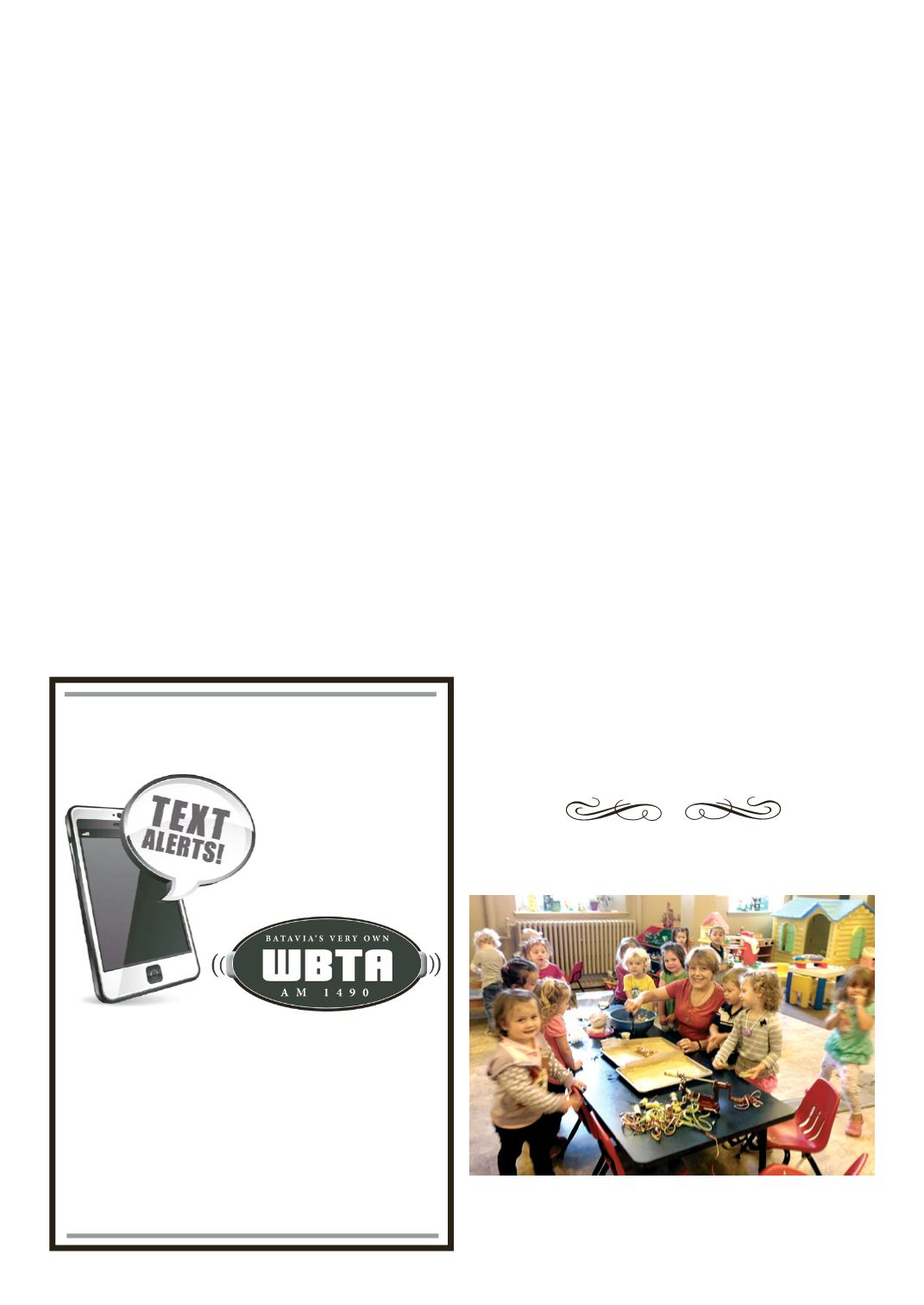 LE ROY PENNYSAVER & NEWS - OCTOBER 5, 2014
SIGN UP TODAY!
GET ONLY THE
NEWS YOU
CHOOSE
FROM
New! Sign up for TEXT ALERTS.
Get only the news you choose!
Be the first to know about Severe Weather,
Breaking Local News, Traffic Advisories &d School Closings.
Sign up today for WBTA Text Alerts.
You need to only supply your cell phone number
and select the services you want to receive.
We will never sell your information to anyone.
WBTAi.com
LeRoy Youth Football
LeRoy Juniors Shut Out Avon 36-0
The LeRoy Junior Football
team extended their winning
streak to 5, behind a strong
defensive effort and balanced
Avon began the game by mov-
ing the ball deep into LeRoy
territory. Consecutive tackles for
loss by RileyWilliams and Drew
Strollo however would cause a
turnover on downs and give the
ball to the Junior Knights. Strollo
started the drive out with a 46
yard burst up the middle. Hard
running by Williams and Tony
Piazza would put the Knights
in scoring position. Tommy
Condidorio would cash in on
the opportunity with a slick 3
yard TD run. Strollo punched in
the conversion attempt to give
The Knights defense continued
their momentum as Will Esch-
berger recovered a fumble on
Avon's 2nd play of their ensuing
drive. LeRoy capitalized on the
short field, with Drew Strollo
scoring a 3 yard TD only 4
plays later. LeRoy's conversion
attempt failed, leaving the lead
Jack Tonzi's return to the lineup
sparked the team, and was no
more evident than his 3 straight
tackles on Avon's next pos-
session. The Knights offense
took over again, however lost
a fumble after several positive
runs. The defense again stood
strong, forcing Avon into pass-
ing situations. On 3rd down,
pressure from Antonio Martinez
and Drew Strollo rushed a throw
by the Avon QB. Jackson Fix
jumped the wide receiver's route,
picking off the pass for his first
career interception. But Fix was
not done there… sprung by a
monster block by RileyWilliams,
Fix flew down the sideline for a
44 yard return touchdown which
his teammates quickly labeled the
"Fix Six." A failed conversion at-
tempt and short alternating stalled
drives by Avon and LeRoy left
the score LeRoy 20-0 at halftime.
LeRoy's offense took the field
for the beginning of the second
half. The offense used a com-
bination of runs and passes to
consistently attain first downs,
moving the team into the red
zone. Tommy Condidorio then
threw a perfectly placed pass to
tight end Bryce Lathan, placing
the ball where only his intended
receiver could make the recep-
tion. Lathan made the outstanding
over the shoulder catch, and then
rumbled the final few yards into
the endzone for a touchdown.
Ryan Higgins plowed into the
endzone to make the conversion,
extending the LeRoy lead to 28-0.
Avon threatened on their next
drive; however LeRoy's defense
stiffened up giving the ball back
to their offense. Strong runs by
Landen Saeva, Tony Piazza, and
Ayden Riggi moved the chains for
the Knights. Nate Yauchzee then
took a handoff and bolted 44 yards
for LeRoy's final TD of the day.
Bryson Gentile bruised ahead for
the successful conversion, closing
Nate Yauchzee led the Knights
balanced running game with 88
yards and a TD. Drew Strollo ran
for 72 yards including a TD and
conversion and also had 5 receiv-
ing yards. Riley Williams ran for
56 yards and Tony Piazza added
35. Tommy Condidorio ran for 12
yards and a TD, and also threw
for 20 yards and a TD. Bryce
Lathan ran for 4 yards and had
a 15 yard TD catch. Jackson Fix
ran for 17 yards, while Ryan Shir-
ley, Landen Saeva, and Ayden
Riggi also toted the rock. Ryan
Higgins contributed 10 yards
rushing including a conversion
while Bryson Gentile also made
The Knights defensive effort
was highlighted by Jackson Fix
with an interception return for
TD and 3 tackles. Drew Strollo
led the squad with 10 tackles,
including 5 for loss. Jack Tonzi
added 5 tackles (2 for loss) while
defensive ends Ryan Higgins and
RileyWilliams both had 4 tackles
(2 for loss) each. Other standouts
defensively with multiple tackles
were Tony Piazza (3), Antonio
Martinez (3), Ayden Riggi (3
for loss), Bryce Lathan (2), Cole
Friedhaber (2), Will Eschberger
(2 plus a fumble recovery), Ryan
Shirley (2), Nate Yauchzee (2),
Bryson Gentile (2), and Zach
Tooley (2 including 1 for loss).
Kaden Burger, Ben Robinson,
and Connor Hegeman also made
The Junior Knights return home
to Hartwood Park on Sunday Oc-
tober 5th for a showdown with the
Dansville Mustangs at 12 Noon.
Sunshine's Nursery students have been learning all about apples.
They have peeled them, baked them, tasted them and even picked
some from trees at the RoanokeApple Farm. The students above
are preparing apples to put in an apple pie. Yum!
A Is For Apples!