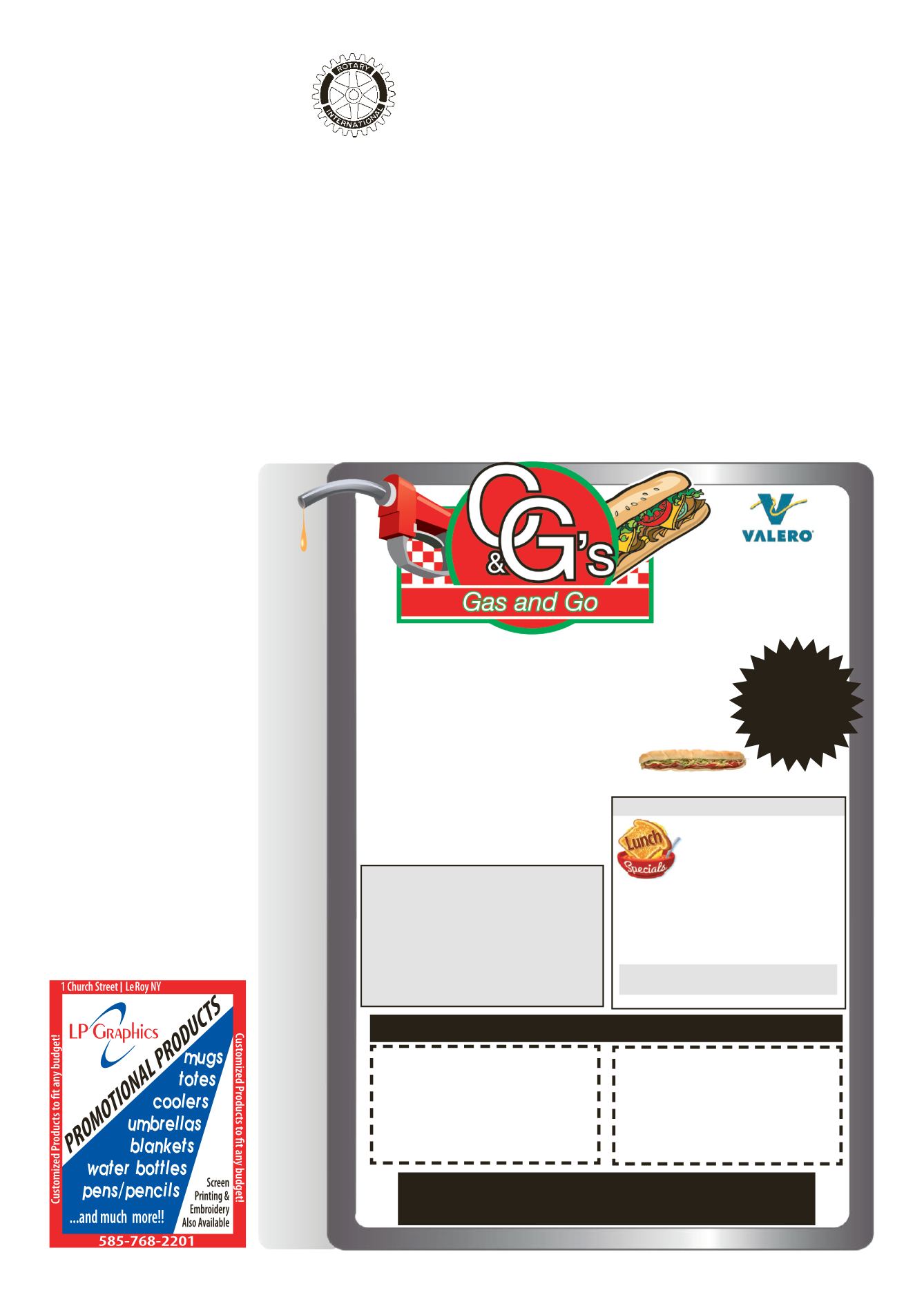 LE ROY PENNYSAVER & NEWS - OCTOBER 5, 2014
We welcomed several guests
at our September 24th meeting.
Gary Churchill joined us from
the Batavia Club. Rotarian fam-
ily members Paige Webb, Alex
Gephart and Jeff Gephart as well
as Robert Murray of CRDN of
Rochester and the Finger Lakes
There were many announce-
ments. The Rotary signs at the
edge of town have been repainted
courtesy of Mary Young Murray,
Lynn Freeman and June Dusen.
June has also organized a won-
derful display at the Town Hall to
"Light Up Rotary". The Eastern
Cities Dinner will be held in
Rochester on October 27th. In-
terested Rotarians should contact
President Randy. Our Annual Ap-
pliance Raffle will be held at The
American Legion on November
2nd. Our fall All You Can Eat
Breakfast is being replaced with a
Spaghetti Dinner on Election Day
at the Legion. President Randy
read a "Thank You" from one of
our R.E.A. Milne Scholarship
There were several members
called upon for missed meet-
ings. Christine Gephart, Lauren
Humphrey, Scott McCumiskey
and Tracy Ford had make-ups.
Tracy Martorana, Marcia McK-
enzie, Carol Wolfe, Tony Gugino
and Jerry McCullough were all
busy working and paid up with
The fining session began with
Samantha Vagg and Scott Mc-
Cumiskey taking a hit for vio-
LeRotary
Notes
lating "The Bennett Rule". Mary
Young paid up for the article on
her sister's prestigious award.
Ron Pangrazio was called upon
for wearing pants after his 1998
retirement proclamation to never
do so again (except at church).
Lauren Humphrey gladly paid
his fine. Tracy Martorana was
given a few moments to explain
her moonlighting programs at
LHS on Herbal Remedies and
Meditation before having to reach
into her wallet. Bob Carlsen was
happy to pay and play a little
Our program was presented
by Susan Wakefield of Le Roy
Christian Community Project
(LCCP). The Le Roy Christian
Community Project began in
1998. Initially LCCP was an
ecumenical endeavor of three
small local churches. In 2000,
LCCP became a not for profit
501(c) (3) organization. The First
Baptist Church, The Presbyterian
Church, and St. Mark's Episcopal
Church contributed seed money
to begin a much needed After
School Program for children in
grades K-6 and to open a Teen
Night for youth in grades 7-12.
Since 1998, the After School
Program has grown from one
day to five days a week, teen
night continues and the LCCP
has added several more pro-
grams, including, The Backpack
Club, Grace's Kitchen, Summer
Day Camp, Caregivers Support
Group, Ladies' Prayer Group
and Mommy and Me Play Group.
Susan thanked Rotary for our
continued support of their won-
"Like" us on facebook at Rota-
ry Club of LeRoy, NY for all the
Buy 1 Large Cheese Pizza
..................................$8.99
Get Second Large Cheese Pizza
.....................$5.00
Extra toppings $1.50.
No Coupons Please.
EARLY BIRD PIZZA SPECIAL!!
Sun. • Mon. • Tues. - Large Cheese - 16"
FRESH MADE TO ORDER SUBS
Cold Sub
......................$7.99
Hot Sub
.............................$8.99
MEAL DEAL
No Coupons Please
Large Cheese Pizza &
12 Buffalo Wings Bone-in
Check Out
Our GAS PRICE
5¢OFF
Every SUNDAY
Expires October 31st
Expires October 31st
Not Good With Specials
No Coupons Please
Saturday & Sunday ONLY
SUPER SUB SPECIAL
(Cold Sub)
Lottery Has Arrived!
Monday-Friday
$5.00
Includes Fountain Drink
Homemade Chili Available
Monday- Stuffed Shells & garlic bread
Tuesday- Chicken & Biscuits w/mashed potatoes
Italian Sausage Sandwich with
Thursday- Goulash and garlic bread
Grilled Chicken Sandwich with cup of
All Come With 16 oz. Fountain
Drink or Large Coffee!
*Subject to change