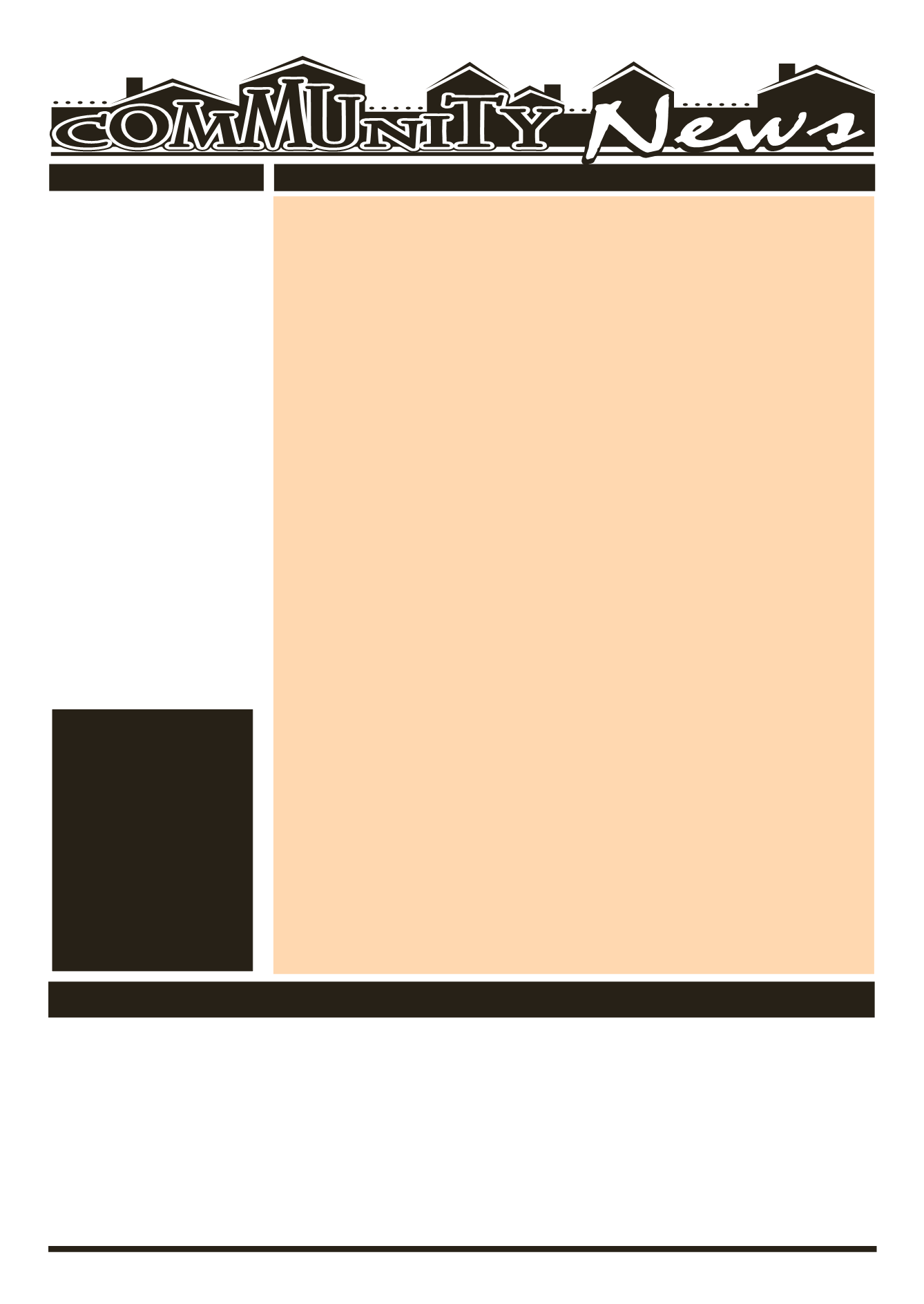 LE ROY PENNYSAVER & NEWS - OCTOBER 5, 2014
Le Roy
Pennysaver
All Genesee County residents, 60 and older, can take part in this week's activities at the Batavia Senior Center, 2 Bank St., Batavia. For more information, call 343-1611.
SENIOR CITIZENS ACTIVITIES
WEEKLY EVENTS
OBITUARIES
Arthritis Exercise
is scheduled to begin at 9:30 a.m.;
Bridge
is scheduled to begin at 11:30 a.m.
Defensive Driving Class
Pre-registration is required
Cribbage
Ombudsman Meeting
scheduled to begin at 9:00 a.m.;
Quilters
are scheduled to meet at 9:00 a.m.;
Euchre game
is scheduled to begin at 1:00 p.m.
Tai Chi Class
Gentle Fitness
Cribbage and Bridge
is scheduled for 1:00 p.m.;
Genesee Senior Foundation Meeting
Musical Keyboarding Lessons
Legal Services
is from 8:30 am to 5:00 pm by
Appointment ONLY
Line Dancing and Art Class
Euchre
is set to begin at 1:00 p.m.
SUNDAY, OCTOBER 5
AWANA Program at Penuel Christian Fellowship.
Sundays 12:15 to 1:45 pm. Ages 5-17 broken into groups. Developing
friendships. Having fun. Learning about God. Safe environment.
Konnect Youth Group at Living Waters Church,
days from 6:30 to 8:30 pm for ages 12-18. "Bring Down all theWalls! Connect
with God and Connect with others." For more information, check us out online
at: livingwatersleroy.org/konnect-youth-ministry/
MONDAY, OCTOBER 6
TOPS (Take Off Pounds Sensibly)
meets Monday evenings from 6:30-7:15
pm at the LeRoy Presbyterian Church, corner of Clay & Main Streets. Visitors
always welcome. Call 768-2933 for more info.
OfficefortheAgingPresentationatStoneChurchPresbyterianChurch
7549S.LakeRd,Bergen forolderadultsandtheircaregivers.Lunch(nocharge)
will be provided at noon followed by a presentation by Dorian Ely from the
Genesee County Office for the Aging. She will discuss programs available
such as the Handyman Program, Transportation Services, Home Visitation,
Financial Management and Caregiver Counseling. Call Mark at 356-4847 for
TUESDAY, OCTOBER 7
LCCP'sGRACE'SKITCHEN:
AFREEdinnereveryTuesdayevening,5-6:30pmat
theLeRoyUnitedMethodistChurch,10TrigonPark.ParkingavailableonTrigon
Park & the lots to the left and back of the Church. Handicapped Entrance in the
back of the Church. Takeout & delivery are available. For more info. contact
Selby Davis at 585-738-8882 or
WEDNESDAY, OCTOBER 8
Woodward Memorial Library Board of Trustees meeting
The October meeting of the LeRoy Town & Country Garden Club
meet on the 8th from 6-8 pm at the Oatka School of Glass on Harvester Ave.
in Batavia. Amanda and Lance Taylor will help us make an item out of glass.
Signups are necessary. Contact AnnWalters at 737-9481 or 768-8130 to sign
up and for more information.
THURSDAY, OCTOBER 9
Genesee Veterans Support Network
(GVSN) supports the development
of Veterans focused AA meetings every Thursday, 6-7 pm at the First Bap-
tist Church, 306 E. Main St., Batavia. Meetings led by Mike W. & are open to
non-veterans as well. Handicap accessible. For additional information call
GRACE'SCLOSET: Aclothinggiveawayprogram
Methodist Church, 10Trigon Park, Le Roy 9:30 am to 11:30 am everyThursday.
We have clothing for all ages. FALL &WINTER clothing now being put in place.
Weare inneedofWARMERclothingespeciallycoats, jacketsboots,pajamas. We
needbeddingofallkindsespeciallyblankets.Weacceptdonationsbedroppedoff
atthehousenexttothechurch.Pleaseputallbags INSIDEonthebackporch. NO
ELECTRONICS, COMPUTERS,DISHES,etc. Anyquestionscalltheoffice768-8980.
MovieShowingofMillionDollarArm
at6p.m.attheWoodwardMemorial
Library. Themovie isratedPGand is124minutes. Registration isrequired. Call
FRIDAY, OCTOBER 10
Penuel Christian Fellowship,
One Step to Freedom addictions ministry, a
Christ Centered Addictions program, a weekly meeting every Friday at 7 pm.
Call the Church for more information at 768-6901 or 406-3863.
SATURDAY, OCTOBER 11
Veterans Only Social Club -
GeneseeVeterans Support Network announces
anewmeeting locationatScooter'sFamilyRestaurant,3711WestMainStreet
Road, Batavia, NY - for the once a monthVeterans Only Social Club. Meetings
are held the second Saturday of each month from 7:00 to 8:30 PM.Veterans of
all eras are invited to attend. GVSN is located at 3837West Main Street Road,
Batavia, NY. For more information, contact GVSN, PO Box 541, Batavia, NY
The Covington United Methodist Church is having their Annual Ham
Dinner,
Bazaar, and Bake-sale on Saturday, October 11th from 4 to 7pm.The
church is located at 1557 Simmons Road, north of Perry in Wyoming County.
The menu includes ham, potatoes, rolls, squash, beans, applesauce, and
home-made pie. Donation is $9.00 for adults and $4.50 for children 5-12.
UPCOMING EVENTS
LCCP's Mommy & Me Playgroup: Every 2nd & 4th Friday,
Le Roy Physical Therapy (in the back gym). Any moms and their birth-kin-
dergarten children are welcome to come enjoy socialization, lunch, coffee,
structured games & free play.
TheGeneseeValleyCivilWarRoundtable
presentsJoyceThompson-Hovey
on"St.Alban'sRaid"onOctober15,2014at7PMattheLeRoyUnitedMethodist
Church onTrigon Park in LeRoy NY. Please use the front door on the far right at
the end of the sidewalk. Discussion period will follow. New members always
welcome. It will be a most interesting program. Doors will open at 6:30.
The Monthly Meeting Of The Le Roy-Stafford Senior Citizens
heldonOctober15,2014.at6:00p.m.AttheKOfCMeetingHallonWestMain
St. Behind Save-A-Lot. This will be a pot luck supper and you should bring
your own place setting and a generous dish to pass. Dessert will be furnished.
Gen. Co. 2014 Anti-Rabies Immunization Clinic,
Garage, 58 North St., LeRoy, NY. Thursday, October 16th, 4:00 to 7:00 pm. A
$5.00 voluntary donation per dog, cat or ferret is appreciated to offset clinic
expenses.Nowavailable,savetimebyfillingoutyourregistration formbefore
Community Calendar Submissions should be sent to:
LE ROY — Palmina ''Pam'' M. O'Geen,
82, of Gilbert Street, passed away early
Saturday morning (Sept. 27, 2014)
at United Memorial Medical Center in
Batavia. In lieu of flowers, memorials are
suggested to either Crossroads House
or American Heart Association.
PAVILION - William P. Liles, 76, of
Bradenton, Fla., died Saturday (Sept.
27, 2014) at the Blake Medical Center
in Bradenton, Florida. HEe was born in
Pavilion. Memorials may be made to
Genesee Cancer Assistance, Inc., 16
Bank Street, Batavia, NY 14020.
BETHANY - George F. Kilby, 92 of
Michigan passed away on Friday (Sept.
26, 2014). He was born in Bethany. In
honor of George's Air Force service,
memorial contributions may be made to
the Wounded Warrior Project.
PAVILION — A memorial service will
be held at 10 a.m. Saturday, Oct. 4 for
Frances "Louise" Wright, who passed