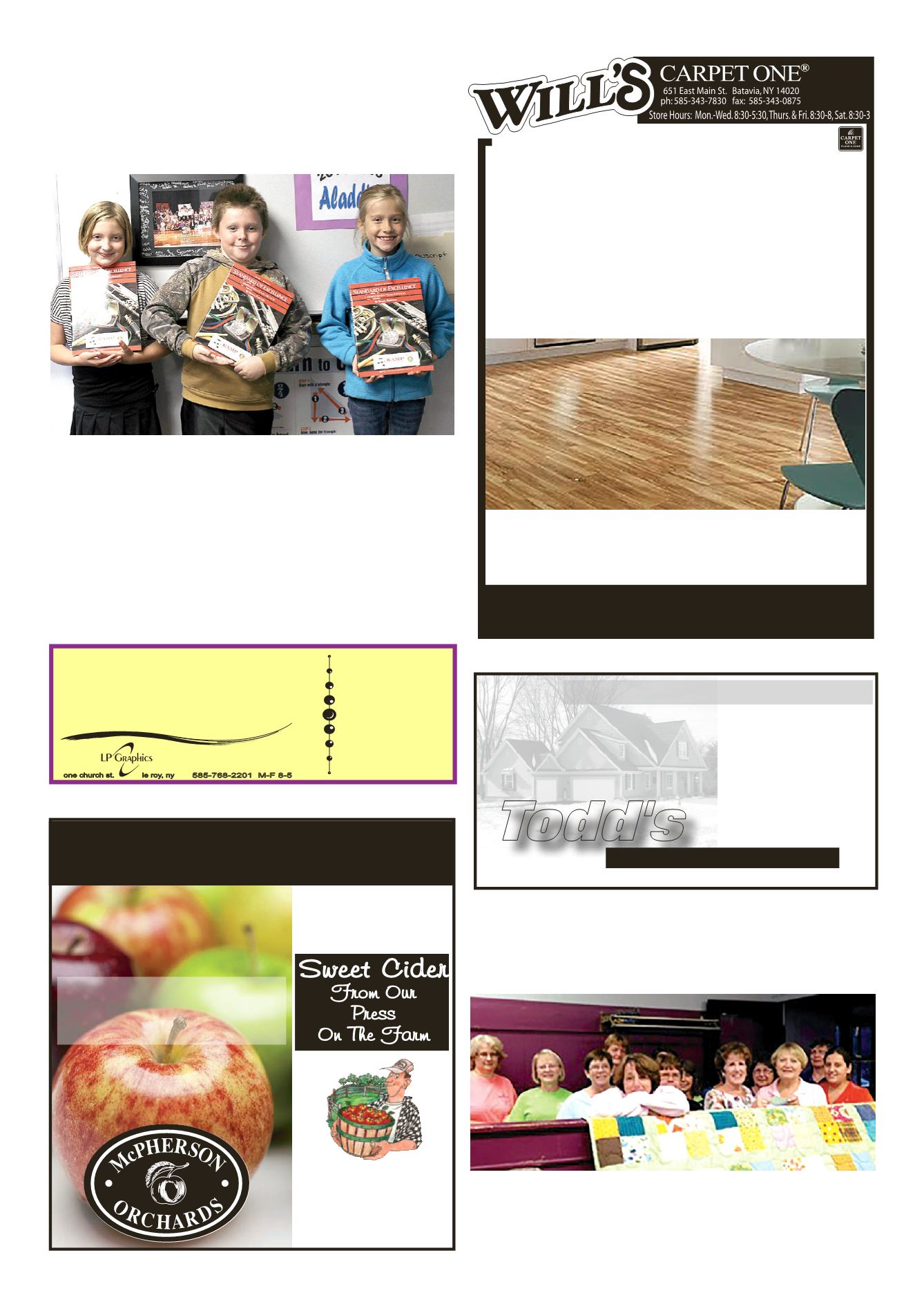 LE ROY PENNYSAVER & NEWS - OCTOBER 5, 2014
FLOOR
& HOME
The ONE store for your perfect floor.
New Homes • Additions • Garages • Pole Barns
Todd Carli • Phone 703-0964
Todd's
Decks • Windows • Doors
Kitchens • Baths
Ceramic Tile
Basement Finishing
Custom Shelves/Built-Ins
Siding • Remodeling
Roofing • Snow Plowing
FULLY INSURED
Oatka Trail
OPEN DAILY
9 am to 6 pm
Bakery Open Weekends Only
Fry Cakes & Apple Pie!
Pumpkins
Winter Squash
• Professional Installation Available
• Free Estimates
• Financing Available To Qualified Customers
In-Stock Fiber Floors
Many styles
to choose
from!
For the 2014-2015 school year,
the LeRoy Rotary Club gracious-
ly donated lesson books to all
students who began playing an
instrument as a beginner. The
program, known as R.A.M.P.
(Rotary Assistance Music Pro-
Rotary Assistance Music
Program (RAMP)
Continues for a Fifth Year
Pictured here are three beginner clarinet players, Katelynn
Rumsey, Keegan Park andAudney Burnside, holding their brand
new lesson books donated through RAMP.
gram) began in the spring of 2010
and has run for five school years.
This year, 75 students are taking
part in the program, and since the
program began, close to 350 les-
son books have been distributed.
Many Varieties
Of Apples
The American Legion Auxiliary presented a check to Susan
Wakefield of the LCCP to purchase art and theatre supplies.
The Auxiliary and Susan are pictured behind a beautiful quilt
to raffled at the Annual Turkey Dinner at the Legion.
American Legion Auxiliary
Supports LCCP
one church st. le roy, ny
one church st. le roy, ny