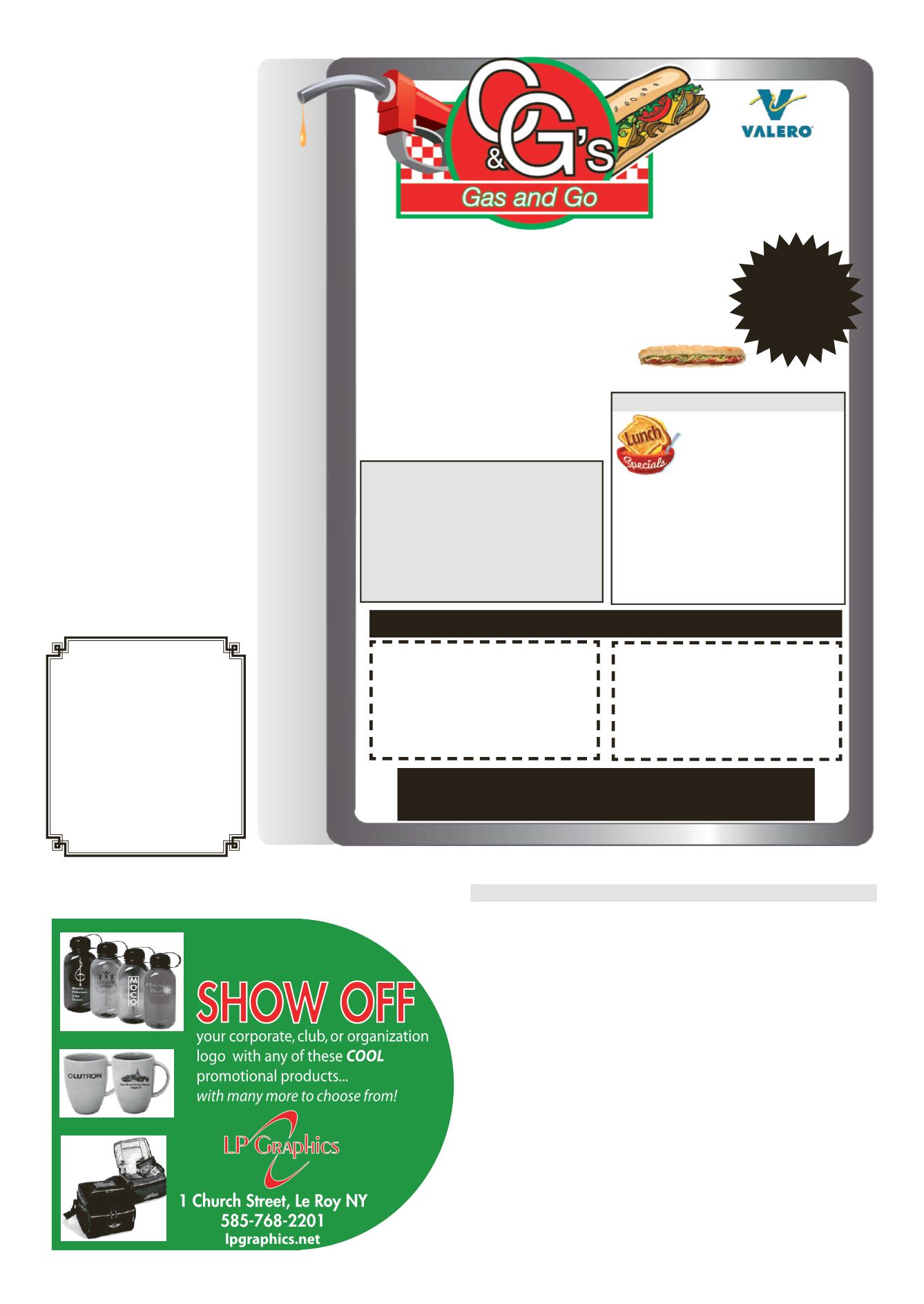 LEROYPENNYSAVER&NEWS - SEPTEMBER 14, 2014
$3,000Merit Scholarship to
Se-
varinT.Borrelli
award recognizes past academic
achievement and potential for
Borrelli reserved a place in the
incoming freshman class for the
fall semester. He was scheduled
a Presidential Scholarship of
Samuel J. Rodgers
ofPavilion.Theawardrecognizes
past academic achievement and
Rodgers reserved a place in the
incoming freshman class for the
fall semester. He was scheduled
Matthew D. Naparstek
residentofBergen,wasoneof the
graduates during the 2014 sum-
mer commencement ceremonies
at Texas StateUniversity.
Naparstek received a Master
of Arts with Majors in Anthro-
Thanksgiving
Thank you St. Jude for
answering my prayers.
My request was
granted.
Publication Promised.
E.J.
byGreg "Porp"Rogers
Mayor
On September 27th The Mi-
chael Napoleone Foundation,
organizedby JenTrifthauser and
Karen Samis, will be hosting a
5K run inourcommunity.This is
another case of our caring com-
munity and of the wellness and
healthy lifestyle that isalsoalive.
These events are evidence that
40 is the new 20. Anyone who
needs information call either Jen
or Karen or go to the web site
At the Village Board meeting
of September 24th we will be
discussing a stronger code deal-
ing with property maintenance;
the Board is looking for and
welcomes the publics' input.
Lastly, congratulations to the
LeRoyVarsityFootball teamand
Coach'sMoran and Paladino on
the win against rival Cal Mum.
This win brings Moran's over-
all record against Cal- Mum to
17 wins vs 15 losses, a feat not
many schools can claim inNew
Pleasemake the extra effort to
support all localbusiness, spend-
ingmoney at home,makes all of
"And in theend it'snot theyears
inyour life that count; it's the life
in your years"AbrahamLincoln
Notes From TheMayor's Office
Buy 1LargeCheesePizza
..................................$8.99
Get SecondLargeCheesePizza
.....................$5.00
Extra toppings $1.50.
NoCouponsPlease.
EARLY BIRD PIZZA SPECIAL!!
Sun. •Mon. •Tues. -LargeCheese - 16"
FRESHMADE TOORDER SUBS
ColdSub
......................$7.99
Hot Sub
.............................$8.99
MEAL DEAL
NoCouponsPlease
LargeCheesePizza&
12BuffaloWingsBone-in
CheckOut
Our GAS PRICE
5¢OFF
Every SUNDAY
Expires September 30th
Expires September 30th
Not GoodWith Specials
NoCouponsPlease
Saturday& Sunday ONLY
SUPERSUBSPECIAL
(ColdSub)
LotteryHasArrived!
Monday-Friday
$5.00
IncludesFountainDrink
Homemade Chili Available
5pc. ChickenTenders, w/Cupof
Thursday- (3)Tacos&DoritoChips
16oz. FountainDrinkWithSpecials
*Subject to change