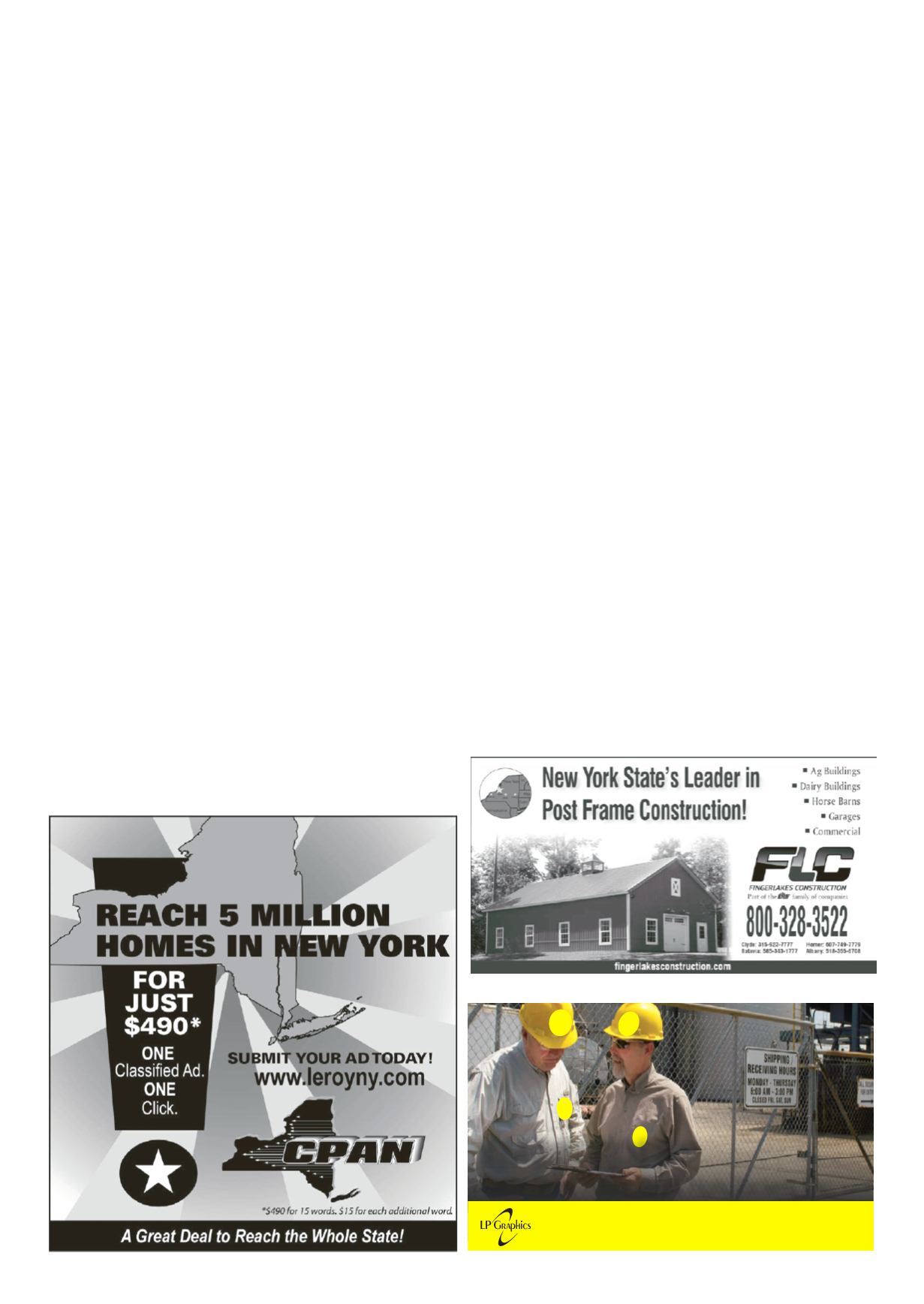 LEROYPENNYSAVER&NEWS - SEPTEMBER 14, 2014
The Le Roy Senior Knights
moved to 3-0 on the season af-
ter a hard fought 28-8 win over
York on Saturday night. York
received theopeningkickoff and
went right towork runningat the
heart of LeRoy's toughdefense.
After picking up a first down,
York fumbled theball ona tough
hit byZackVanderhoof that was
recovered by Cole Rauscher.
The Knights went three and out
on their first possession as York
proved to be a quality opponent.
York's second series ended like
their first as Andrew Englerth
forced another York fumble and
recovered it.TheKnightswouldn't
be stymieda second timeasCody
Lytle scoredLeRoy's first touch-
down on a nice 59 yard run. The
2 pt. conversion was run in by
Andrew Englerth for the early
York's offense couldn't get
anything going as they gambled
on 4th down and the ball carrier
was tackled by Nate Andrews
short of the first down. On the
first play for the Knights, An-
drewEnglerth took thepitch and
ran 58 yards for the touchdown
and a 14-0 lead. York's bad luck
continuedas IanKemp forcedyet
anotherYork fumble thatwas re-
coveredagainbyColeRauscher.
marred by penalties and a long
pass byKeatonHobart to Ethan
Beswick on 4th down would
end up just short of the sticks.
Yorkwould take over onoffense
backed up inside their own 10
yard line.On seconddown,Cam
Greene would lay a crushing
blow on theQB from his defen-
sive end position and force an
errant pass that was picked off
byCodyLytle,whowould return
it 17 yards for the touchdown!
Keaton Hobart would then hit
Lytle in the end zone on a nice
fade route for the2pt. conversion
York would mount a decent
drive inside Le Roy's 35 yard
but the Knights defense rose up
and forced a turnover on downs.
Le Roy's offense would take
the fieldwith just over aminute
to go in the half. Runs by Cody
Lytle and Andrew Englerth and
a nice bubble screen fromKea-
ton Hobart to Englerth set the
KnightsuponYork's42yard line
with less than 15 seconds to go.
Englerthwould bust through the
middleof theYork'sdefenseona
reverse for the42yardscorewith
5 seconds left for a 28-0Knights
The second half started with
York successfully converting an
onside kick. York would find
themselves inside the Le Roy
one yard line with first and goal
following a nice run by a York
running back. The Knights de-
fense would then stiffen as they
produced an exciting goal line
stand that would see York score
from theoneon theirfifthattempt,
followingaKnightspenalty.The
2 pt. conversion was successful
The Knights were able to run
out most of the clockwith tough
running from Nate Andrews,
Cam Greene, Brady Fix, Adam
RisewickandEthanBeswick.The
Knights were led on offense by
AndrewEnglerthwhoputup142
yards rushingalongwith2 touch-
downs and a 2 pt. conversion.
Cody Lytle would add 78 yards
on the ground alongwith his TD
and a 2 pt. conversion. Keaton
Hobart would go 4 for 7 passing
for30yardsanda2pt.conversion
in theair.TheKnights totaled261
yards rushing behind punishing
blocks by Jimmy Burns, Zack
Vanderhoof, ColeRauscher,An-
drewKettle, IanKemp, Jackson
TheKnightsdefensewas ledby
Cody Lytle whomade 9 tackles
to go alongwith his interception
return for a TD. Alex Panepento
would also chip in 9 punishing
tackles.AndrewEnglerth totaled
6 tackles along with his forced
fumble and fumble recovery
while Nate Andrews totaled 5
tackles. Also adding to the de-
fensivestat sheetwouldbeEthan
Beswick (1 tackle),ZackVander-
hoof (3 tackles, 1 forced fum-
ble), Cole Rauscher (2 fumble
recoveries), IanKemp (1 tackle,
1 forced fumble),CamGreene (4
tackles),TylerStrollo (2 tackles),
Devyn Bzduch (1 tackle), Kaiel
Robinson (1 tackle), Brock Flint
(2 tackles), Alonso Storey (1
The Knights are back home
nextweekendasCal-Mumcomes
to town for the annual Route 5
showdown at 2 pm onSunday!
LeRoySeniorsDownYork 28-8
ForSecondRoadWinOfTheYear
Dress Shirts, Polos, Vests, Hats, Jackets, Etc.
1ChurchSt.
LeRoy, NY14482
585.768.2201