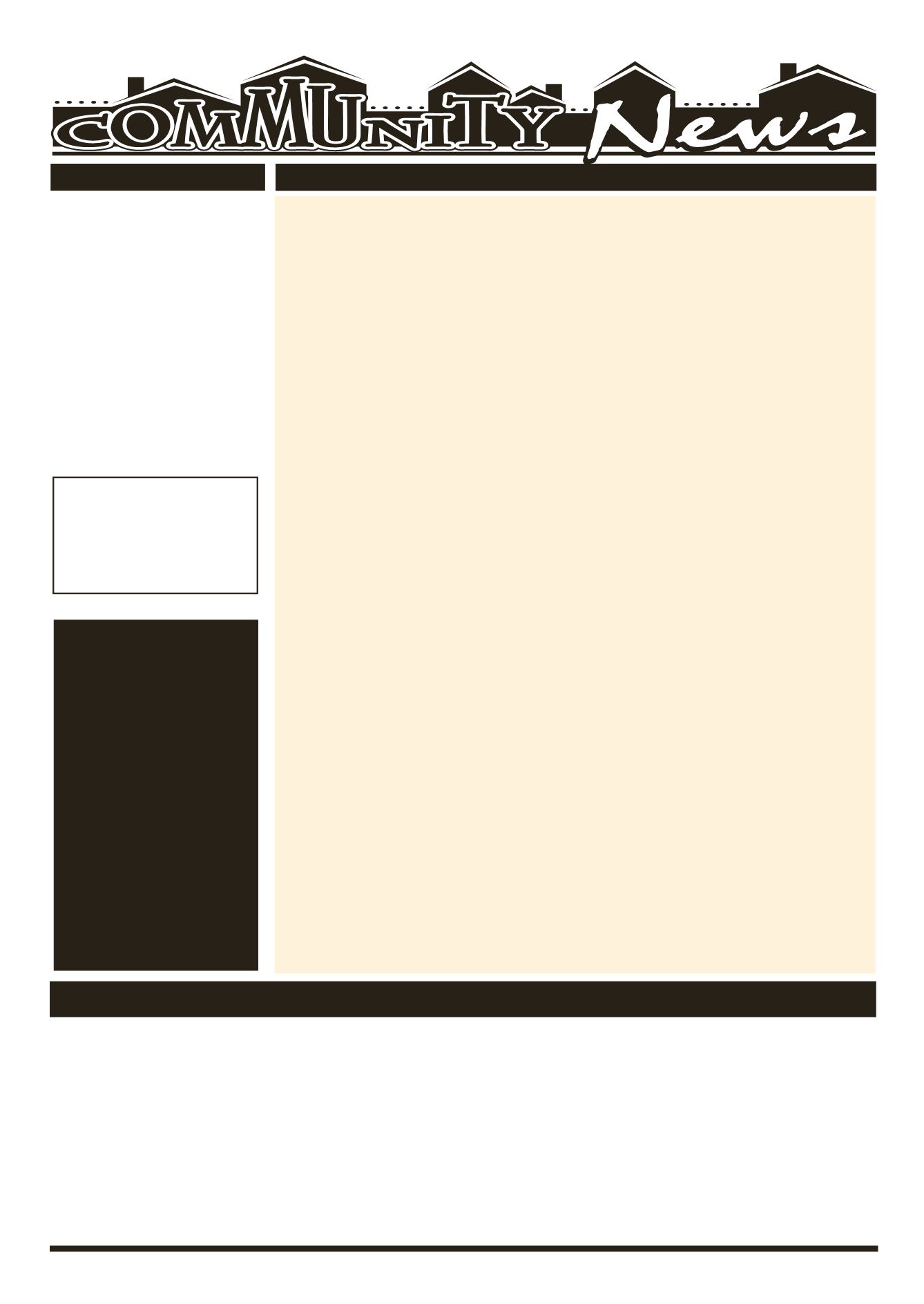 LEROYPENNYSAVER&NEWS - SEPTEMBER 14, 2014
Le Roy
Pennysaver
All GeneseeCounty residents, 60andolder, can takepart in thisweek'sactivitiesat theBataviaSenior Center, 2BankSt., Batavia. Formore information, call 343-1611.
(September 15 - September 19)
WEEKLYEVENTS
OBITUARIES
ArthritisExercise
is scheduled tobeginat 9:30a.m.;
Bridge
is scheduled tobeginat 11:30a.m.
NewsletterAssembly
is scheduled tobeginat 8:45a.m.;
DefensiveDrivingClass
is scheduled tobeginat 9:30a.m.;
Crib-
bage
Quilters
are scheduled tomeet at 9:00 a.m.;
Euchre game
is scheduled to begin at 1:00 p.m.;
Medicare 101
scheduled tobegin at 6:00p.m.
LifespanMeeting
is scheduled tobeginat 8:30a.m.;
CribbageandBridge
is scheduled for 1:00p.m.;
MusicalKeyboarding
Lessons
TaiChiClass
at9:30a.m. to10:15a.m.; newly formed
FitnessClass
LineDancingandArtClass
is set tobeginat 10:00am.
SUNDAY, SEPTEMBER14
AWANAProgramatPenuelChristianFellowship.
12:15 to1:45pm.Ages5-17broken intogroups.Developing friendships.Having
fun. LearningaboutGod. Safeenvironment.
KonnectYouthGroupatLivingWatersChurch,
from6:30 to8:30pm for ages 12-18. "BringDownall theWalls! Connectwith
God and Connect with others." For more information, check us out online at:
livingwatersleroy.org/konnect-youth-ministry/
MONDAY, SEPTEMBER15
TOPS (TakeOffPoundsSensibly)
meetsMondayevenings from6:30-7:15pm
at the LeRoy Presbyterian Church, corner of Clay&Main Streets. Visitors always
welcome. Call 768-2933 formore info.
Makea"BacktoSchool"MouseBookmark
attheWoodwardMemorialLibrary
for children ingradesK-2, from3:15 -4:15pm. Call 768-8300or register online
TUESDAY, SEPTEMBER16
LCCP'sGRACE'SKITCHEN:
(will be closed Sept. 9th, andwill reopen Sept. 16)
FREE dinner everyTuesday evening, 5-6:30 pm at the LeRoy UnitedMethodist
Church,10TrigonPark.ParkingavailableonTrigonPark& the lots to the leftand
backof theChurch. HandicappedEntrance in thebackof theChurch.Takeout&
delivery are available. For more info. contact Selby Davis at 585-738-8882 or
TownofLeRoyPlanningBoardMeeting
(asnecessary)7:30pmat theTown
Hall, 48MainSt. For further info. call 768-6910, Ext. 223.
MakeaLunchSnackBagat theWoodwardMemorial Library
ingrades 3-6, from3:15 - 4:15pm. Decorateadrawstringbag touseas a snack
bag for your lunch. Listen toback to school stories.
Call 768-8300or registeronlineat
WEDNESDAY, SEPTEMBER17
GeneseeValleyCivilWarRoundtable
willpresentaprogrambyDonnaLaValle
entitled"TheLifeofaSlave-HistoryBehindSlavery" at7pm intheLeRoyUnited
Methodist ChurchonTrigonPark in LeRoy. Pleaseuse the front entranceon the
far right at theendof the long sidewalk.Discussionperiodwill follow. Itwill be
an interestingprogram. Newmembers arewelcome. Pleasenote thenew time
of 7PManddoorswill openat6:30.
THURSDAY, SEPTEMBER18
Genesee Veterans Support Network
(GVSN) supports the development
of Veterans focused AA meetings every Thursday, 6-7 pm at the First Bap-
tist Church, 306 E. Main St., Batavia. Meetings led by MikeW. & are open to
non-veterans aswell. Handicapaccessible. For additional information call 585-
GRACE'SCLOSET:AClothingGiveawayProgram
Methodist Church, 10TrigonPark, LeRoy. 9:30am to11:30ameveryThursday.
Wehaveclothing forallages. Spring&Summerclothingnowbeingput inplace.
We are inneed of lighter coats, clothing, shoes, pajamas, bedding, sheets in all
bed sizes. We accept donations bedroppedoff at thehousenext to the church.
Please put all bags INSIDE on the back porch. No electronics, TV's, computers,
dishes, etc. Anyquestions call theoffice768-8980.
FRIDAY, SEPTEMBER19
Penuel Christian Fellowship,
One Step to Freedom addictions ministry, a
ChristCenteredAddictionsprogram,aweeklymeetingeveryFridayat7pm.Call
theChurch formore informationat768-6901or406-3863.
SATURDAY, SEPTEMBER20
"TheWholeShebang!"Multi-Vendor&CraftEvent
theByron FireDepartmentHall onRt. 262. Crafts andnew items sale, Chinese
auction, freebloodpressure checks&delicious food for purchaseall day. From
11:00 am– 1:00 pm the Genesee County Sheriff's Department will give free
child safety seat evaluations.To reservea table, call Brendaat585-356-3720.
Applebee'sPancakeBreakfast
from8-10am. For ticketsandpricingplease
call 768-7700.All proceeds tobenefit the childrenof LeRoyNurserySchool.
UPCOMINGEVENTS
LCCP'sMommy&MePlaygroup: Every2nd&4th Friday,
Roy Physical Therapy (in thebackgym). Anymoms and their birth-kindergar-
ten childrenarewelcome to comeenjoy socialization, lunch, coffee, structured
ToddlerTimeforTwosbeginsa7-weeksession
10:30-10:50AMattheWoodwardMemorialLibrary.ToddlerTime isastorytime
for childrenwho are 2 years old and a caring adult. Spend approximately 20
minutesonMondaymornings listeningtostoriesthatfeaturethemes likeshapes
and colors, singing songsanddancing, coloring, andplayingwithbubbles. Call
768-8300or registeronlineat
OnWednesday, September 24, 2014, the
Stafford Historical Society will
have their monthlymeeting
at 7:00 P.M. at the town hall at 8903 Route
237, Stafford, New York. The speaker, Lynne Belluscio, Director of the Jell-O
GalleryMuseum,will present aprogramabout"Caldrons"--thehistoryof them
to includeuses, their sizes,where still foundandmanyothermiscellaneousand
interesting littleknown facts.
AChickenandBiscuitDinner
will beheld at the StaffordUnitedMethodist
Church, Stafford, NYonThursday, Sept. 25at 5pmuntil ?Take-outswill begin
at4:30PM.Adultsare$9,5-12are$4andunderage5are free.Menu ischicken/
biscuitsw/gravy, realmashedpotatoes,babycarrots,cranberrysauce,cabbage
salad, homemadedessertsandbeverages.
RoastBeefonWeckDinnerattheN.BergenPresbyterian
Church
,7068N.BergenRd.BergenonSat., Sept. 27. Servingwillbe from4:30
pm - 6:30 pm. Menu includes: roast beef on kimmelweck or unseeded roll,
potatoes,cabbagesalad,beverage,andhomemadeTherewillbehotdogs,chips,
andbeverageavailable for children. Call 494-1815 formore info.
FoodlinkFreeMobileFoodPantry:
MorganvilleUnited Church of Christ is
partneringwith Foodlinkof Rochester tohost a freemobile foodpantry, Tues-
day, September 30, 4:30-6:30pmatMorganvilleUnitedChurchof Christ, 8466
Morganville Road (offRt 237, 1mile north of Stafford). The exact food items
andquantityavailablearenotknown,but freshproducewillbeavailable. Must
be 18 years of age, no income requirement or ID required. Must provide own
bags/vehicle to transport items to your home. Foodprovided on afirst come,
first servebasiswhile supplies last.
Office for theAgingPresentation at Stone Church
Presbyterian Church
, 7549 S. Lake Rd, Bergen for older adults and their
caregivers.Lunch(nocharge)willbeprovidedatnoonfollowedbyapresentation
by Dorian Ely from the Genesee County Office for the Aging. Shewill discuss
programs available such as the Handyman Program, Transportation Services,
HomeVisitation, FinancialManagementandCaregiverCounseling. CallMarkat
356-4847 formore information.
CommunityCalendar Submissions shouldbe sent to:
LE ROY—Dr. Donald Karl Stockdale
passed away on Tuesday (Sept. 2,
2014) at age 88. In lieu of flowers,
memorial contributions may be made
to Lifetime Care, 3111 S Winton Rd.,
LE ROY — Florence Macaluso, 87,
of Lake Street, passed away Sunday
morning (Sept. 7, 2014) at United Me-
morialMedicalCentersurroundedbyher
loving family.Thecourtesyofno flowers
is requestedwithmemorials suggested
toSt. Joseph's IndianSchool, P.O. Box
326, Chamberlain, SD57326
Don't waste precious time