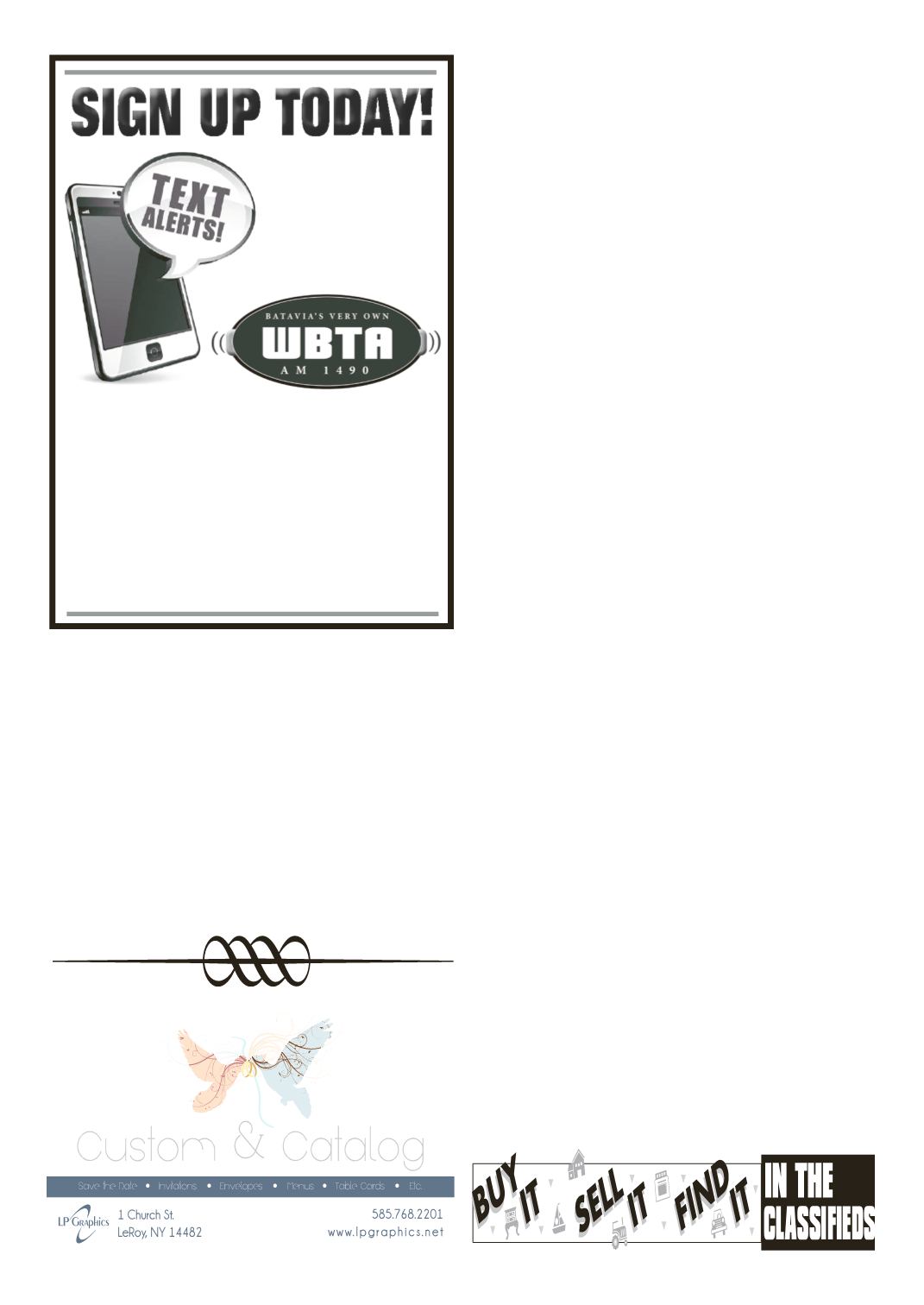 LEROYPENNYSAVER&NEWS - SEPTEMBER 14, 2014
The LeRoy Junior Football
team used an explosive offense
and complete team defensive
effort to outscore York 40-8 on
After forcing a punt onYork's
first offensive series, the Junior
Oatkan Knights wasted no time
moving the ball down the field.
Drew Strollo scored from 16
yards out with Riley Williams
punching in the conversion to
give the Knights an early 8-0
lead. York however responded
with a 12 play drive, scoring to
tie up the game 8-8 at the end of
LeRoy's offense responded
immediately, as Landen Saeva
broke loose for a 65 yard touch-
down on the very next play.
Drew Strollo powered ahead for
the2-point conversion, asLeRoy
reclaimed the lead. Strongdefen-
siveeffortsbybothsquadswould
take the game into halftimewith
theOatkanKnights leading16-8.
LeRoy'soffensewouldcontin-
ue to click in the second half, as
Saeva outran theYork defenders
on his way to a 75 yard touch-
down run on LeRoy's first pos-
session. Nate Yauchzee eluded
multipledefenders to succeedon
the conversion attempt, bringing
Thedefensewouldhold strong
again, giving the ball back to the
Oatkan Knights. Strong block-
ing by Hunter Beverly, Ethan
Robinson, Danny Howe, Will
Eschberger, Aiden Davis, Zach-
ary Tooley, and Joey Biletskiy
would put the Oatkan Knights
in position to score again. Nate
Yauchzee raced in from28yards
out for the Knights 4th touch-
down of the day. After a couple
of penalties, Drew Strollo ran in
from 13 yards out to make the
longer than usual conversion,
LeRoy's defense would pro-
vide the offense with one more
seriesasRyanHiggins recovered
a fumble inside York territory.
Strollobroke looseagain, scoring
from46yardsout.RileyWilliams
finished up the scoring with his
second 2-point conversion, giv-
ing theOatkanKnights the 40-8
Multiple tacklers on eachplay
byLeRoymade it extremelydif-
ficult forYork tosustainoffensive
output. Drew Strollo led the hit
paradewith 10 tackles including
6 for loss and a forced fumble.
Tony Piazza added 6 tackles (2
for loss) and Jackson Fix made
some big hits contributing with
7 tackles (1 for loss). Bryce
Lathan, ConnorHegeman, Riley
Williams, andBrysonGentileall
had4 tackles. Alsowithmultiple
tackles for theKnightswereAn-
tonioMartinez (3),KadenBurger
(2), Cole Friedhaber (2), Nate
Yauchzee(2),TommyCondidorio
(2), Ayden Riggi (2), Connor
McGee (2), XavienWalker, and
RyanHiggins (2). RyanShirley,
Landen Saeva, Ben Robinson,
DylanMaciag, andHunter Bev-
erly also contributeddefensively
LeRoy's offense put up over
300 yards rushing, with Landen
Saeva leading the waywith 140
yards and 2 TDs. Drew Strollo
added 109 yards on the ground,
scoring2TDsand2conversions.
NateYauchzee ran for 35 yards,
including a TD and conversion.
Riley Williams added 21 yards
rushing and 2 conversions, and
also opened up big holes with
exceptional lead blocking. Tony
Piazzaadded9yardsandJackson
Fix gained 14. Tommy Condi-
dorio andBryce Lathan also ran
LeRoy's next game is atHart-
woodParkonSundaySeptember
14th at noon vs. undefeatedCal-
LeRoy JuniorsDominate
In 40-8Romp
GET ONLY THE
NEWS YOU
CHOOSE
FROM
New! Signup for TEXTALERTS.
Get only thenews you choose!
Be the first to know about SevereWeather,
BreakingLocal News, TrafficAdvisories&dSchool Closings.
Signup today forWBTATextAlerts.
Youneed to only supply your cell phone number
and select the services youwant to receive.
Wewill never sell your information toanyone.
WBTAi.com
LorenWetzel SeniorGolfLeague
FinalResults
CharlieMargeson,BillMurphy