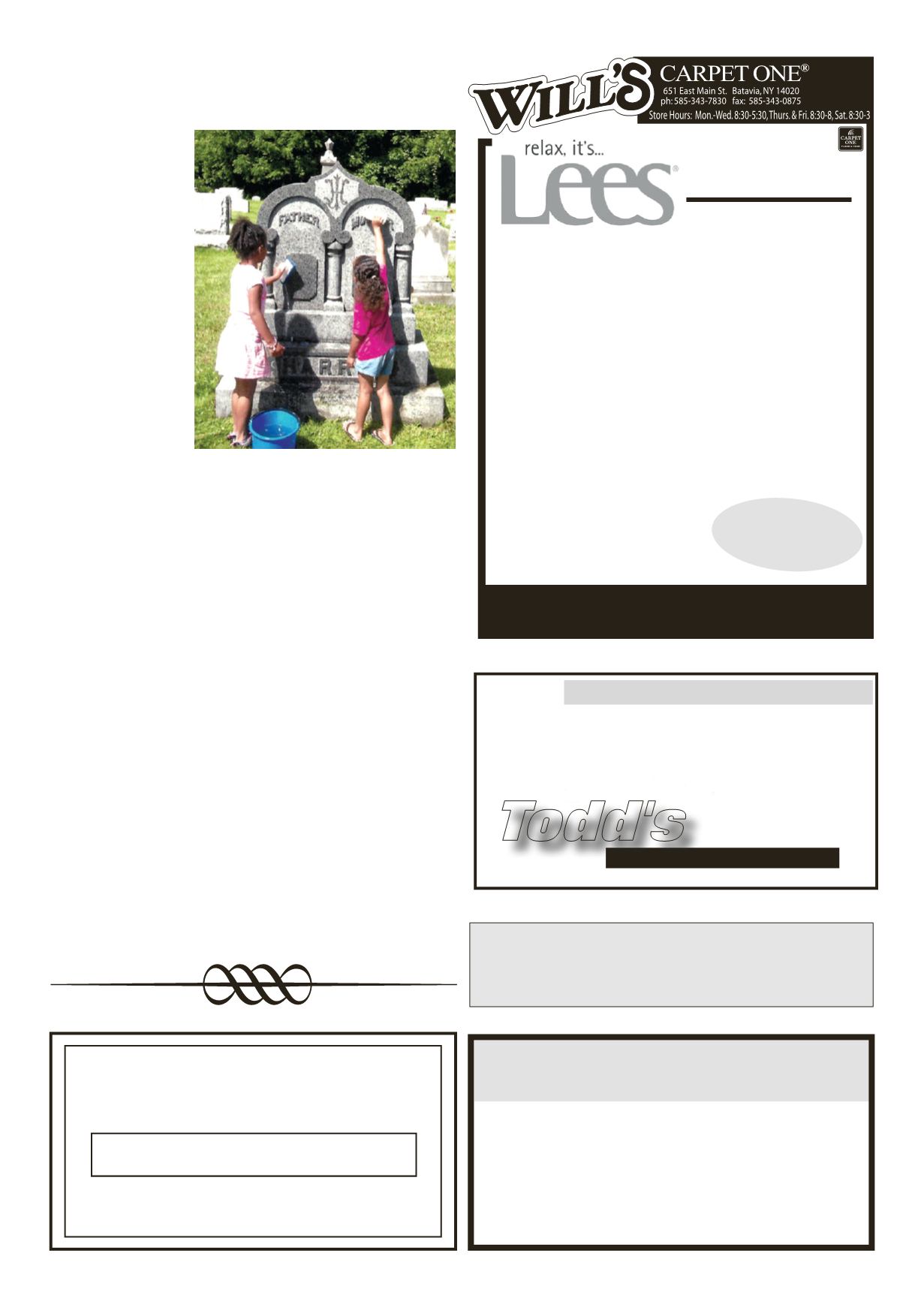 LEROYPENNYSAVER&NEWS - SEPTEMBER 14, 2014
FLOOR
&HOME
TheONE store for your perfect floor.
•NOExclusions - Stain& SoilWarranty
• 25YearPet StainWarranty
• FreeEstimates
• FinancingAvailableTo
QualifiedBuyers
Hurry
LimitedTime!
CARPET
ENTIRELINEOFLEE'SONSALE
InstalledWith a 6#Pad
50%
OFF
NewHomes •Additions •Garages •PoleBarns
ToddCarli • Phone 703-0964
Todd's
Decks •Windows •Doors
Kitchens •Baths
CeramicTile
Basement Finishing
CustomShelves/Built-Ins
Siding •Remodeling
Roofing • SnowPlowing
FULLY INSURED
SUPPORTYOUR LOCALADVERTISERS!
They help sponsor the local news section of the Le Roy Pennysaver.
THANKS FORYOUR SUPPORT!
ALLWORKMANSHIP GUARANTEED • INSURED
297-9097 • 768-7737
• InteriorPainting
• Plaster/LathRestoration
•Drywall&Drywall Repair
•TextureRemoval
• Floors Stripped
&Refinished
•OldCeilings&Walls
MadeLikeNew!
MikeDarby'sPatch&Paint
avisionofPlatt'swhosawavital
need for some organized activi-
tiesand fun for thechildren inher
little townofByron. Sevenyears
ago and with the help of Debra
Leaton, town clerk, Platt's idea
was realized. "The program that
ordinarily ran for seven weeks
was expanded an extraweek this
year made possible because we
hadsomuchcommunitysupport,
said Platt. The town's children,
most whom are able to walk to
the program which is located
in the park behind the Fire De-
partment in Byron are engaged
in organized activities from 10
am -2pmMonday–Friday.This
year they attended several field
trips including, Brown's Berry
Patch, Fantasy Island, Hidden
Valley Animal Adventure and a
"Volunteerismgot thisprogram
upand running,and it's important
tome thatchildrenexperience the
joyofgivingback,"saidPlatt.So
onabeautifulThursdaymorning
aparadeof30children ranging in
age from5 to16walkedaquarter
mile toByronCemeterycarrying
assorted brushes, sponges and
buckets. At the cemetery the
leaders had older children pump
water and team upwith younger
children to clean gravestones.
They scrubbed the tombstones
with their brusheswashing away
years of debris. "I'm sure for
some of the children it was the
first time theyhad ever been in a
cemetery. Some of the children
read aloud the names etched on
the tombstonespointingout fami-
lymembers,mothers, fathersand
Thiswasaniceexperience that
culminated in a fun activity, a
scavenger hunt, followed by the
treat of ice cream at the Byron
FireDepartment hall," saidPlatt.
Byron's SummertimeRecProg.
ModelsCommunityService
Plumbing • Heating
Installation&Repair Service
For All Residential &Commercial Work