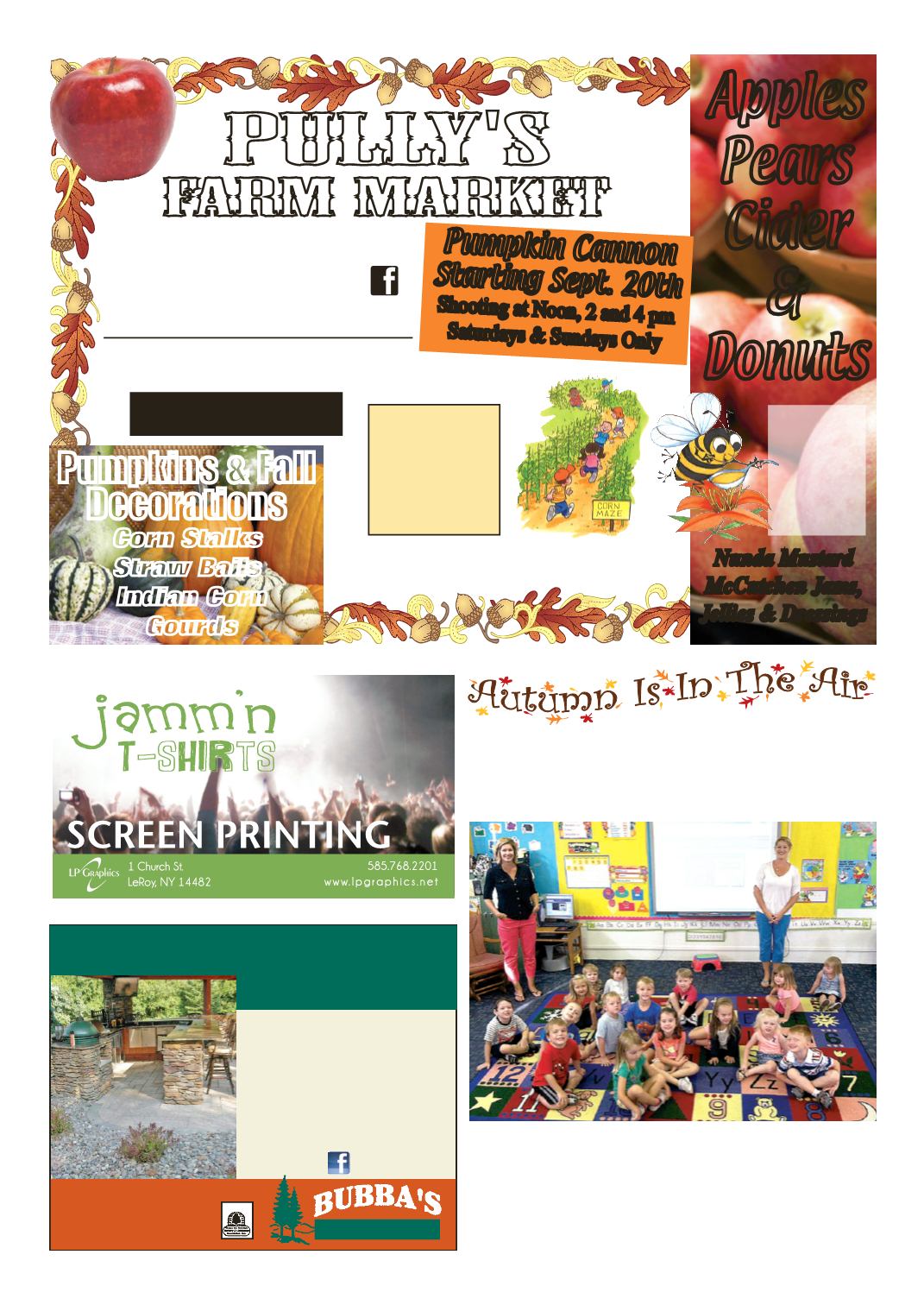 LEROYPENNYSAVER&NEWS - SEPTEMBER 14, 2014
8160LakeRd. (Rt. 19) LeRoy, NY
768-2280 • 704-1157
Hours:Mon.-Sat. 9-6, Sunday 9-5
pullysfarmmarket.com
• SweetCorn
•Peaches
• Fall&
Summer
Squash
Corn Stalks
StrawBails
Indian Corn
Gourds
MUMS
Grown At Our Own Facility!
Shooting atNoon, 2 and 4 pm
NundaMustard
McCutchen Jams,
Jellies&Dressings
DuckRacesEVERYDAY!
CornBox!BirdSeed
Apple Cannons! Starting Sept. 20th
CornMazeOPEN
768-6578
CALLNOWTOSCHEDULE
YOURFALLCLEANUP!
FULLY INSURED • FREEESTIMATES
Landscape
Landscapes, hardscapes/
patios, retainingwalls,
walkways, firepits&more!
With fullclassesandexcitedchildren, thefirstweekatLoveBugs
Preschool was a huge success. The classrooms were filled with
many new and returning childrenwho brought with them lots
of fun stories about their summer break. The children learned
all about their school and each other during their first week at
Love Bugs. Pictured here isMrs. Panepento andMiss Carolyn
with theirnew 3DayPre-K class!
LoveBugsPreschool
Is back InSession!