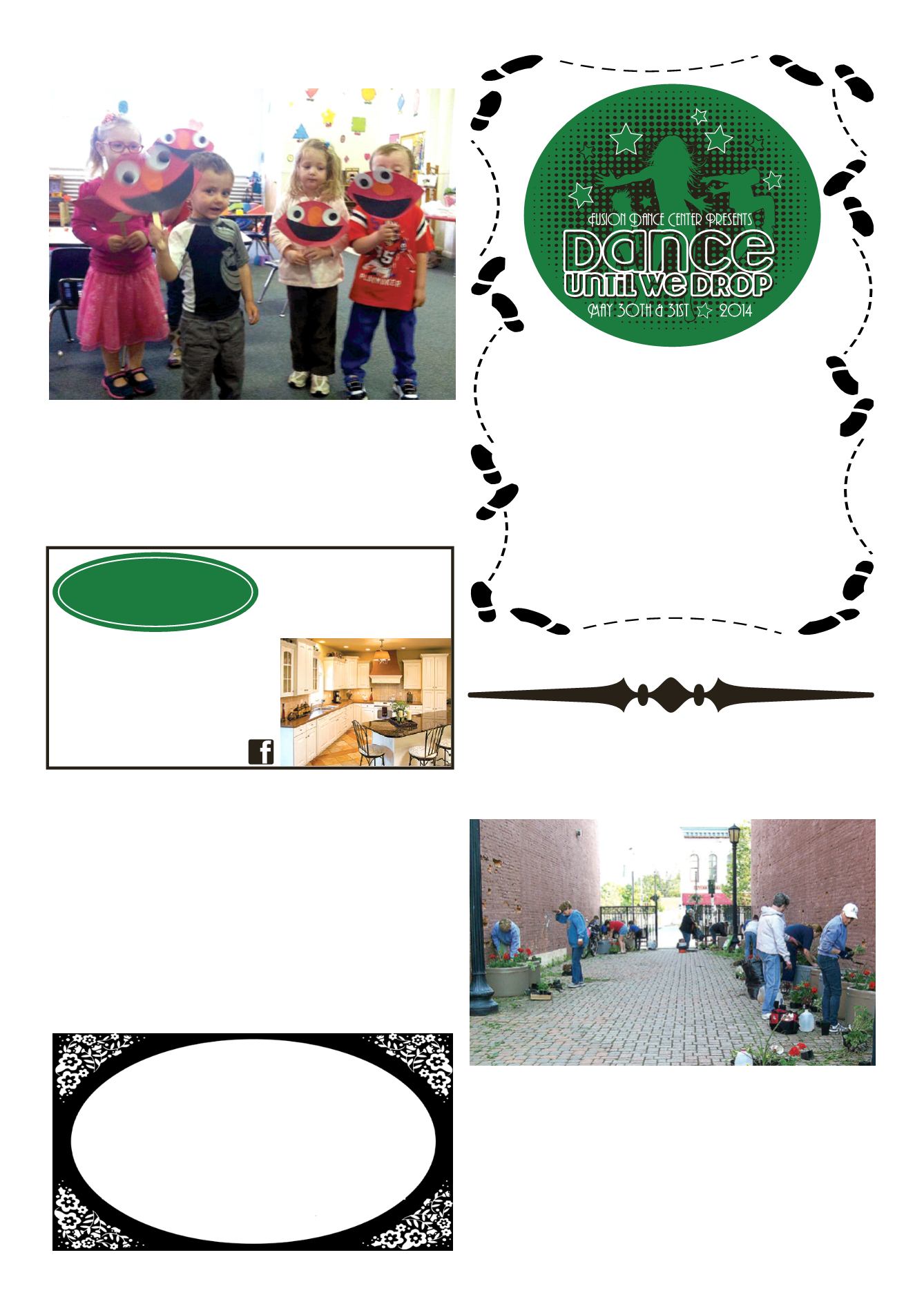 LEROYPENNYSAVER&NEWS -MAY 25, 2014
Friday,May 30
at 7:00pm
Saturday,May 31
at 2:00pm
Recital held at
LeRoyHighSchool
All tickets are $8.00 and can be
purchased at the door.
LittleBugsPlaygroupatLoveBugsPreschool enjoyed their last
classof theyearwithoneof their favoritecharacters,Elmo! The
children sang songs, danced andmade an Elmo mask of their
own. They talked about the different shapes and colors that are
onElmo's faceand thenglued themall together.Thechildrenhad
awonderful year interactingwithoneanotherandareexcited to
comeback to school in the fall!
IsThat Elmo?
585.345.0012
kreativedesignkitchenandbath.com
CABINETRY •COUNTERTOPS
CORIAN •GRANITE •QUARTZ
Free ProfessionalDesign&Layout
Cabinets&DesignForAnyRoom InYourHouse
DesigningKitchens&Baths ThatReflect
Your Personality&YourDreams
KREATIVEDESIGN
KITCHEN&BATH
Iwant to thank allmy friends for all their
cards, phone calls, food, flowers and for
their prayers duringmy recent surgery.
1st team #9 , 67 pts. -T. Skalny,
3rd team #2, 57 pts. -CBump,
Lownet:
LorenWetzel SeniorGolfLeague
The American Heritage Girls (Troop #NY0146), their leaders
andmothersareworkingalongwith theLeRoyTown&Country
GardenClubmembers to prepare the large planters forMain
Street.Thiswill fulfillpartof thegirl'sgardening&plantscience
requirement.ThegroupmetMonday evening,May19th, in the
Main Street walk-through to replace last year's dead flowers
with this year's colorful flowers. Pully's FarmMarket and
Crnkovich's FarmMarket assisted in purchasing the flowers.
TheLeRoyVillageDPWhelped inmoving theplanters andare
helping tomaintain themduring the summer.
Town&CountryGardenClub
Plant Flowers