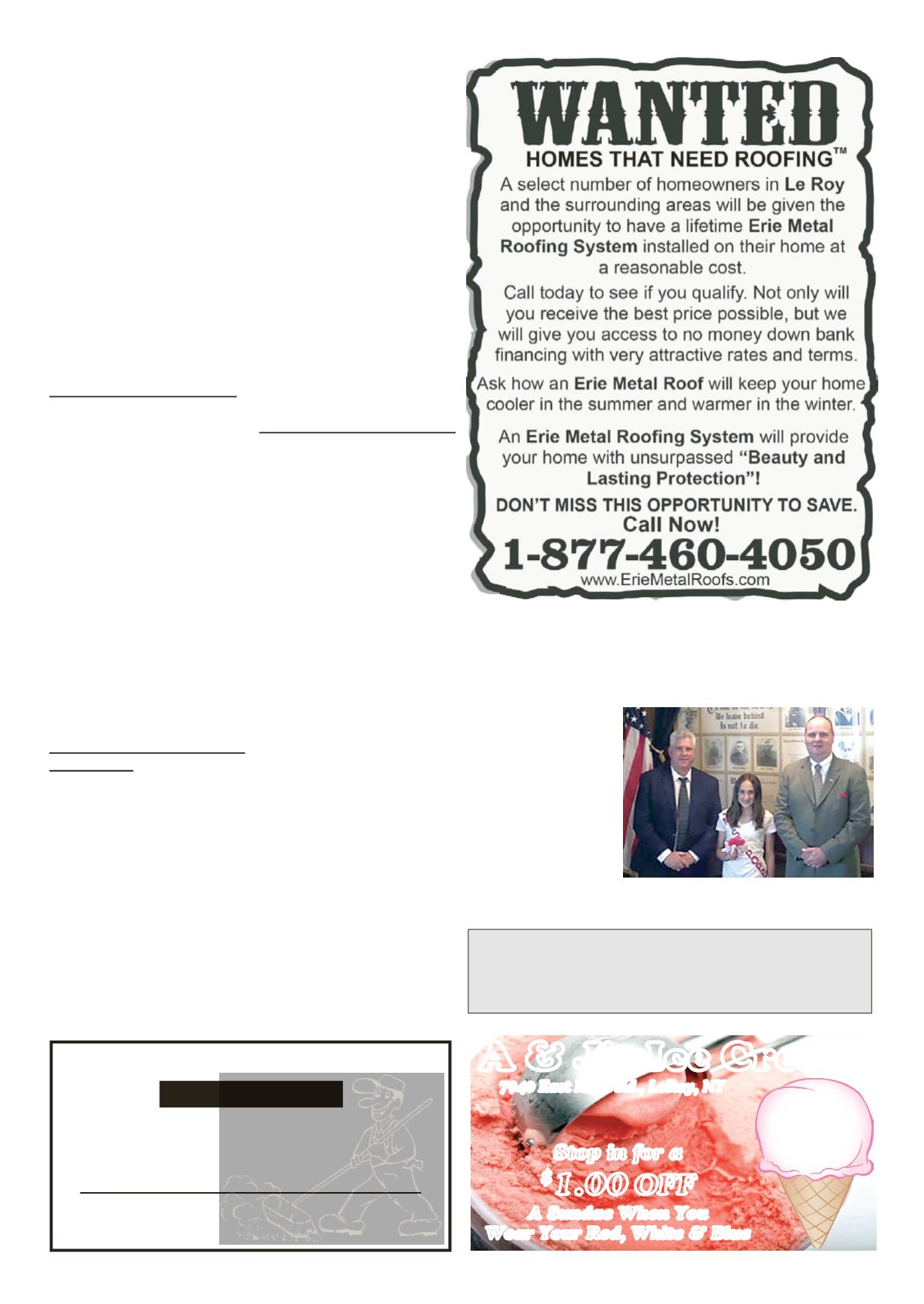 LEROYPENNYSAVER&NEWS -MAY 25, 2014
7940EastMainRd., LeRoy, NY
SUPPORTYOUR LOCALADVERTISERS!
They help sponsor the local news section of the Le Roy Pennysaver.
THANKS FORYOUR SUPPORT!
CleaningService
•Carpet &UpholsteryCleaning
•Spot Cleaning&Odor Removal
•Tile&WoodFloor Cleaning&Waxing
•Complete Janitorial Services
bySenatorRanzenhofer
May 2014
As I outlined in my column
lastmonth, thenewStateBudget
gives all Western NewYorkers
theopportunity tosucceed. How-
ever, it doesmore than just that.
The 2014-15 State Budget also
implements a new fraud preven-
tion measure to prevent welfare
fraud, includesmore funding for
local road repairs and delivers
real results for seniors.
New fraudpreventionmeasure
willing to lend a helpinghand to
those in need, but we don't like
seeing taxpayer money being
wasted. That iswhy Iampleased
to report that anew fraudpreven-
tionmeasurewill help to ensure
that public assistance dollars are
being used for their intended
purpose, insteadof beingabused
Under thenew rules,Electron-
ic Benefit Transfer cards can no
• Liquor stores andBeverage
•Casinos andRacetracks; and
•VideoLotteryTerminals and
Off-TrackBetting locations.
More funding for potholes,
roaddamage
ThenewStateBudget allocat-
ed an additional $40 million in
Extreme Winter Weather Assis-
tanceCapital to localmunicipal-
ities to help repair potholes and
road surface damage caused by
Whilespring isfinallyhere, the
aftermath of a brutal winter re-
mains.Therearestillasignificant
number of potholes and surface
damage all over the roadways.
At the same time, the harshwin-
ter has depleted municipalities'
budgets to repair roads. This
investmentwillbenefit townsand
villagesso thatnew infrastructure
repairprojectscanbeundertaken.
In addition, the State Budget
providesways tokeep roads and
drivers safe. More funding has
beenallocated towardscurtailing
dangerous texting-while-driving.
Youngandnewdriversconvicted
of texting-while-drivingwillhave
their license suspended for 120
days for a first-time offense and
one year for s second offense.
Deliveringrealresultsforseniors
Western New York's seniors
have spent a lifetime in our
community, saving for their re-
tirement and preparing for their
golden years. Throughout the
budget process, I have worked
to ensure that programs for the
elderly are preserved and im-
proved– for current seniors and
The newStateBudget reflects
that commitment by expanding
EPIC, New York's low-pre-
scription drug plan, to cover an
additional25,000seniorcitizens.
Income eligibility for the pro-
gram is increased from $35,000
to$75,000 forsingles,$50,000 to
ThenewStateBudget also ful-
ly funds theEnhancedSTARpro-
gram, andprovides anadditional
$5 million for the Community
Services for theElderlyProgram.
Each one of these initiatives
will help to improve quality of
life for residents. As your State
Senator, Iwill remaincommitted
to ensuring that the decisions
made in the State Capital go a
long way to help strengthen our
StateBudget:
New InitiativesToHelp
StrengthenOurCommunity
Mayor Greg Rogers
and Town Supervisor
Stephen Barbeau met
withAvaHorganat the
American Legion Post
home. Ava reminds us
that when you see a
poppyworn,we should
reflect on the burden
borne by those who
gave theirall, sowe at homemight live inpeace.
AvaHorgan
2014PoppyGirl