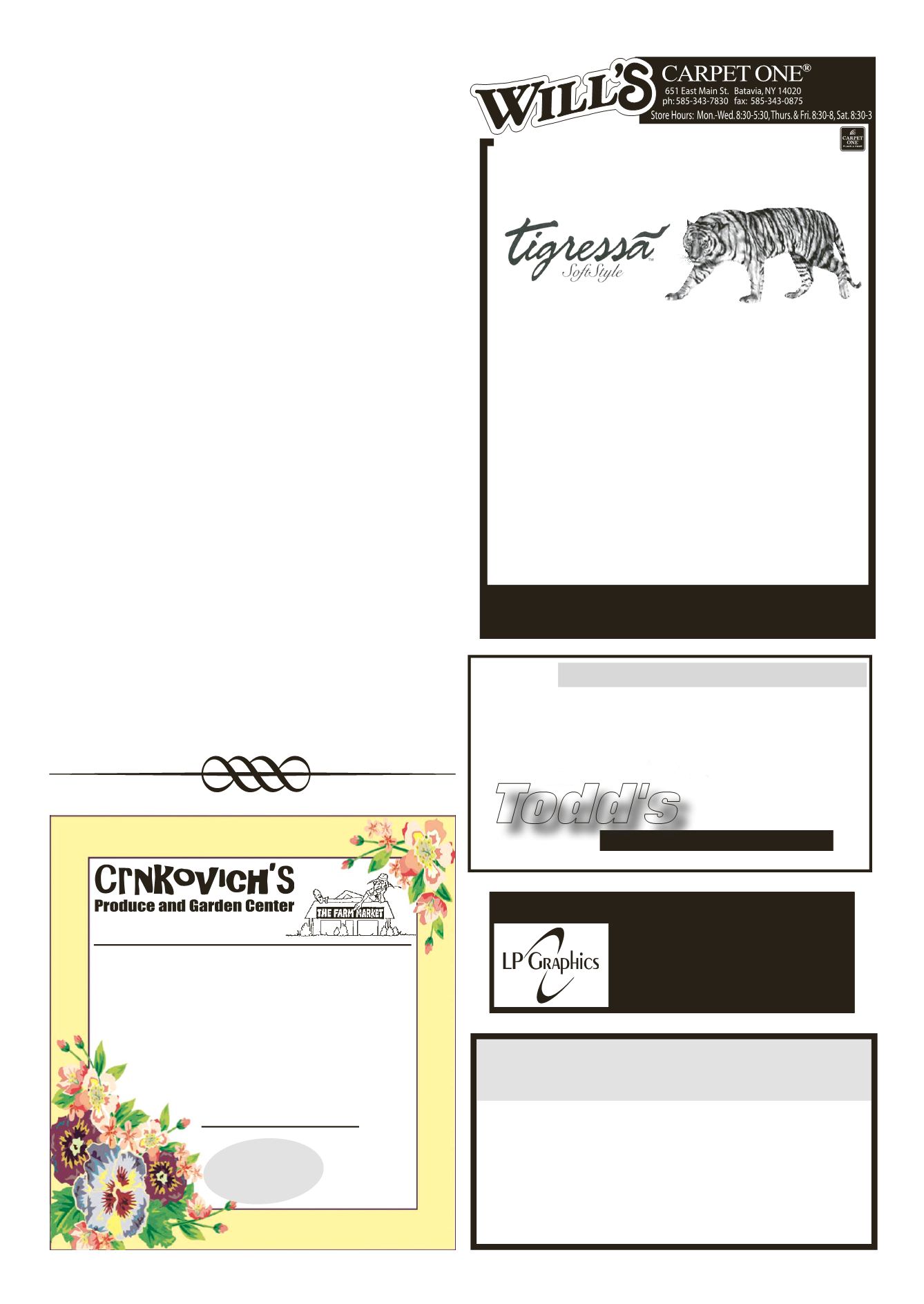 LEROYPENNYSAVER&NEWS -MAY 25, 2014
FLOOR
&HOME
TheONE store for your perfect floor.
NewHomes •Additions •Garages •PoleBarns
ToddCarli • Phone 703-0964
Todd's
Decks •Windows •Doors
Kitchens •Baths
CeramicTile
Basement Finishing
CustomShelves/Built-Ins
Siding •Remodeling
Roofing • SnowPlowing
FULLY INSURED
• 18MonthFinancingAvailableForQualifiedCustomers
•FreeEstimates
Select Styles
StartingAt $2.69 sq. ft. • Installedw/a 6# pad
Hurry! LimitedTimeOnly!
TheOatkaFestivalCommittee
announced the theme for this
year's event on July 19& 20th.
Plan to be playing games in the
streetandon the festivalgrounds.
Comebackandplayyourfavorite
childhoodgames. More informa-
tionon the festivaleventsalready
planned can be found on our
Gracious sponsors have been
responding toannual solicitation
that provides for theMainStreet
Parade on Saturday, July 19th
step off at 11:00 am. Parade
applicationswill be found in this
publication soon. Plan to attend
the fabulousparade lineupcour-
tesy ofOatkaFestival sponsors.
Free live entertainment lineup
under the tent includePaulsen&
Baker, The Ghostriders, home
town favorites – Oatka Night-
ingales and the Good Knights
Musical offerings wrap up with
Elvis Lives – live performance!
Local foodvendorsaregearing
up to feed thehungrycrowdsand
earning funds to run their pro-
grams. LeRoyRotary ishostinga
PettingZooandanimaladventure
locatednearby thebouncehouse,
slide and rock challenge wall.
Magic Man Rich will entertain
the little ones with balloon and
The50/50 rafflewillagainhave
two drawings for winners, one
eachday!Besure togetyour tick-
ets.Theproceedsensure funds to
begin the 2015 festival. Regular
shoppers at the LeRoy Farmer's
Market will find the market on
Wolcott Street for the weekend
with several crafts, artisans and
game booths for young and old
alikeon theschoolgrounds. This
weekend wouldn't be complete
until the ducks swim the Oatka.
At theMay 14thmeeting par-
ticipants heard about some com-
mittee restructure with folks
graduating off the committee.
Sincere thanks for their years of
dedicated service to the entire
community. Here'syouropportu-
nity to join in thecommitteework
to provide the top hometown
weekendof family fun, to join in
contact usat info@oatkafestival.
To become a sponsor of the
OatkaFestival please see the tab
on the website. If not for Oatka
Festival sponsors – it wouldn't
Let'sPlay!
8041 E.MainRd. (Rt. 5) 1Mile East of LeRoy
OpenDaily •768-7259•768-7813
CemeteryUrns •HangingBaskets
4"ProvenWinnerAnnuals •ComboPots
Rosebushes
Annuals, Perennials&Veggies
EverythingFor Your SpringPlanting.
FRESHASPARAGUS!
BakedGoods
by
CreativeSweets
ALLWORKMANSHIP GUARANTEED • INSURED
297-9097 • 768-7737
• InteriorPainting
• Plaster/LathRestoration
•Drywall&Drywall Repair
•TextureRemoval
• Floors Stripped
&Refinished
•OldCeilings&Walls
MadeLikeNew!
MikeDarby'sPatch&Paint
1ChurchSt., LeRoy, NY14482
585-768-2201
FAX 585-768-6334
WeDo