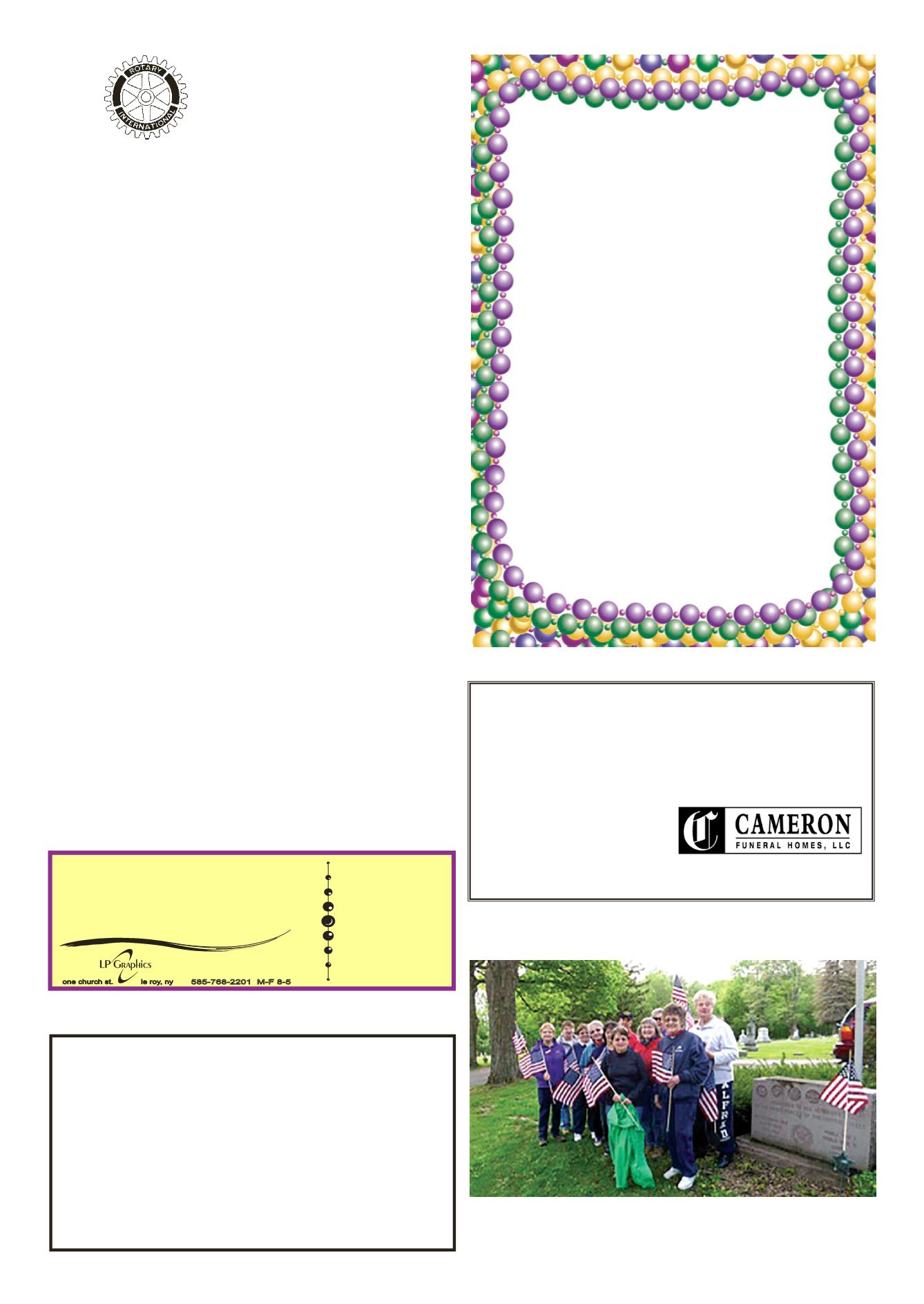 LEROYPENNYSAVER&NEWS -MAY 25, 2014
HelpingFamiliesCelebrateaLifeLived
"Our FamilyServingYours Since 1907"
Trusted•Honest •Proven
(585) 768-6800•LeRoyFuneralHome.com
Cameron, Brady&Steuber
FuneralHome
111Wolcott Street
LeRoy,NY 14482
FunandFunkyPolymerClay
WoodwardMemorial Library
for children in grades 3-6.
Saturday,May 31st
from 1:00 to 3:00p.m.
Make beads using polymer clay,
then after the beads have been
baked, use them to create
This Decentralization Regrant Program is made possible by the
NewYork State COuncil on the Arts with the support of Governor
AndrewCuomo and the NewYork State Legislature.
Registration is required.
Call 768-8300or registeronlineat
DavenportScrewMachineSetup/Operator
5 years experiencewith strong knowledge in performing repeat setups of
provenproduct andchangeoversof similarproduct.Ability toverifyproduct
usingvariousgagesand readingblueprints,must knowhow tosharpen tool-
ing, troubleshootmachines,makesvariousadjustments tomaintainquality
product. Responsible for daily lubrication, cleaningoutmachines and chip
removal andwill beoperatingmore thanonemachine. Competitivehourly
rate based on experience, 401K plan, medical, vacation, paid holidays,
flexiblehours and uniforms.
SU/Operator
POBox 190, LeRoyNY, 14482
Notes,May 14, 2014
President Tracy Ford called
theMay14, 2014meetingofThe
Rotary Club of LeRoy to order.
Our guests today were LeRoy
High School Seniors, Shealyn
O'Halleran andLaurenPencille.
There were many announce-
ments today. PresidentTracyan-
nounced that theMay28thRotary
meetingwillbeheldat theLeRoy
Country Club. Martha Bailey
pronounced theRent-A-Rotarian
a success. In fact, it was so suc-
cessful that there are a fewmore
jobs to complete and she is look-
ing formore volunteers. It looks
like June will be a busy month
for us. June 11th is the LeRoy
RotaryGolf Outing and on June
26th, the Installation Banquet.
R.E.A.L., our book give-away
will be June 21st at The LeRoy
Mary Margaret Ripley were
cited formissedmeetings but all
had make ups. Sully presented
president Tracy with a nice gift
from Florida. The gift didn't
count when she got to the fining
session. Sullywas asked a trivia
question, "WhatyearwasRotary
founded?" He was off by a few
years and had to spin theRotary
Wheel. The answer, by the way,
is: 1905. Other fines included
DavidGrayson forhisbrandnew
"bike",LynneBelluscio forsome
black and white film, and Carol
Wolfe for having her cell phone
Our program today was The
History of Beer presented by
Rotarian andhome brewerChris
Biviano.Ale is one of the oldest
andvaluedbeverages. In fact, the
daily wage for a pyramid con-
structionworker was a gallon of
beer. It would take 231,414,717
gallons to build the Pyramid of
Giza.That ismore than11million
Americans will drink in a year.
During themiddle ages the aver-
agepersondrank60 to66gallons
of beer a year. The fermentation
processmade it cleaner and safer
thanwater. Midwives even used
a strongbeer to ease labor pains.
George Washington, Thomas
Jefferson, Ben Franklin and
SamuelAdamswereall brewers.
Chris explained a little about the
process of making beer at home
usingbarley, yeast andwater.He
promised us a sampling of his
latestbatchwhen it iscompleted.
After our raffle drawing, the
bell was rung and the meeting
Please like us on facebook at
LeRotary
Notes
TheAmericanLegionAuxiliaryBottsFioritoUnit576placed
flagson thegravesofapproximately563VeteransatSt.Fran-
cisCemetery.
PlacingFlags
one church st. le roy, ny
one church st. le roy, ny