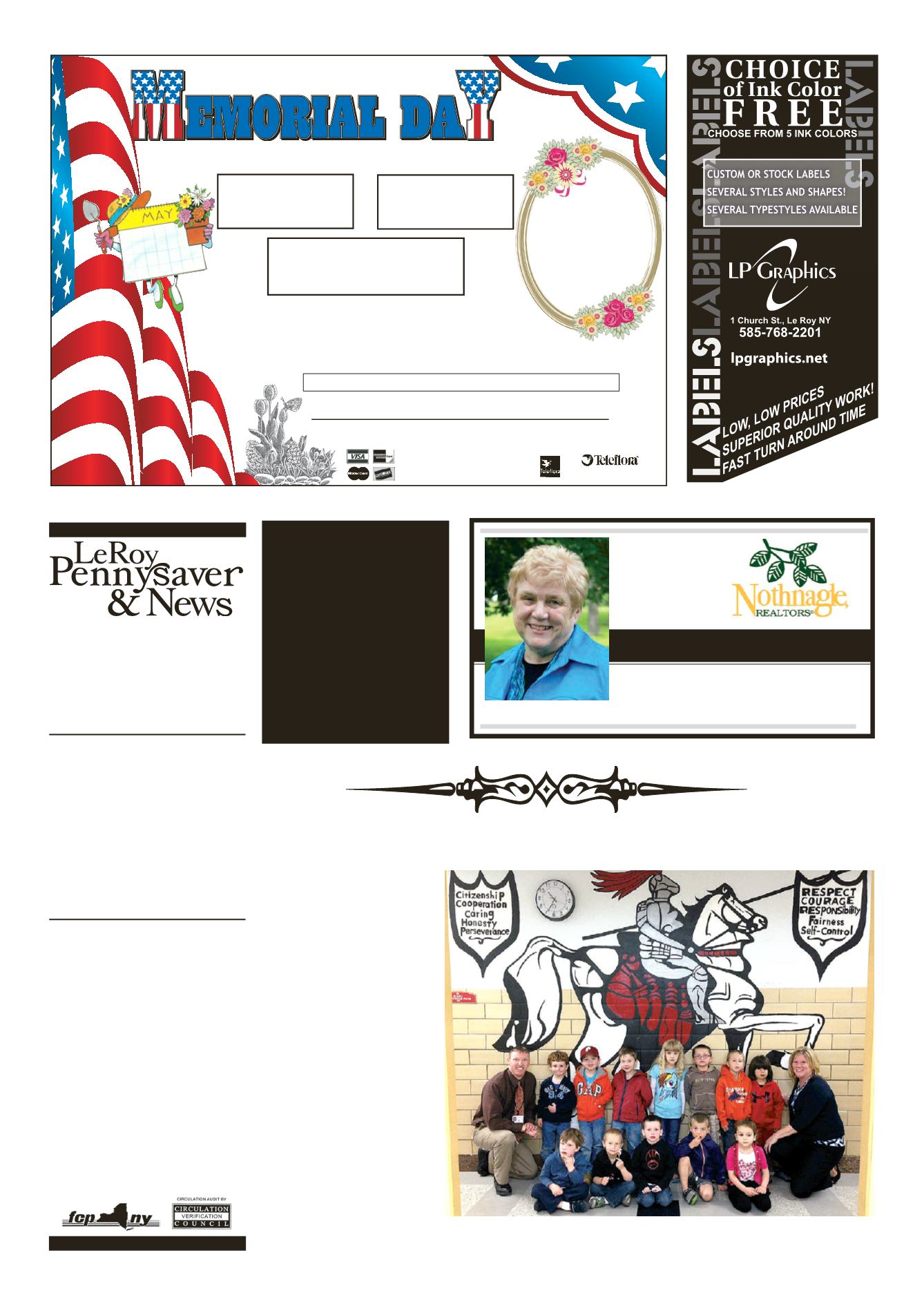 LEROYPENNYSAVER&NEWS -MAY 25, 2014
Lakestreet Florist&Gift Shoppe
WeDeliver To: LEROY, Byron, Bergen, Caledonia,Mumford, Pavilion,Wyoming, Stafford&Batavia
TelefloraWire ServiceForFamily&FriendsOut of Town
768-7720
110LakeSt., LeRoy
HOURS:
M-T 9-5:30
F 9-6:00
Sat. 9-4:00
LeRoy'sBestAdvertisingMedium
The Le Roy Pennysaver will not knowingly accept or
publish advertising which is fraudulent or misleading
in nature. The publisher reserves the right to reject or
cancel anyadvertising.TheLeRoyPennysaverassumes
no financial responsibility for typographical errors in
advertisements, but if at fault, will reprint the portion of
the ad in which the error appears. Style, size of type
and locationof advertisement are left to thediscretionof
the publisher. The opinions expressed in this publication
are not necessarily those of the publisher. We cannot
guarantee the returnof photographs.
CALL
768-2201
NANCYCROCKER
LicensedReal EstateSalesperson
570EastMainStreet •Batavia, NewYork 14020
Cell: 585.314.7982 • Fax 585.343.8502
Multi-MillionDollar
Producer
ClosedMonday, May 26th
HANGINGBASKETS • PATIOPOTS
BeddingPlants •Annuals
Geraniums • Spikes •Vinca •German Ivy •Ferns
LookatourWEBSITE for lotsof ideas!
TAKINGORDERS
FORCEMETERY
URNS
GRADUATION
RECITALS •CORSAGES
PRESENTATIONBOUQS.
PROMTIME
Corsages/Bouts
Garters/NewBracelets
PLUS
WEHAVE
Gourmet&
Fruit Baskets
JunkFood
Baskets
Balloons
Graduation
Pre-K classwas given a tour
ofWolcott Street School by
thePrincipalCarolMessura.
The children were excited
to see thekindergartenclass-
rooms, cafeteria, gymnasi-
ums, and many other areas
of the school.While visiting
the first-grade classrooms,
the children were fortunate
to witness a chick trying to
peck hisway out of its egg.
They also saw baby chicks
that were only a few hours
old. It was a very exciting
day forSNS.Thechildrenare
looking forward tobeginning
theirkindergartenadventures
LookOutWSS,HereWeCome!
Picturedhere is thePre-K classwithprincipalCarolMessuraand
VicePrincipal JonWilson.