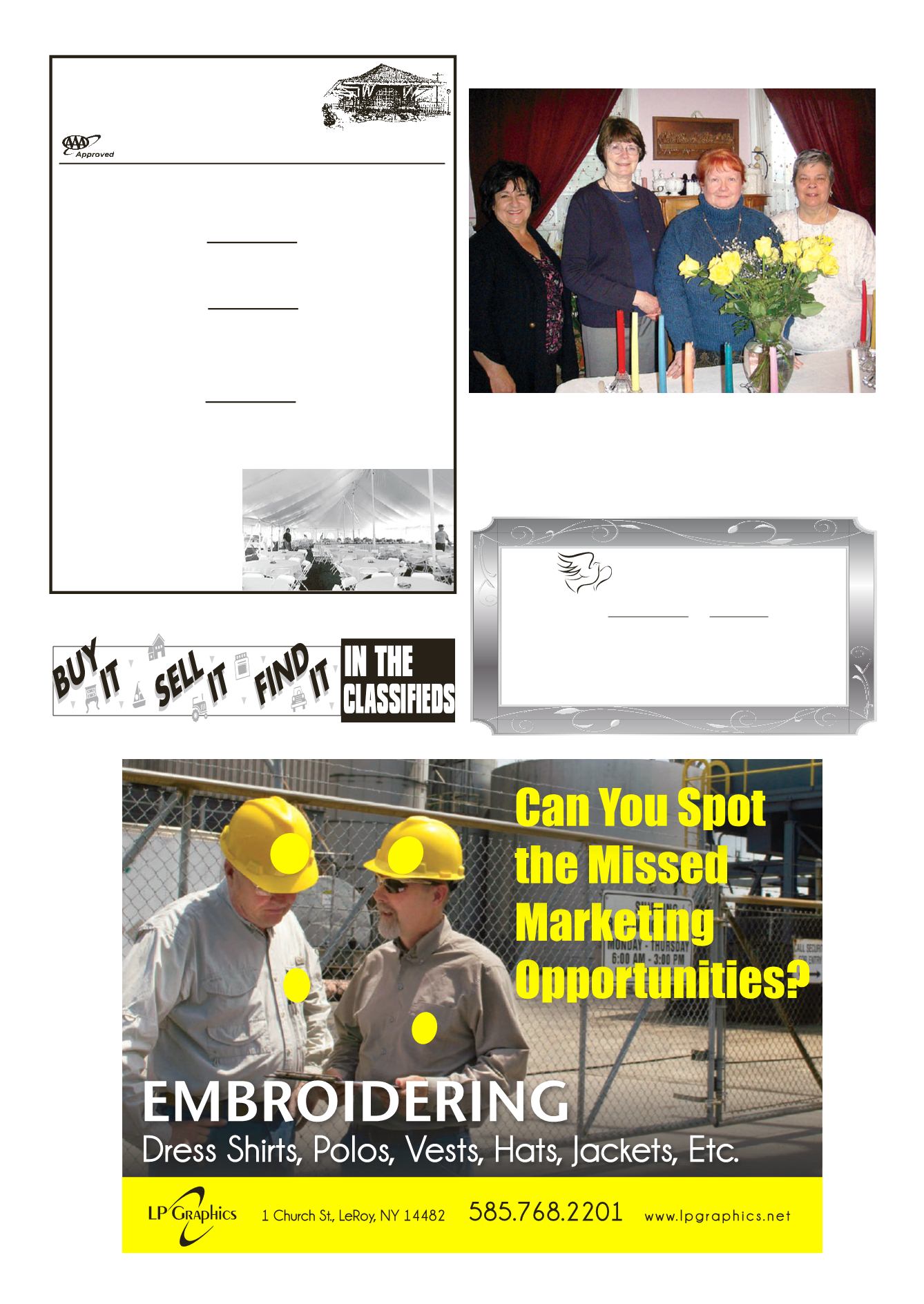 LEROYPENNYSAVER&NEWS -MAY 25, 2014
D&RDepot
63LakeSt. (Rt. 19), LeRoy• 768-6270
Let'sMeetAt The ...
OpenForBreakfast, Lunch&Dinner - 7DaysAWeek 7am-9pm
F
ALCONE
F
AMILY
Funeral&Cremation Service, Inc.
Director/Owner
Director /Owner
FuneralDirector
SUNDAY,MAY25/MONDAY,MAY26thDINNERSPECIAL
BeerBatterFRIEDCHICKENDinner - $15.99
(includes soup or salad, realmashed potatoes, beverage
and an apple dumpling)
SUNDAY, JUNE 1stDINNERSPECIAL
OldFashionedPOTROASTDinner - $15.99
(includes soupor salad, beverage& homemade coconut cream pie)
SUNDAY, JUNE 8thDINNERSPECIAL
DEPOTSHOREDINNER - $20.99
(includes seafood bisque soup, lobster tail, crab cakes,
broccoli salad, beverage and fresh strawberry shortcake
TheDepot's new sister company, DoubleLRentals - offering tables, chairs,
heaters, bars, linens, dishes& catering supplies for your special occasions!
10%discount
whenyouuse both the
D&RCateringServices
andDoubleLRental
foryour event.
Visit doublelrental.com,
or call us at
(585) 344-0023
IotaRho, theLeRoyChapterofBetaSigmaPhirecently installed
newofficers for thecomingyear.From left is:CarolWolfe, trea-
surer, Marcia Yacuzzo, vice president, Dawn Ireland-Monsees
president and Sharon Steffinella, secretary. Beta Sigma Phi is
an internationalwomans'sororitywith over65,000members.
NewOfficers Installed