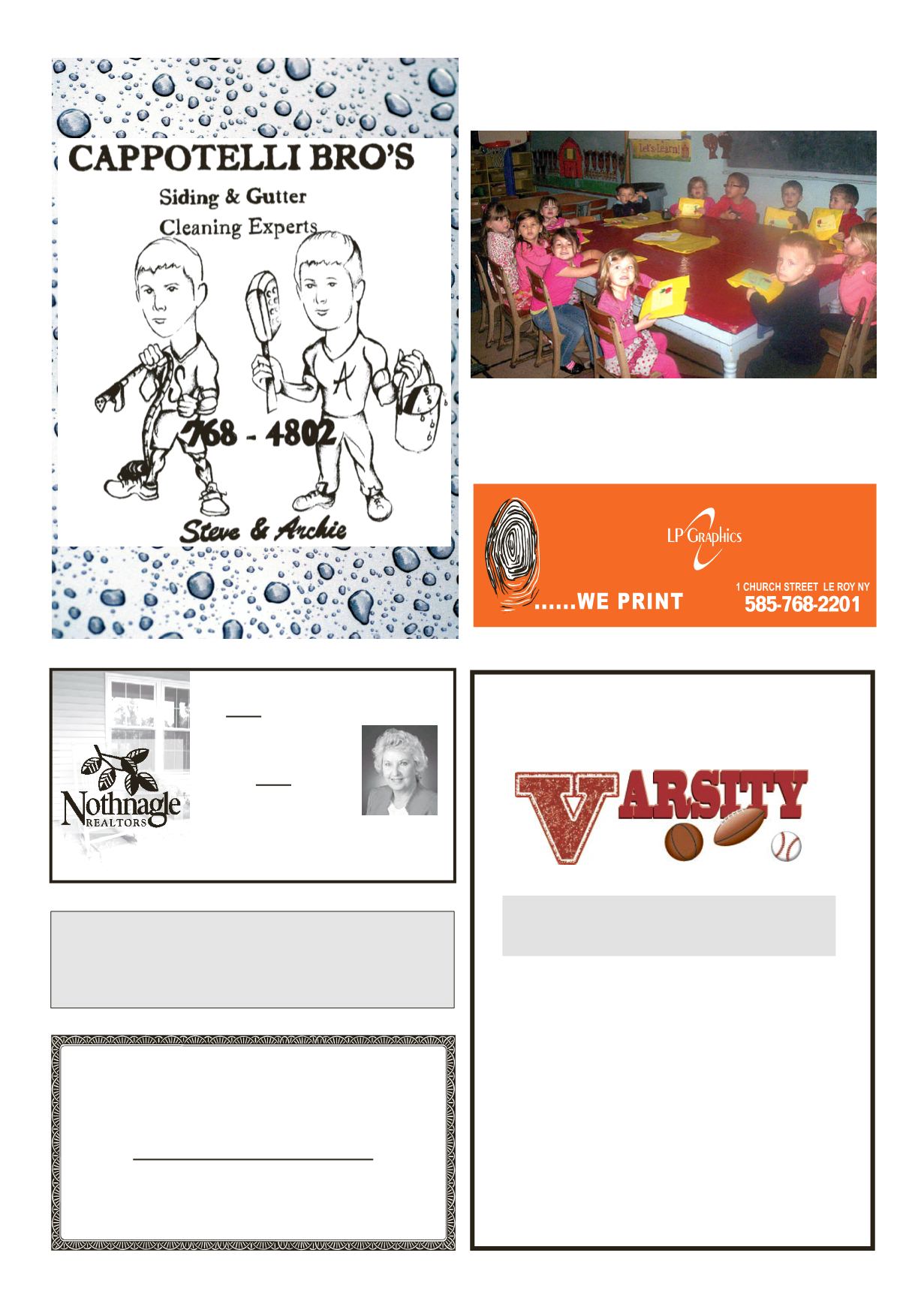 LEROYPENNYSAVER&NEWS -MAY 25, 2014
Batavia
585-343-6750
NOW is theBEST time
toBUYwith the interest rates
at their lowest!
Don't wait
toBUY -
call
LindaBeaumont
for all your real
estateneeds.
LindaBeaumont
Home (585) 768-6315
LicensedReal Estate
Salesperson
Multi-MillionDollar Producer
SUPPORTYOUR LOCALADVERTISERS!
They help sponsor the local news section of the Le Roy Pennysaver.
THANKS FORYOUR SUPPORT!
LeRoyNurserySchool got ready forMothersDay.The children
workedthroughouttheyearonaspecialpresentfortheirmothers.
Theyeachwrapped theirowngiftsandcolored thegift tag.They
were so excited to give theirgifts!
LNSCelebrated
Mother'sDay
LeRoy Sports Boosters
Winter/Spring
BANQUET
June 2nd
• 5:00pm
Holy Family School Gymnasium
Everyone isWelcome!
Dinnerwill be followedbyawards presentations.
Tickets for athletes andguests are$10each
andcanbepurchasedat thehigh school office,
pleasepurchase tickets asap.
Comecelebratewith theathletes onamazing
Winter/Spring Sports Seasons.
Thank You toall of the volunteerswhohelpedoutwithour
springconcessions andpizzaparty!!
Pleasecheckout ourwebsite for opportunities to
volunteer for activities providedby LeRoy Sports Boosters
Yard SaleandOpenHouse
Saturday, June28,
9 to3pm
MorganvilleUnitedChurchof Christ
off Rt. 237, 1milenorthof Stafford
Takea ride into thecountry, browseour bargains,
enjoy freebeverage, icecreamand $1hot dogs.
Todonate items to thechurch for saleor to rent
your own tableat $5call Laurieat 585-757-2257
lpgraphics.net