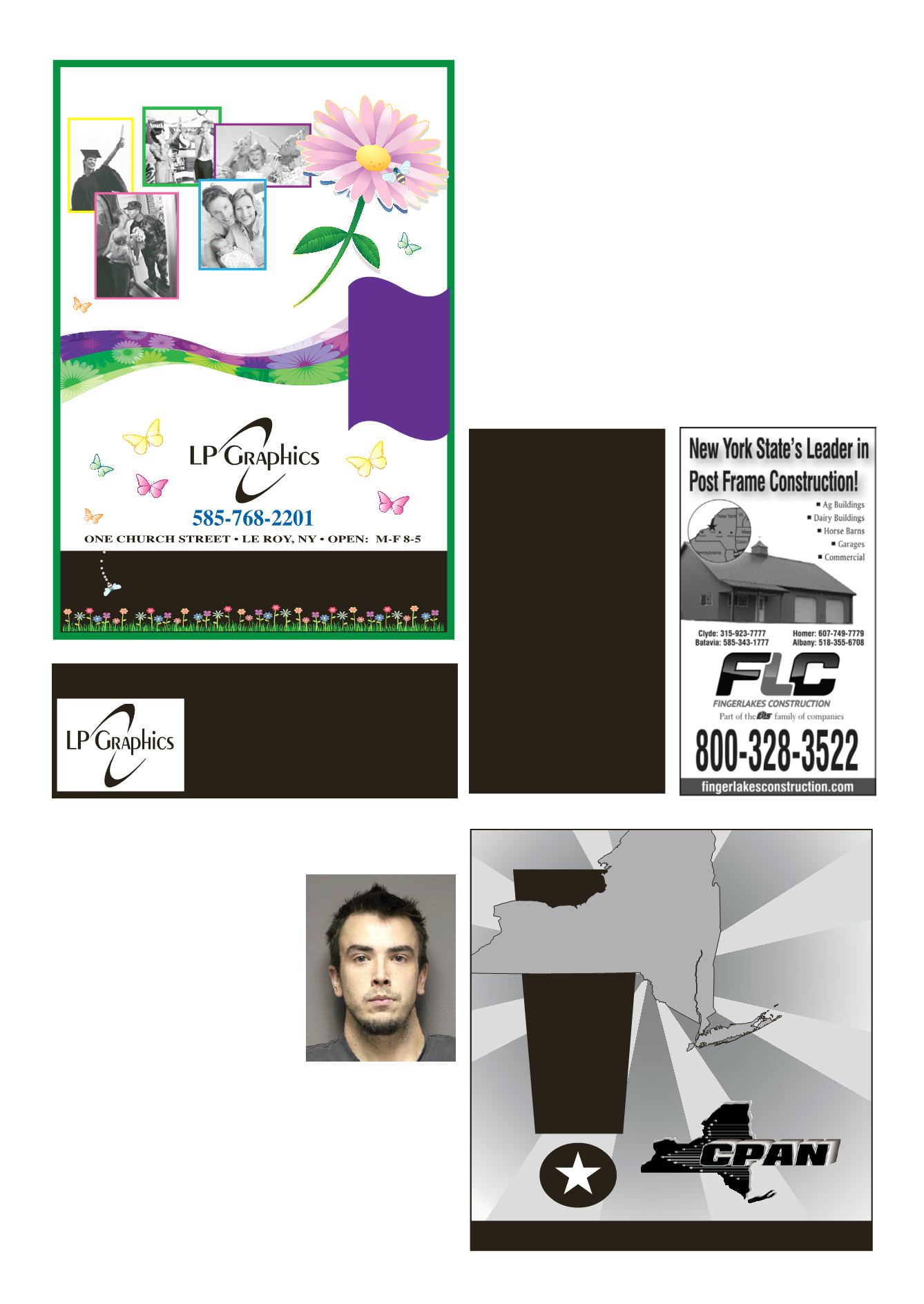 LEROYPENNYSAVER&NEWS -MAY 25, 2014
1ChurchSt., LeRoy, NY14482
585-768-2201
FAX 585-768-6334
WeDo
ONE
ONE
*$490 for15words. $15 foreachadditionalword.
AGreat Deal toReach theWholeState!
Eric T.Witkowski
of Le Roy, was named to the
Dean's List for the spring 2014
semester at Alfred University
(AU). He is a sophomore in the
Inamori School of Engineering.
Studentsmust earn at least a 3.5
gradepoint average toqualify for
Witkowski is a Mechanical
Engineeringmajor atAU, which
U.S. News
and World Report's
School" list of regional universi-
ties in the north appearing in the
2014 edition of "Guide to Best
Colleges."AU isalsoranked30th
"best regional university" out of
some135 institutions in thenorth.
A graduate of Le Roy Jr./Sr.
High School, Witkowski is the
sonofRobert andMarianneWit-
TheUniversity is comprisedof
theprivatelyendowedCollegeof
ProfessionalStudies,housing the
School ofBusiness, and theCol-
legeofLiberalArtsandSciences,
as well as the state-sponsored
CollegeofCeramics housing the
Kazuo Inamori School of Engi-
neeringand theSchoolofArtand
Design.Bachelor's,master's,and
doctoral degrees are awarded.
05/20/2014 - 28 year old Timothy
Niccloy of Summit Street LeRoy was
charged today with two counts of Men-
acing a PoliceOfficer, a classD-Felony,
andonecount eachof theMisdemeanors
ofCriminalPossessionofaWeapon,Ob-
structing Governmental Administration
The charges stem from an incident on
Friday, 5/16/2014 when LeRoy Police
Officers went to the Niccloy residence
to check his welfare. After believing that Niccloy was a potential
threat tohimself, theOfficersattempted to takeNiccloy intocustody.
Niccloy allegedly resisted and Obstructed when he then allegedly
brandished a knife. Niccloywas taken into custody after a struggle
atwhich time a taserwas deployed and used.
Niccloy was arraigned before the Hon. Michael Welsh of the
LeRoy Town Court and committed to the Genesee County Jail in
The LeRoy PoliceDepartment was assisted at the scene by the
GeneseeCountySheriff'sOffice and theNewYorkState Police.
Le Roy
Pennysaver
Send in your own artwork or let our
come upwith a design to suit your style and your event.
....with a Sign
Welcome Special Occasions ...
lpgraphics.net