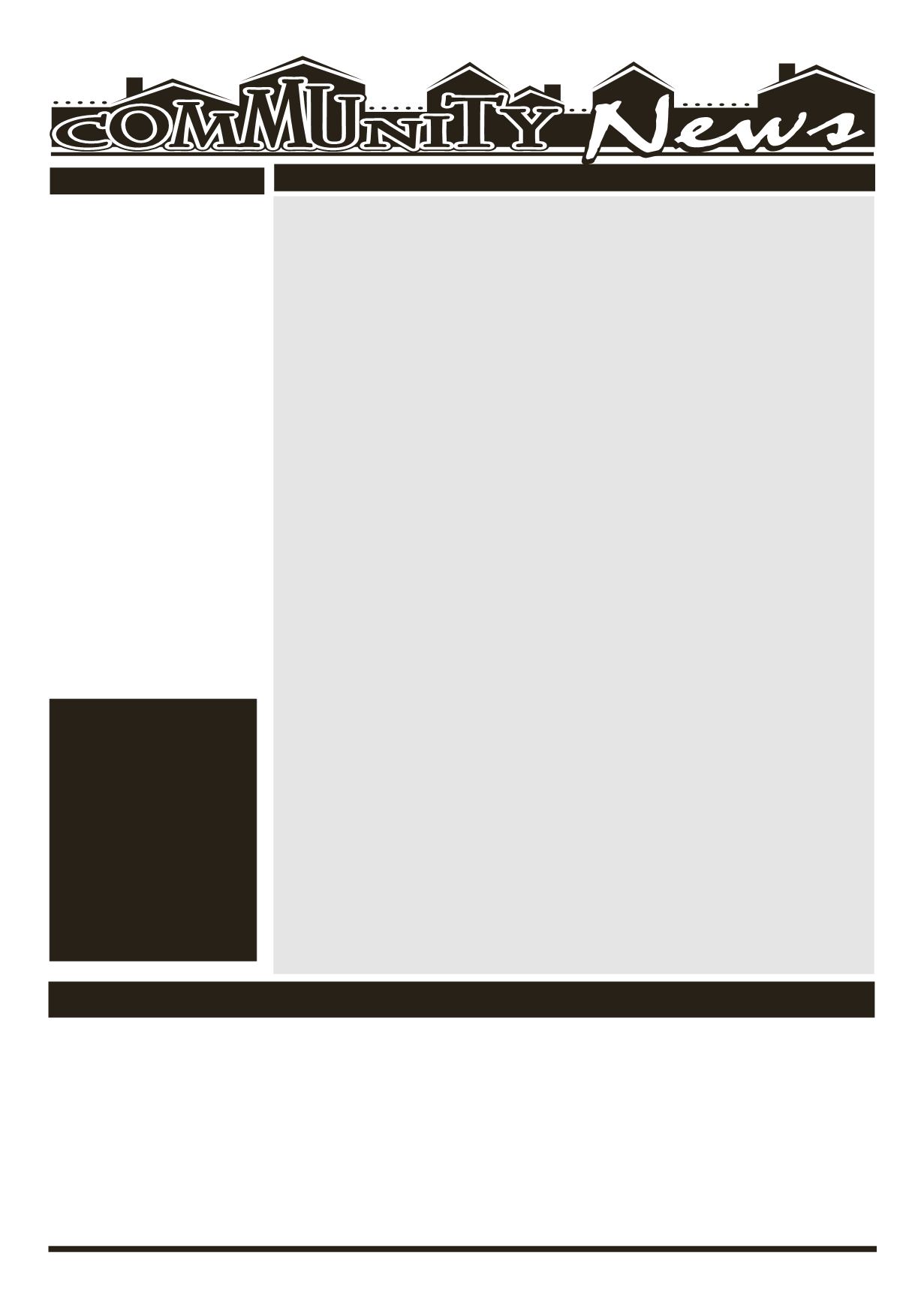 LEROYPENNYSAVER&NEWS -MAY 25, 2014
All GeneseeCounty residents, 60andolder, can takepart in thisweek'sactivitiesat theBataviaSenior Center, 2BankSt., Batavia. Formore information, call 343-1611.
WEEKLYEVENTS
OBITUARIES
MemorialDayHoliday–NoMealsServed.
MedicareSign-ups
will be from12:00p.m. to2:00p.m
.
Cribbage
is scheduled for 1:00p.m.
Quilters
are scheduled tomeet at 9:00a.m.;
Euchre
is scheduled tobeginat 1:00p.m.
CribbageandBridge
MusicalKeyboardLessons
ArtClassandLineDancing
TaiChi
SUNDAY,MAY25
AWANA Program at Penuel Christian Fellowship.
Sundays 12:15 to 1:45 pm. Ages 5-17 broken into groups. Developing
friendships.Having fun. LearningaboutGod. Safeenvironment.
Konnect YouthGroupat LivingWaters Church,
Sundays from6:30 to8:30pm forages12-18. "BringDownall theWalls!
Connect with God and Connect with others." For more information,
checkusoutonlineat: livingwatersleroy.org/konnect-youth-ministry/
MONDAY,MAY26
TOPS (TakeOffPounds Sensibly)
meetsMonday evenings from6:30-
7:15pmat theLeRoyPresbyterianChurch, corner of Clay&MainStreets.
Visitorsalwayswelcome. Call 768-2933 formore info.
The American LegionBotts Fiorito Post 576 announces theMe-
morialDayParade
startingat10:30andtheMemorialServicewillbeat
11:00 inTrigonPark. Lineupfortheparadewillstartat10:00 intheLegion
parking lot. HotDogswillbeavailableattheLegion followingtheservice.
Memorial Day ChickenBBQ
at Byron Fire Hall on Rt. 262 - following
the 11:00 amMemorial Day Parade. Music &more. Benefits Byron Fire
Department LadiesAuxiliary.
TUESDAY,MAY27
LCCP'sGRACE'SKITCHEN:
AFREEdinnereveryTuesdayevening,5-7pm
at the LeRoyUnitedMethodist Church, 10TrigonPark. Parking available
onTrigonPark& the lots to the left andbackof theChurch.Handicapped
Entrance in the back of the Church. Takeout &delivery are available. For
LeRoyZoningBoardofAppealsMeeting
(asnecessary),7:30pmatthe
TownHall, 48MainSt., For further info. call 768-6910, Ext. 223.
WEDNESDAY,MAY28
Villageof LeRoyBoardMeeting
, 7:00 pm at theVillageHall, 3West
UsingNative Plants in Your Garden at theWoodwardMemorial
Library
, from 6:30 to 8 p.m. Jon Ehrmentraut, of Landscape Concepts,
LeRoy, will present a program on identifying and growing native plants
in this area. Registration is required. Call 768-8300or register on line at
The Stafford Historical Society
will, at theirWednesday, May 28,
2014monthlymeeting, present aprogrambyGarth Swanson, Professor
of History at GeneseeCommunity College. It is:"1964: TheYear America
Changed". Hewill explore the social, cultural andpolitical significanceof
1964onthedevelopmentoftheUnitedStatesandtheGeneseeRegion. The
meetingwill start at7:00P.M. at theStaffordTownHall, 8903Route237.
THURSDAY,MAY29
GeneseeVeterans Support Network
(GVSN) supports the develop-
ment of Veterans focused AAmeetings every Thursday, 6-7 pm at the
First Baptist Church, 306 E. Main St., Batavia. Meetings led byMikeW.
& are open tonon-veterans aswell. Handicap accessible. For additional
information call 585-302-0825.
GRACE'SCLOSET:AClothingGiveawayProgram
UnitedMethodist Church, 10 Trigon Park, Le Roy. 9:30 am to 11:30 am
everyThursday. We have clothing for all ages. Spring& Summer cloth-
ing now being put in place. We are in need of lighter coats, clothing,
shoes, pajamas, bedding, sheets inall bed sizes. Weacceptdonationsbe
dropped off at the house next to the church. Please put all bags INSIDE
on thebackporch. Noelectronics,TV's, computers,dishes, etc. Anyques-
tions call theoffice768-8980
FRIDAY,MAY30
Penuel ChristianFellowship,
OneStep to Freedomaddictionsminis-
try,aChristCenteredAddictionsprogram,aweeklymeetingeveryFriday
at7pm. Call theChurch formore informationat768-6901or406-3863.
SATURDAY,MAY31
Genesee Co. HealthDept. 2014Anti-Rabies Immunization Clin-
ic,
SalvationArmy, Gym area, 529 E. Main St., Batavia, 10 am to 2 pm.
FunandFunkyPolymerClayat theWoodwardMemorial Library
for children ingrades3-6, from1:00 to3p.m.Makebeadsusingpolymer
clay thenafter thebeads havebeenbaked, use them to createpieces of
jewelry. This program is led byMary Beth Dolan. This Decentralization
Regrant Program ismadepossibleby theNewYorkStateCouncil on the
ArtswiththesupportofGovernorAndrewCuomoandtheNewYorkState
Legislature. Registration is required. Call 768-8300or register on lineat
UPCOMINGEVENTS
LCCP'sMommy&Me Playgroup: Every 2nd& 4th Friday,
1:30, Le Roy Physical Therapy (in the back gym). Anymoms and their
birth-kindergarten children are welcome to come enjoy socialization,
lunch, coffee, structuredgames& freeplay.
LeRoyAlumni,willhold it'sAnnualReunion
Bohn's,Clinton St.,Batavia, beginningat 5:00p.m. Formore information
please contactRoseScott at585-768-7534.
LCCP Spring Celebration:
Saturday, June 7, 2014, 11am - 4pm @
Trigon Park, Le Roy Recreation's Inflatable Obstacle course is scheduled
from2-4ChickenBBQ, FREE&LowCost Children'sActivities,Vendor Fair,
FREENYLifeChildSafety ID's, LiveMusic&MUCHMUCHMORE!
CommunityCalendar Submissions shouldbe sent to:
LE ROY— Rosemary Wagner, 89, of
BradnellAvenuepassedawayThursday
morning (May 15, 2014) at Highland
Hospital in Rochester. The courtesy of
no flowers is requestedwithmemorials
suggested to the "Wagner Scholarship
Fund" at Notre Dame High School, 73
UnionSt., Batavia, NY14020.
BERGEN— Richard T. Maher, 86, of
Bergen passed away on Friday (May
16, 2014) at the LeoCenter for Caring.
Memorialsmay bemade to St. Brigid's
Church,POBox219,Bergen,NY14416.
LE ROY—CarltonW. ''Carl'' Seaburg
passed away Friday (May 16, 2014) at
theLeRoyVillageGreenNursingHome
at age 85. Memorials may be made to
the ''Friends of Letchworth,'' 1 Letch-
worthStatePark, Castile, NY 14427or
the First Presbyterian Church, 7 Clay
STAFFORD— David J. Panek, 51, of
TransitRoadpassedawayunexpectedly
at home on Sunday (May 18, 2014).
In lieu of flowers, memorials may be
made to David's family to establish an
education trust fund for his grandsons.
Le Roy
Pennysaver