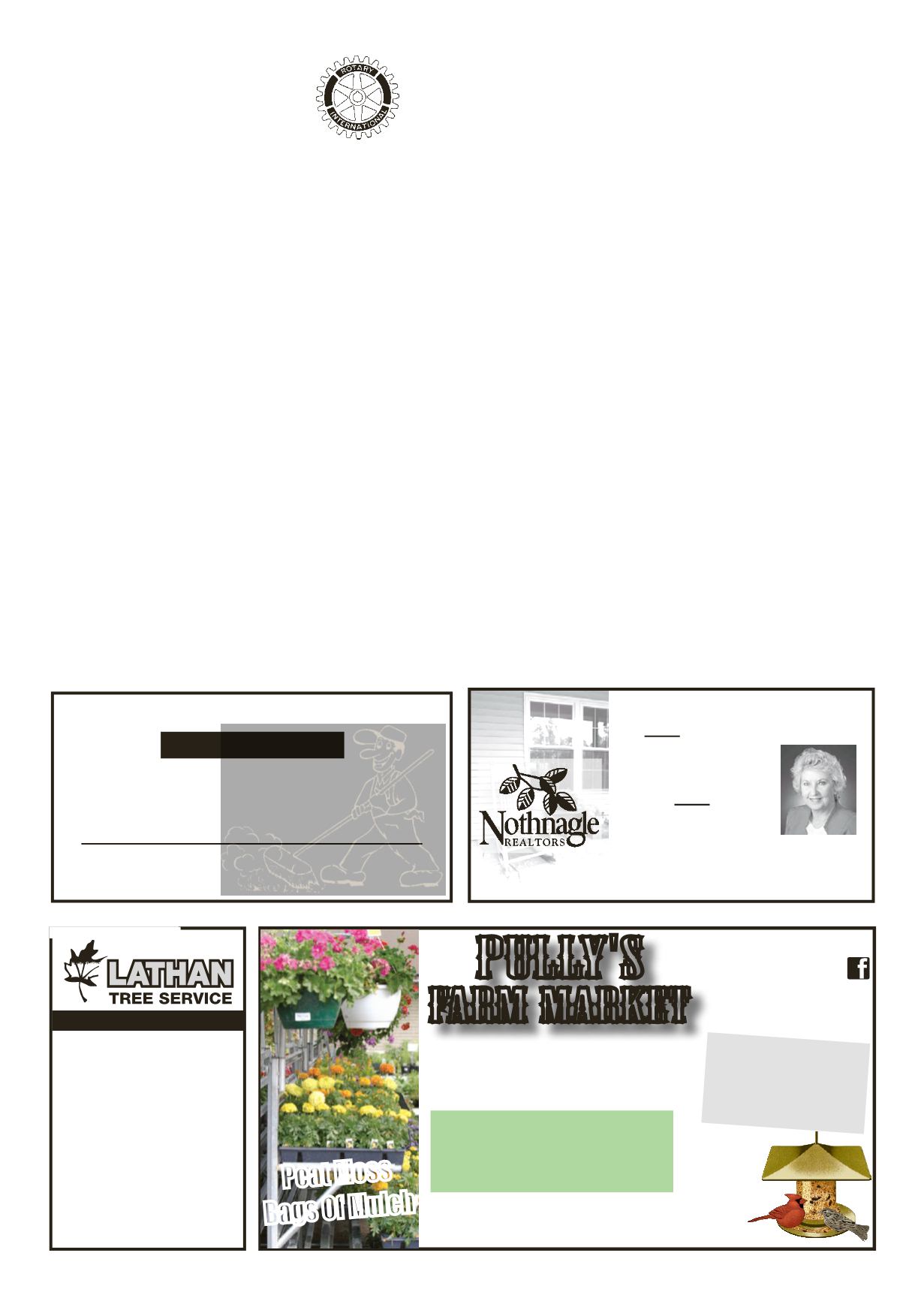 LEROYPENNYSAVER&NEWS -APRIL 27, 2014
LeRotary
Notes
LATHANTREESERVICE
TreePruning
Fertilizing/IPM
TreeSurgery
TreeRemoval
StumpRemoval
Planting
FreeEstimates Fully Insured
Batavia
585-343-6750
NOW is theBEST time
toBUYwith the interest rates
at their lowest!
Don't wait
toBUY -
call
LindaBeaumont
for all your real
estateneeds.
LindaBeaumont
Home (585) 768-6315
LicensedReal Estate
Salesperson
Multi-MillionDollar Producer
8160LakeRd. (Rt. 19)
LeRoy, NY
1/2mile southof Thruway
768-2280 • 704-1157
Hours:Mon.-Sat. 9-6, Sunday 9-5
pullysfarmmarket.com
Jams • Jelly • Seeds
OnionSets • SeedPotatoes
StrawberryPlants •AsparagusRoots
PottingSoil&TopSoil
Opening
April 30
th
CleaningService
•Carpet &UpholsteryCleaning
•Spot Cleaning&Odor Removal
•Tile&WoodFloor Cleaning&Waxing
•Complete Janitorial Services
HangingBaskets •Annuals
Perennials
VegetablePlants
(grown inour own greenhouse)
BIRD
SEED
and
FEEDERS
Gift CertificatesAvailable!
Notes forApril 16, 2014
Itwasachillydaywith light at-
tendance asPresidentTracyFord
opened themeetingatabout12:15
pm lastWednesday!Manyof our
Rotarianshadmigrated towarmer
weather duringSpringBreak.
Pledge ofAllegiance
Grace and the Four-Way Test,
guests Don O'Geen of the Perry
Rotary and Douglas Irwin were
introduced. The Club then sere-
Announcements: The Rotary
Boardwillmeet the thirdThurs-
day of every month at 6 pm at
The Greens. The Easter Egg
Huntwill takeplaceatHartwood
Park on April 19th. Le Roy's
HighSchoolCareerFair isbeing
heldMay 9th and Rotarians are
encouraged to support the event.
Rent-A-Rotarianwill happen on
May 10th – it's not too late to
get someworkdone!TheUnited
WayDay of Caringwill be held
May 14th. Various members
will participate. The Graze to
Raisewill be held at TheGreens
on Friday, May 16th. We are in
need of donations for the fund
raiser. The Annual Rotary Golf
Outingwill be held June 11th at
Le Roy Country Club. Contact
We are also accepting do-
nations of donate books to the
Rotary ExcitedAbout Literature
(REAL)programwhichwillpro-
vide freebooks to thecommunity
during the Farmer's Market on
President Tracy attempted to
rake in some "green cards" for
missedmeetings,but themajority
of absences were covered with
make-ups. The fining session
proved to be a little more lucra-
tive.TimMoagwashappy topay
in celebration of the April tax
deadline passing. Bob Bennett
paid Martha Bailey's fine for
shouting out the answer to her
triviaquestion.Hewasalsofined
for lending his handsome Bank
of Castile face to a Tompkins
Ourprogramwasbrought tous
byMaryYoung. She introduced
Ellie Jinks ofAlexander Central
School. Ellie presented on The
Outdoor Classroom. Jinks, a 40-
yearveteran teacheratAlexander
ElementarySchool, is the leader
behind Alexander's Outdoor
Classroom which was the first
of its kind inWesternNewYork.
The project boasts a certified
10-station outdoor laboratory,
where students from Pre-K to
12thgradecanusenature to learn.
It's located on what is now the
Thomas E. Rider Nature Study
Area, named after a longtime
science teacher who retired in
1986after30years.Theareawas
dedicated upon his retirement.
Mr.Rider,whodied inJuly2010,
was Jinks' uncle. The project
was professionally designed and
built by volunteerswith donated
materials and funded inpart by a
$50,000 Pepsi grant. It features
10educational stationswithsuch
basics as digging andbutterflies.
The site also includes tree iden-
tification and can be used for all
grades including high school.
Some activities include children
building teepees from limbs,
making bird feeders from pine
cones, peanut butter, Cheerios
andbird seed, and slidingdowna
dirthill.Plans for futureadditions
include awalking and bike path,
a small amphitheater, possibly a
smallgreenhouse,andsomeother
Ellie Jinks, has since been
nominatedasa2013-14National
LifeChangerof theYear isana-
tional program sponsoredbyNa-
tionalLifeGroup that recognizes
and rewards outstanding K-12
educators and school district em-
ployees from around the country
who make a positive difference
in the lives of students.Wewish
Remember to"Like"usonFace-
bookat "RotaryClubofLeRoy"!