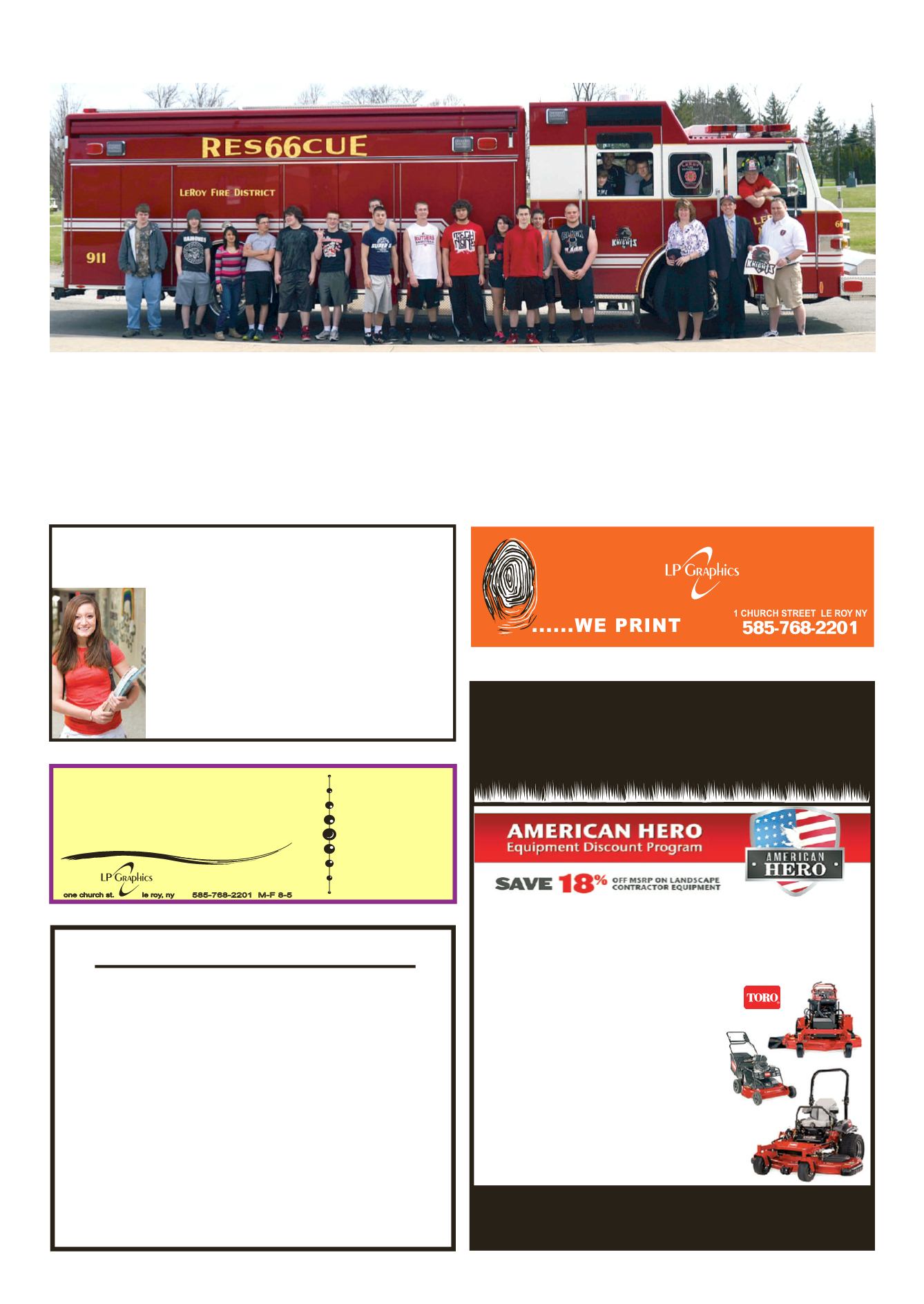 LEROYPENNYSAVER&NEWS -APRIL 27, 2014
•Layoff PeriodDecember-April
Seasonal TruckDriver
Attention allHigh School Seniors
The First Baptist Church of LeRoy
is accepting applications for the
COVELL SCHOLARSHIP
to be awarded on June 1 of 2014.
The application
DEADLINE isMay11, 2014.
Applications are available from your
school GuidanceOffice, your Priest,
or your Pastor or youmay call the
First BaptistChurch at (585) 768-7600
and leave your request for an application.
With the arrival of the new
rescue truck, the Le Roy Fire
Department truck Committee,
with permission from commis-
sioners, wanted to place a new
decal on our apparatus to show
NewFireTruck -NewDecals
Picturedwith the truckarePrincipleTimMcArdle,VicePrincipleLindaLowe,AthleticDirectorBrainMoran,CoachMoranand
the 3rdperiod gym class. TheDepartment thanks everyone involved.GOKNIGHTS!!!
their support for the community.
"What better way than through
our kids?" It was decided to go
Principle McArdle was able
to send them the school logo,
which they then forwarded to
the company that letters all our
apparatus. They were able to
match the correct size and also
The first set of decals arrived
and were applied to the truck
about aweek ago.Others should
beappliedshortly. The truckwas
brought to theschoolonApril21.
Toro's new equipment discount program recognizes thosewho serve in
theUnitedStatesmilitary, aswell as thoughwhoserve theircommunities
across thecountry.Under theprogram, current or formermembersof the
military and current or formerEMT's, firefighters andpoliceofficers are
eligible for special pricing onToroLandscapeContractor Equipment.
EligibleProducts
•ZMasterZero-TurnMowers
•GrandStandMowers
•Mid-SizeWalk-BehindMowers
•Heavy-Duty 21"Walk-BehindMowers
• 30"TurfMasterWalk-BehindMower
• SelectAttachment
s
Program runs from
November 1, 2013-October 31, 2014
at participating dealers only.
See participating dealer for full program details.
1818 LinwoodRd., Linwood, NY
HOURS:Mon.-Fri. 8am-5:00pm, Sat. 8am-12:00noon
LINWOOD
one church st. le roy, ny
one church st. le roy, ny
lpgraphics.net