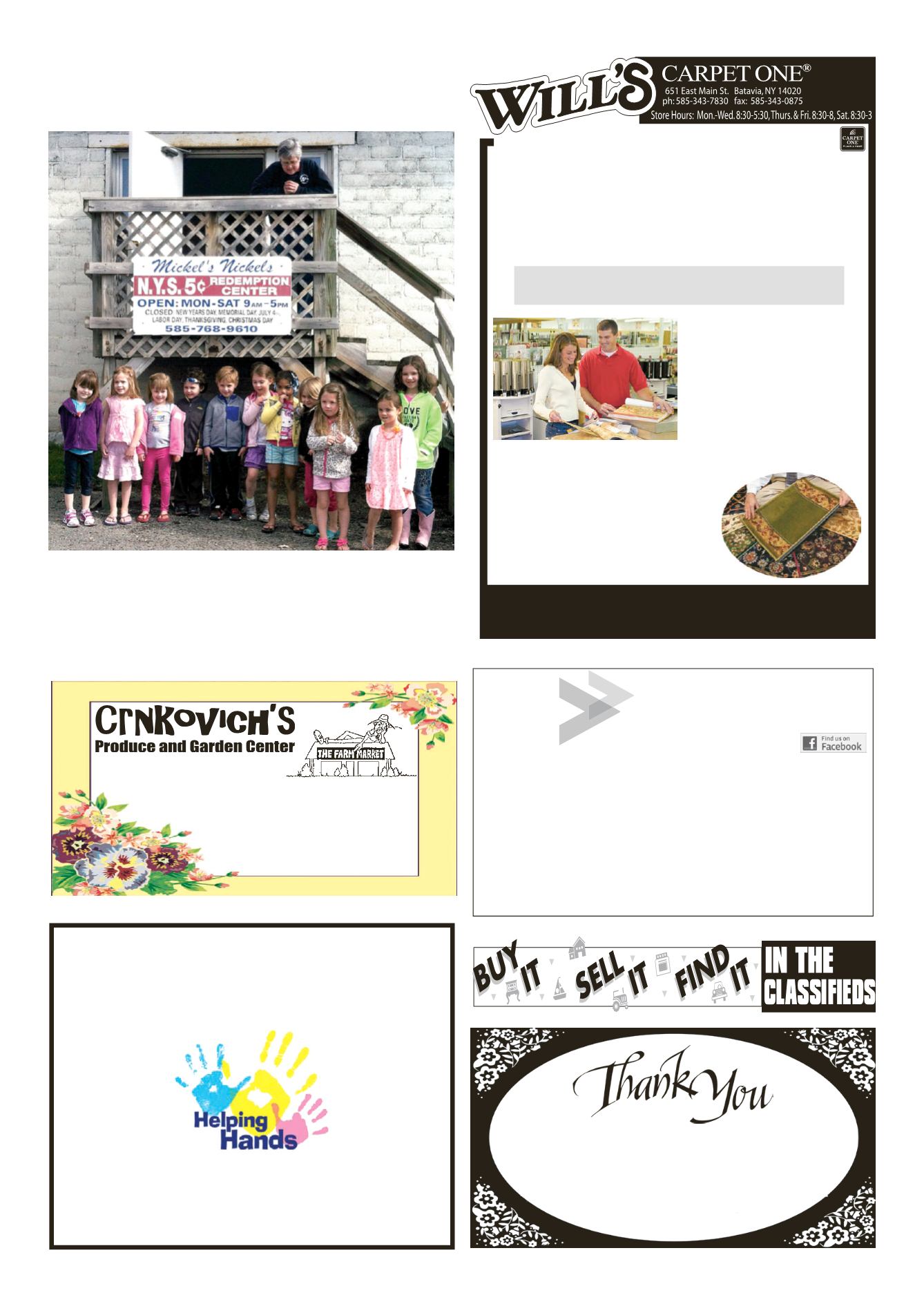 LEROYPENNYSAVER&NEWS -APRIL 27, 2014
FLOOR
&HOME
MOVE
Massage is"…aneffective treatment for reducing stress, pain and
muscle tension… andmay alsobe helpful for anxiety, digestive
disorders, fibromyalgia, headaches, insomnia related to stress,
myofascial pain syndrome,…nervepain, soft tissue strains or
injuries, sports injuries"
TheONE store for your perfect floor.
StillAvailable ...
CARPETSAMPLES!
We'reGivingThemAway
ForFREE! (limit 6)Great For
DogBeds, Boots orCarMats.
REMNANTS! REMNANTS!
REMNANTS!
Wehavea large selectionof
Remnants inavarietyof sizes
Just in time for Springdecorating!
HelpingHands In-HomeCare
CaringPeopleAssistingSeniors!
"AnAlternativeToAssistedLiving orNursingHome"
**SPRING ISHERE! LETUSTAKECAREOFYOURLAWN!**
MOWING&YARDCLEANUP
"Local PeopleYouKnow andTrust"
BarbaraRider-Hotze - 737-7264 •HowardHotze, Jr. - 690-7811
RewardingCompanionship Other Services
Thanks for the prayers, cards
and telephone calls during
my hospital stay.
BeatriceRedman
8041 E.MainRd. (Rt. 5) 1Mile East of LeRoy
OpenDaily •768-7259•768-7813
ThePre-KchildrenatLoveBugsPreschool tookadvantageof the
beautiful spring day onMonday by taking awalk to visit Joan
Fernaays atMickel'sNickels. The children learned about recy-
clingbottles,how theyaresortedandwhere theygoaftertheyare
brought toMickel'sNickels.At the endof theirvisit,Miss. Joan
gave everyonea reusablebag tohelp themkeep the earth clean!
LoveBugs
RecycledForEarthDay!