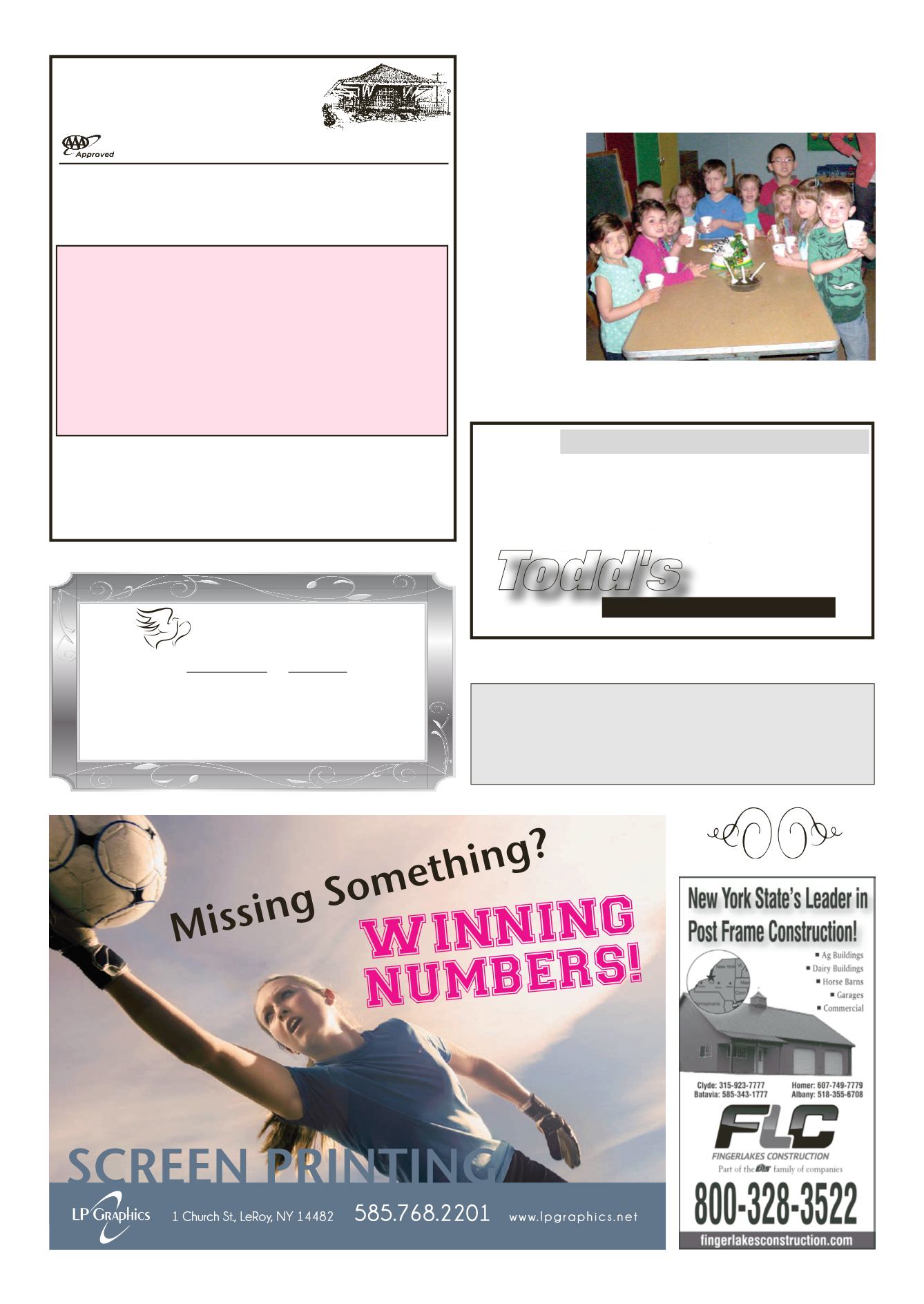 LEROYPENNYSAVER&NEWS -APRIL 27, 2014
D&RDepot
63LakeSt. (Rt. 19), LeRoy• 768-6270
Let'sMeetAt The ...
OpenForBreakfast, Lunch&Dinner - 7DaysAWeek 7am-9pm
TheDepot's new sister company,
DoubleLRental
heaters, bars, linens, dishes& catering supplies for your special occasions!
10%DISCOUNTwhen youuseboth the
D&RCateringServices andDoubleLRental for your event.
Visit doublelrental.com, or call us at (585) 344-0023
F
ALCONE
F
AMILY
Funeral&Cremation Service, Inc.
Director/Owner
Director /Owner
FuneralDirector
NewHomes •Additions •Garages •PoleBarns
ToddCarli • Phone 703-0964
Todd's
Decks •Windows •Doors
Kitchens •Baths
CeramicTile
Basement Finishing
CustomShelves/Built-Ins
Siding •Remodeling
Roofing • SnowPlowing
FULLY INSURED
SUPPORTYOUR LOCALADVERTISERS!
They help sponsor the local news section of the Le Roy Pennysaver.
THANKS FORYOUR SUPPORT!
MOTHER'SDAYMAY11th - servingdinner from11 am-9pm
Time tomake yourMother'sDay reservations at theDepot.
Offering a slightly limiteddinnermenu –
Including: ChickenPot Pie, PrimeRibs of Beef,
Char-Broiled Steaks, CenterCut PorkChops,
HamSteak, Broiled Scallops, Poached Salmon, Pastas
and several other entrees
Children'smenu andSenior portions available
Remember – here at theDepotwe do not raise our prices on
holidays andwe strive to seat reservations on time.
SUNDAY,MAY4thDINNERSPECIAL
HomemadeCANADIANCRABCAKESDINNER - $16.99
(includes strawberry soup, potato salad, beverage
and a homemadeCreamPuff)
LeRoy Nursery
School Class-
es celebrat-
ed Earth Day,
April 22nd by
planting flow-
er seeds to add
to the beauty of
the Earth and
walking outside
to pick up lit-
ter.Thechildren
learned not to
litter and others ways to help the planet we live on. Pictured
here is the 2DayClass.
LNSCelebrated
EarthDay