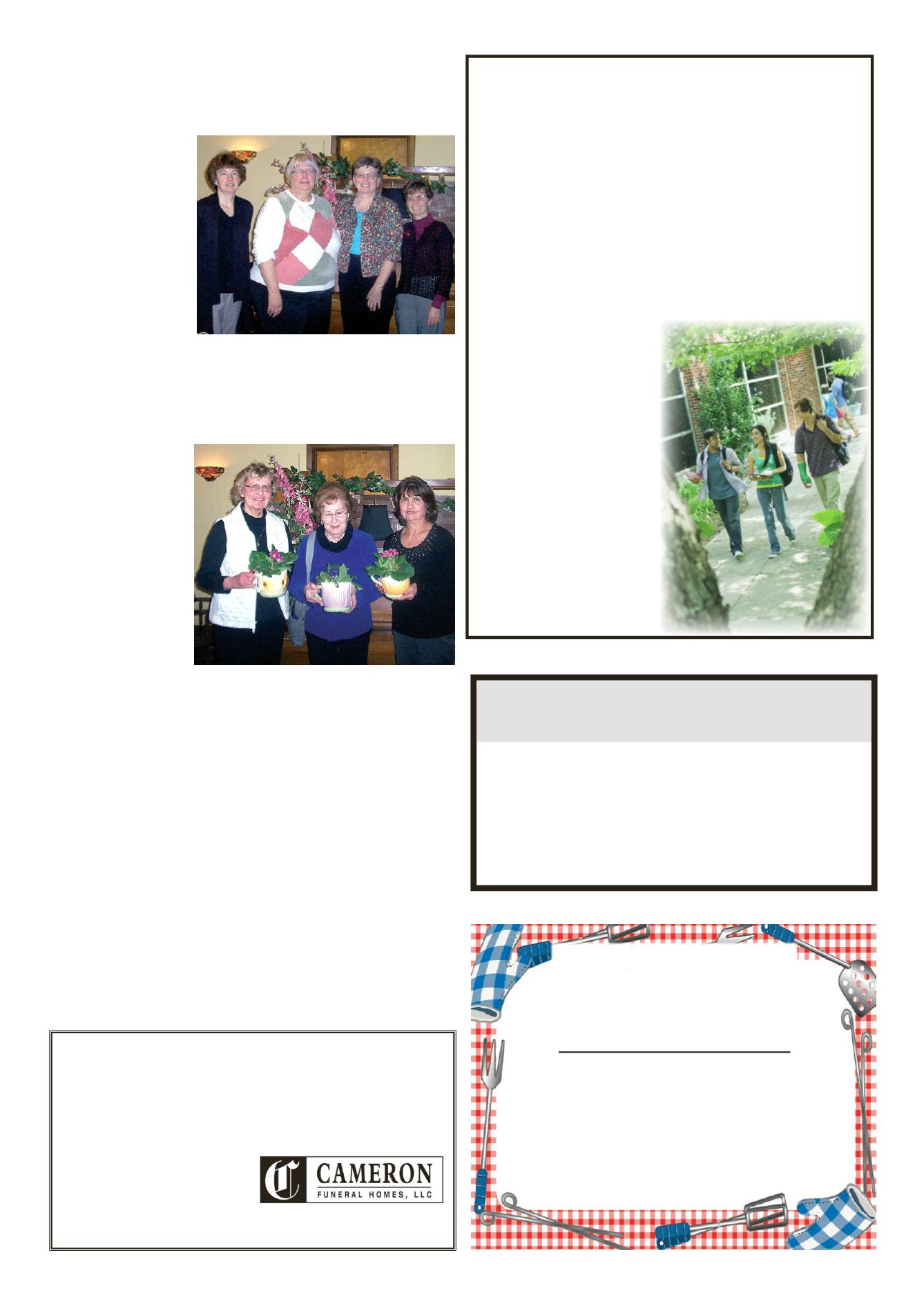 LEROYPENNYSAVER&NEWS -APRIL 27, 2014
HelpingFamiliesCelebrateaLifeLived
"Our FamilyServingYours Since 1907"
Trusted•Honest •Proven
(585) 768-6800•LeRoyFuneralHome.com
Cameron, Brady&Steuber
FuneralHome
111Wolcott Street
LeRoy,NY14482
OlmstedMemorial Scholarship
The scholarship is being made available by the Olmsted
family in memory of Warren and Maria Olmsted, longtime
members of the First Presbyterian Church. Maria Olmsted,
who passed away in 1992 at the age of 95, had a lifelong
love of learning. She always lamented the fact that she
was never able toattendcollegeherself, andMrs.Olmsted
madecertain that her own threechildren receivedahigher
education. This scholarshipwillassistayoung residentas she/
her pursues a similar dream.
* Active in andcontribute to thecommunity
* Aregraduatingseniorsatanycommunityhighschoolor
msted Scholarship stresses
the recipientwill bebased
on theperson's"significant
MacKenzie; Recording Secre-
tary, Mary Ellen Peterson; and
Treasurer, Sue Lints. Absent
wereCo-President,LindaSmith,
and Corresponding Secretary,
Upcoming programs include:
making itemsatOatkaGlassand
otherspecialcrafts;aProgressive
Dinner; Christmas Party; Pot
Luck Supper and garden tours
of theStaffordCountryCluband
2014. We will be cleaning out
last year's plants from theMain
Street containers and putting
new plants in them. Anyone
whowould like to participate is
asked tomeet at theMainStreet
Walk-throughby6:30p.m. Work
times for theOatka CreekBank
Monument and the four Village
entrance beds will be scheduled
TheGardenClubwill behold-
ing its annual Plant Auction on
Wednesday, June11that6:30pm
in theOlmsteadHall of the First
Presbyterian Church (corner of
MainStandRoute19). TheAuc-
tion is open to the public. Items
to be auctioned include: bulbs,
perennials, annuals, shrubs, and
houseplants. Refreshments will
TheGardenClubmeets the2nd
Wednesday of themonth at 6:30
pm. The location and program
areannouncedon theCommunity
LeRoy Penny Saver
You're invited to come and join
us. Anyone interested in more
information should contact Ann
Waltersat737-9481or768-8130.
GardenClub's
Annual Banquet
ALLWORKMANSHIP GUARANTEED • INSURED
297-9097 • 768-7737
• InteriorPainting
• Plaster/LathRestoration
•Drywall&Drywall Repair
•TextureRemoval
• Floors Stripped
&Refinished
•OldCeilings&Walls
MadeLikeNew!
MikeDarby'sPatch&Paint
StaffordVolunteerFireDepartment's
AnnualMother'sDay
CHICKENBBQ
andCHINESEAUCTION
InMemory of Joshua IanMouery
SUNDAY,MAY11,
2014
Doors open at 11:00, Dinner served 11:30 til ?
Meal to Include: 1/2 chicken, salt potatoes, baked beans,
applesauce, roll and butter, dessert
Pre-sale dinner tickets $8.00, $9.00 at the door
Auctionbegins at 11am •Ticket drawing at 2pm
Donations ofBaskets andGift
Certificates gratefully accepted
Todonate orpurchasepre-sale tickets call 344-4465