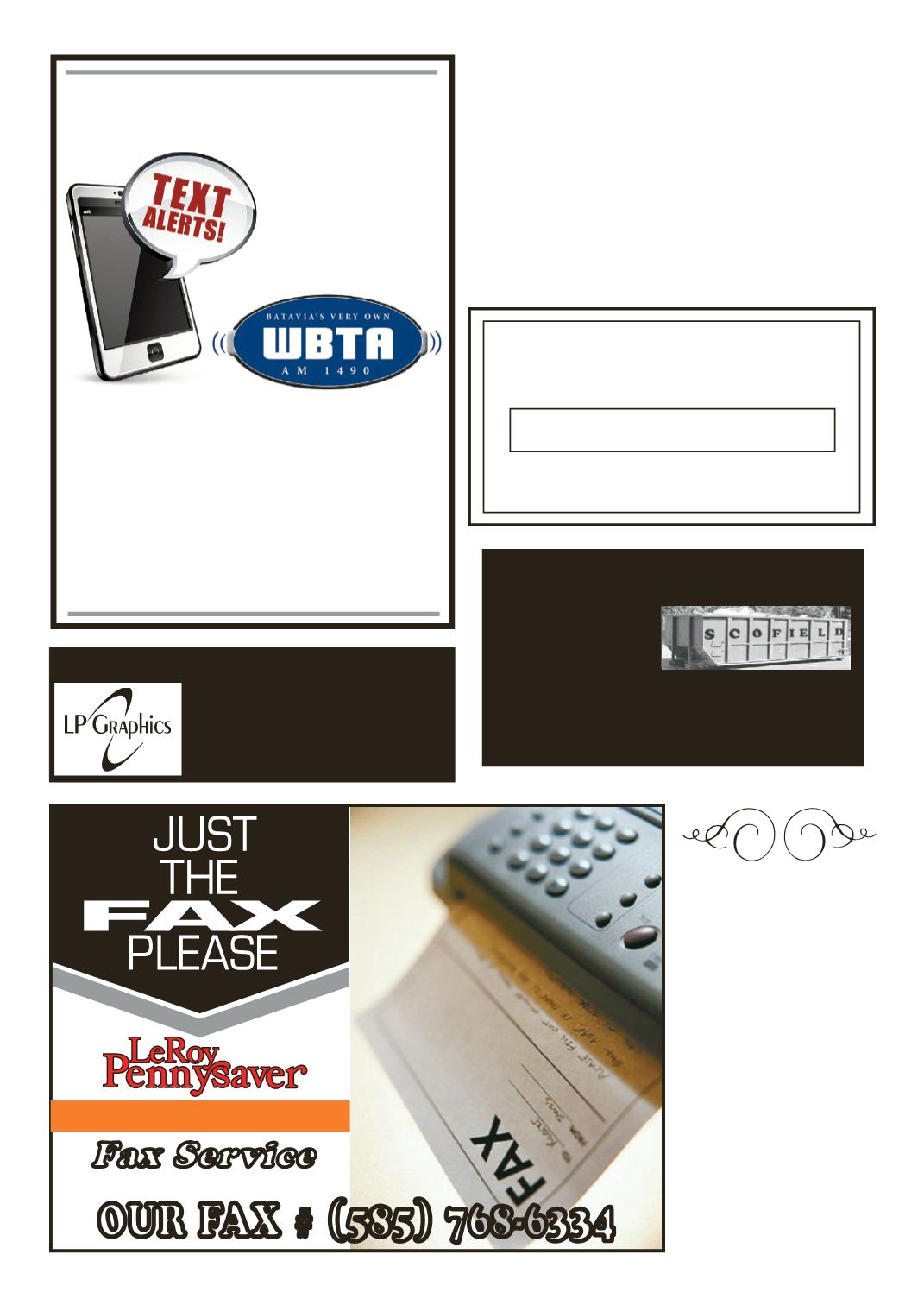 LEROYPENNYSAVER&NEWS -APRIL 27, 2014
1ChurchSt., LeRoy, NY14482
585-768-2201
FAX 585-768-6334
WeDo
1ChurchSt., LeRoy, NY • (585) 768-2201
4-19-14 -TheVillageofLeRoy
Police Department arrested a
57-year-oldSpencerportman for
DrivingWhile Intoxicated.
Scott M. Walton of Spencer-
port was stopped for failure to
dim head lights. After a brief
police investigation,Waltonwas
determined to be driving while
intoxicated. Walton was issued
tickets forFailure toDimLights,
Driving while intoxicated and
Driving While Intoxicated for
havingaBAC inexcessof .08%.
Waltonwas released on his own
recognizance, and scheduled to
appear inLeRoyTownCourt on
5-27-14 to answer the charges.
SIGNUP TODAY!
GET ONLY THE
NEWS YOU
CHOOSE
FROM
New! Signup for TEXTALERTS.
Get only thenews you choose!
Be the first to know about SevereWeather,
BreakingLocal News, TrafficAdvisories&dSchool Closings.
Signup today forWBTATextAlerts.
You need to only supply your cell phone number
and select the services youwant to receive.
Wewill never sell your information to anyone.
WBTAi.com
Plumbing • Heating
Installation&Repair Service
For All Residential &Commercial Work
Need a Rolloff?
ScofieldRolloff • 343-8383
Fast FriendlyService
withAffordableRates!
10, 15, 17, 20, 25,
30, and40 cu. yd.
CONTAINERS
MatthewNaparstek
was initiated into The Honor
Society of Phi Kappa Phi,Texas
Naparstek is among approxi-
mately 32,000 students, faculty,
professional staff and alumni to
be initiated into Phi Kappa Phi
each year. Membership is by in-
vitation and requires nomination
and approval by a chapter. Only
the top10percent of seniors and
7.5 percent of juniors, having
at least 72 semester hours, are
Mackenzie Lynn Heale
Bergen is expected to graduate
Sunday, April 27, from the Uni-
versity of Pittsburgh at Bradford
with adegree in criminal justice.