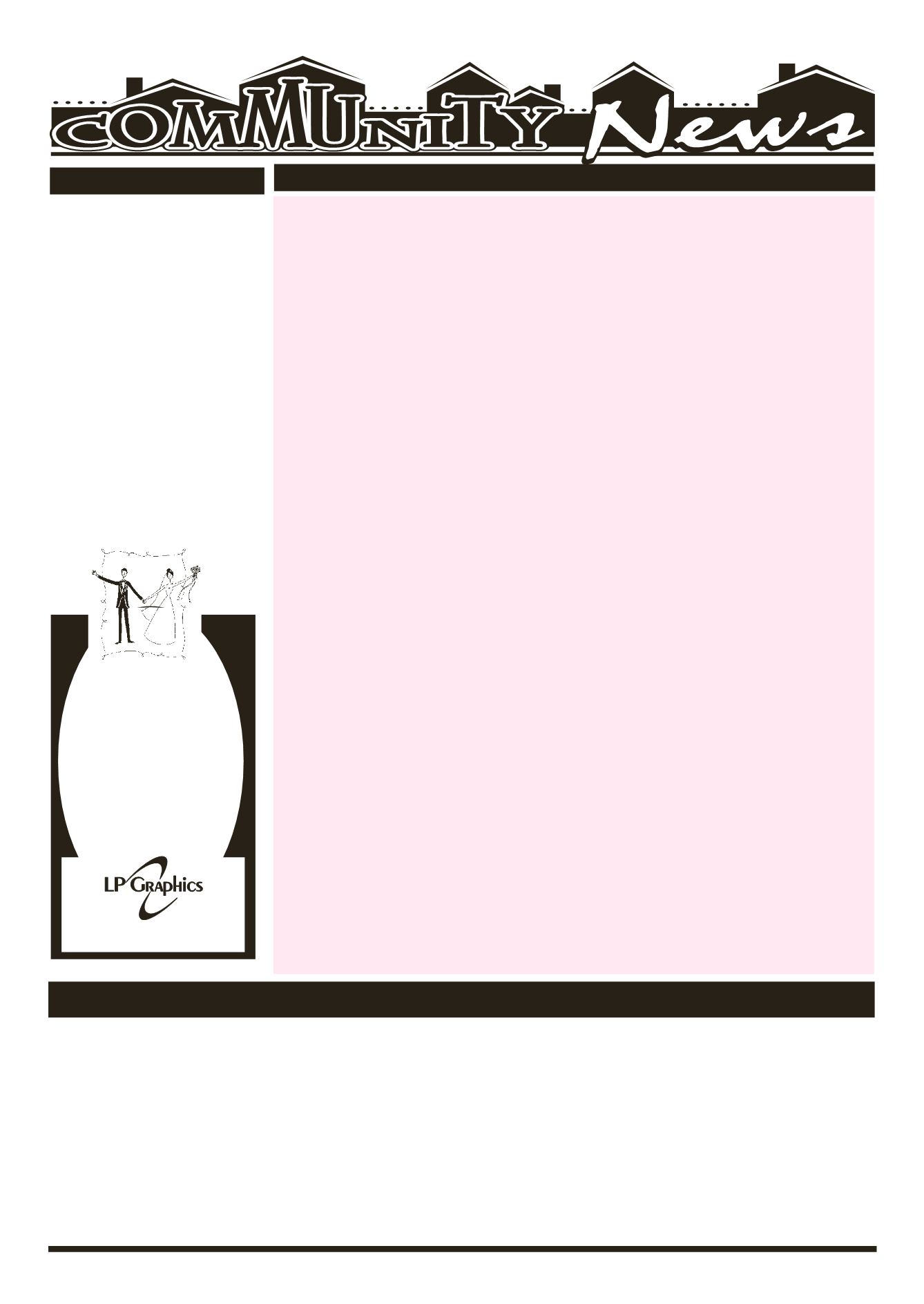 LEROYPENNYSAVER&NEWS -APRIL 27, 2014
AdvertisingTemplates
Entire contents copyrightedbyCarlsonCraft ® .
All rights reserved. 12-07
Invitations, Save theDateCards,
Wedding Accessories, Ceremony,
ReceptionEssentials, Bridal Party
Visit us today!
withwedding invitations and accessories
Stop in today to view our extensive collection
for every style and budget!
lpgraphics.net,Hours:Mon.-Fri.8-5 p.m.
1Church St., Le Roy • 768-2201
All GeneseeCounty residents, 60andolder, can takepart in thisweek'sactivitiesat theBataviaSenior Center, 2BankSt., Batavia. Formore information, call 343-1611.
WEEKLYEVENTS
OBITUARIES
ArthritisExercise
is scheduled tobeginat 9:30a.m.;
Bridge
is scheduled tobeginat 11:30a.m.
A representative from ICMA
Cribbage
is scheduled for 1:00p.m.
Quilters
are scheduled tomeet at 9:00a.m.;
Euchre
is scheduled tobeginat 1:00p.m.
Marshall FundPlanningCommitteeMeeting
is scheduled for 11:00 a.m.
CribbageandBridge
MusicalKeyboardLessons
arescheduled tobeginat2:30p.m.
ArtClassandLineDancing
TaiChi
SUNDAY,APRIL27
AWANA Program at Penuel Christian Fellowship.
Street. Sundays12:15 to1:45pm. Ages5-17broken intogroups.
Developing friendships. Having fun. Learning about God. Safe
Konnect Youth Group at Living Waters Church,
St. LeRoy. Sundays from6:30 to8:30pm for ages 12-18. "Bring
Downall theWalls! ConnectwithGodandConnectwithothers."
Formore information, check us out online at: livingwatersleroy.
org/konnect-youth-ministry/
MONDAY,APRIL28
TOPS (Take Off Pounds Sensibly)
from 6:30-7:15 pm at the LeRoy Presbyterian Church, corner of
Clay &Main Streets. Visitors always welcome. Call 768-2933 for
TUESDAY,APRIL29
LCCP'sGRACE'SKITCHEN:
AFREEdinnereveryTuesdayevening,
5-7 pm at the LeRoy UnitedMethodist Church, 10 Trigon Park.
Parking available on Trigon Park & the lots to the left and back
of the Church. Handicapped Entrance in the back of the Church.
Takeout&deliveryareavailable.Formore info.contactSelbyDavis
WEDNESDAY,APRIL30
Morganville Cemetery Association Annual Meeting,
pm, Morganville United Church of Christ Community Hall, 8466
MorganvilleRoad,Stafford,NY,SteveBoldt,President,Phone585-
Pavilion Public Library:
Computer Class - Excel Basics. 6 to 8
OpenAccessSession
for questions, devices, etc. Registra-
tionnecessary - (585)584-8843. Call Library for info&questions.
THURSDAY,MAY1
GeneseeVeteransSupportNetwork
velopment ofVeterans focusedAAmeetings everyThursday, 6-7
pmat theFirstBaptist Church, 306E.MainSt., Batavia.Meetings
ledbyMikeW. & areopen tonon-veterans aswell. Handicap ac-
cessible. For additional information call 585-302-0825.
GRACE'S CLOSET: A Clothing Giveaway Program
by Le Roy UnitedMethodist Church, 10Trigon Park, Le Roy. 9:30
am to 11:30 am every Thursday. We havewarm clothing for all
ages. Bedding, curtains, comforters, pajamas, shoes, boots. We
are inneedofwinter coats for all ages.Weaccept donations tobe
dropped off at the house next to the church. Please put all bags
INSIDEon thebackporch. Noelectronics,TV's, computers,dishes,
etc. Anyquestions, call theoffice768-8980.
Stone Church Presbyterian Church - Women's Annual
Rummageand BakeFoodSale
-May1st, Thursday–5p-7p.;
May2nd,Friday–9a–1p.BagSale the2nd. -9a-1p.,7549S.Lake
FRIDAY,MAY2
Penuel ChristianFellowship,
OneStep toFreedomaddictions
ministry, a Christ CenteredAddictions program, aweeklymeet-
ingeveryFridayat 7pm. Call theChurch formore informationat
UPCOMINGEVENTS
LCCP'sMommy&MePlaygroup: Every 2nd& 4th Friday,
12:00-1:30, Le Roy Physical Therapy (in the back gym). Any
moms and their birth-kindergarten children are welcome to
come enjoy socialization, lunch, coffee, structuredgames& free
The CovingtonMethodist Church is having their Annual
ChickenBarbecue andBazaar
on Saturday, May 3rd, from 4
till 7pm. Themenu will include: barbecued chicken, potatoes,
rolls, salads, beans, andhomemadepie. Donations are$9.00 for
adults. $4.50 for children under twelve. Takeouts will be avail-
The LeRoy UnitedMethodist Church
SpringRoast Beef Dinner
on Saturday, May 3rd at 10 Trigon
Park in theVillageof LeRoy. Dinnerwill be served from4pm till
7pm,with takeoutsbeginningat4:30pm. Dinnerwillbeserved
buffet-style andwill consist of sliced roast beef, gravy, mashed
potatoes, buttered peas, breads & rolls, salad bar, dessert and
beverage. Home deliveries within the village will be available
by calling 768-8980 and leaving amessage BEFORE Friday,May
2nd. Handicappedparking is availablebyparking in thebackof
the churchandusing thehandicapped ramp.
Annual Chicken Barbecue and Bazaar
Methodist ChurchonMay3rd from4 till 7. The church is located
at 1557 Simmons Road, betweenPavilion andPerry. Themenu
will include barbecued chicken, potatoes, rolls, salads, baked
beans, and home-made pie. Donation is $9.00 for adults, and
$4.50 for children. Eat inor take-out.
CommunityCalendar Submissions shouldbe sent to:
BERGEN — Stephen James Flagler,
74, an engineer at Gates Albert Inc.
in North Chili prior to his retirement 10
yearsago, diedSunday (April 20, 2014)
at his home in Bergen. Memorials may
be made to Our Lady of Mercy Parish,
St. Brigid's Church, c/o 44 Lake St., Le
PAVILION—PatriciaLouise (Hartgrove)
Ferris passed away Friday (April 18,
2014) in Warsaw at ge 74. In lieu of
flowers, P t requestedmemorial dona-
tionsbemade inhername toCrossroads
HospiceHouse, 11 Liberty St., POBox
BERGEN— Jean E. Stanton, 87, died
Tuesday (April 22, 2014). In lieuof flow-
ers, thosewishingmaycontribute to the
LakesideBeikirchCareCenter,170West