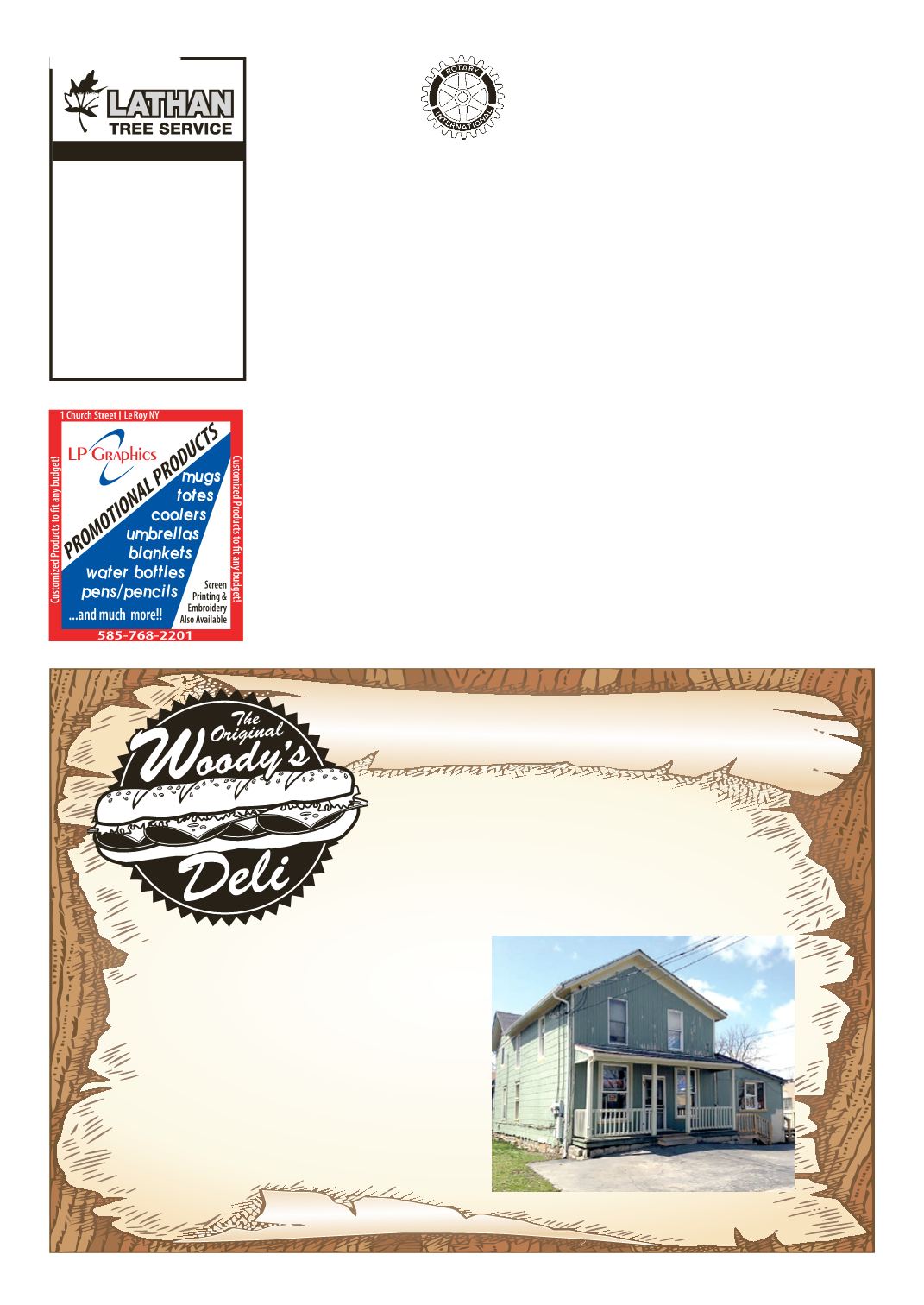 LEROYPENNYSAVER&NEWS -APRIL 20, 2014
LeRotary
Notes
Notes –April 9, 2014
Our guests today were three
LeRoy Seniors who shared their
school activities and interests as
well as theircollege/careerplans.
RaeleighStaba,LexieCurtsworth
Several announcements were
shared for the good of theClub:
Sam remindedus thatshe is tak-
ing donations for the upcoming
Graze toRaisewhichbenefits the
Milne Scholarship Fund which
provides scholarships to LeRoy
students. TheGraze isMay 16th
Career Day is at LHS is on
May9th from8-11 if anyone has
the time tomeet with our LeRoy
students to share their careers as
Martha asked President Tracy
to remind us of the Rent-A-Ro-
tarian that will be coming up on
Jim and Tom joined voices
to remind us of the Easter Egg
stuffing this Saturday the 12th at
9:00amat theMooseand that the
EasterEggHuntwillbeheldnext
Tomalsoshared that theMoose
Raffle is thisSundayat theMoose
Jim,AnilandDavidhadmissed
meetings but demonstrated their
responsibility by having make-
ups or gifts fromFlorida.
Mary Margaret was fined for
some remodeling and Christine
Gephart was held accountable
for misinforming her dad of the
time for hisfirstLeRoyBusiness
CouncilMeeting.TomMcGinnis
was dinged for being unaware
that one of his trucks became
stuck inCarol's drivewayduring
one of our recent storms (not
sure which as there have been
somany). SteveZocco's sonhas
been elected as a co-president of
St. Joe'sEarlyAct Club and that
proved tobeacostlyelectionbut
Steveandhis sonareveryproud.
Jim Ellison updated us on the
LATHANTREESERVICE
TreePruning
Fertilizing/IPM
TreeSurgery
TreeRemoval
StumpRemoval
Planting
FreeEstimates Fully Insured
BishopMaserekaChristianFoun-
dation. This foundationsupports
educationandhealth for children
inKasese,Uganda. Primarily the
goal is to provide an antiviral to
pregnantwomen in their last two
weeks of pregnancy to stop the
spread ofAIDs. There are about
20,000women and children that
are served by the foundation an-
nually. The current clinic treats
80-90 people per day. There are
many challenges but through
many Diocese of the Episcopa-
lianChurch and numerous other
donors plans are to continue to
meet the challenges and the vi-
sion is to complete construction
of a new hospital in the future.
The current cost to sponsor one
child is $150.00 per year. The
clinic in Kasese draws clients
from an area about the size of
Please "like" us on Facebook
for up to date information.
Business/Real Estate
ProfitableBusinesswithgreat
• Lots of buildingupgrades
• Fabulous business reputation
• Plus 2 apts. for additional income
Serious Inquiries Only
585.410.4770
FOR SALE
BY OWNER