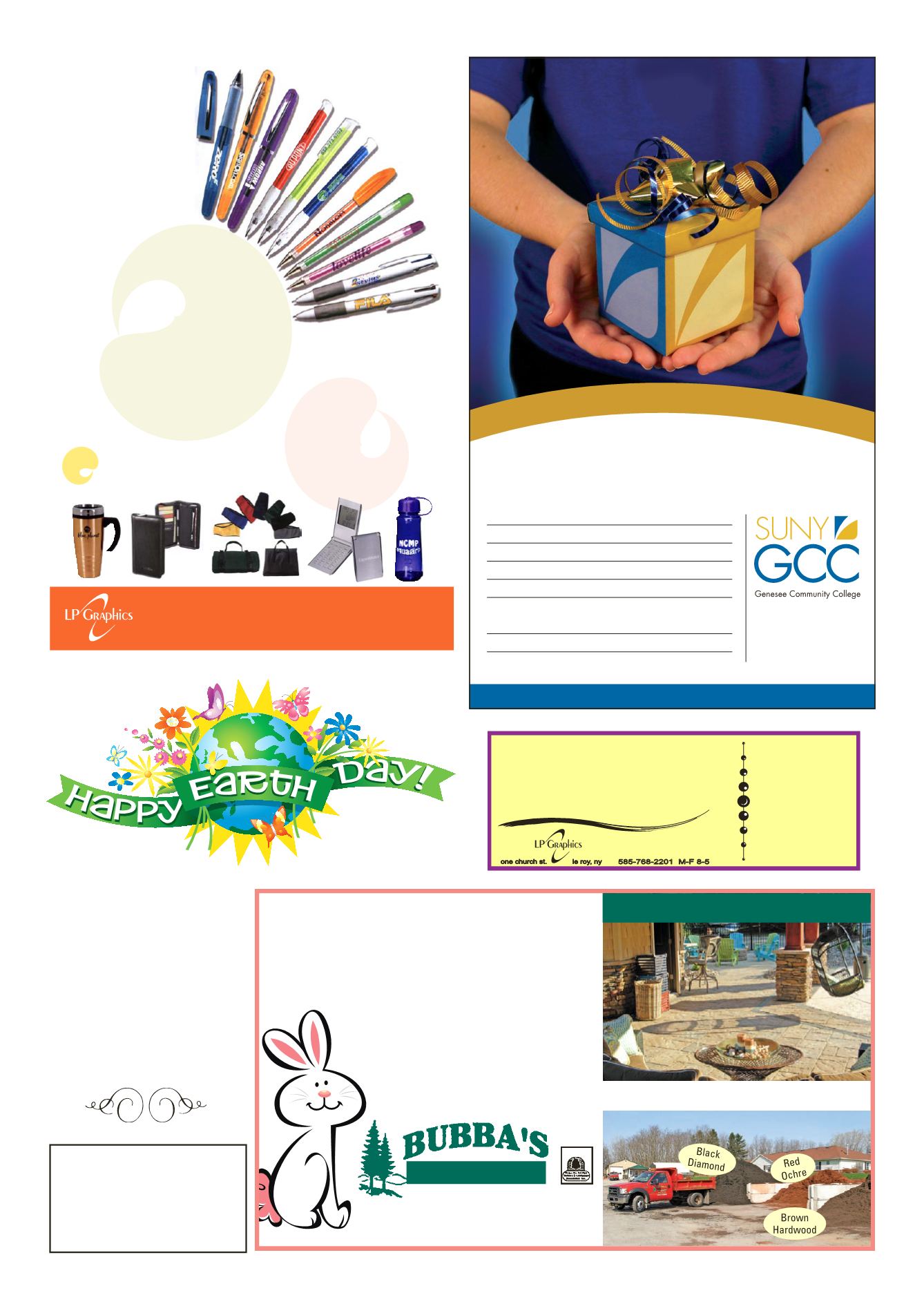 LEROYPENNYSAVER&NEWS -APRIL 20, 2014
affirmativeaction institution
F
u
l
l
-
t
u
i
t
i
o
n
2 Summer Sessions Starting:
over 170 courses to choose from!
apply and registeronline:
Call toll free: 866-CaLL-gCC
SChoLarShiPS for gLoWarea:
2014high School Graduates &GeD recipients
adultswho have never attended college before
online or onsite at 7 Campus loCations:
Albion/ArcAde/bAtAviA/dAnsville/limA/medinA/WArsAW/online
Landscape
768-6578
FreeEstimates
TOEVERYBUNNY!
BeReady for Spring –
AcceptingContracts for Lawn
Mowing& Landscapes.
Call now tobeautifyyour home!
Our latestmasterpiece!
Tuesday,
April 22nd
Wedomore than just pens!
Mugs, CoffeeCups, Magnets, Bags,Water Bottles, Office Supplies, Etc.
Customizepromotional items for
your business or organization!
1ChurchSt, LeRoy, NY14482
585.768.2201
one church st. le roy, ny
one church st. le roy, ny
Holly C. Kovach
ural Resources from LeRoy,
has made the Scholastic Honor
Roll Winter term have been an-
nouncedbyOregonStateUniver-
sity.Atotalof Tobeon theHonor
Roll, studentsmust carry at least
12 graded hours of coursework.
Don't waste precious time