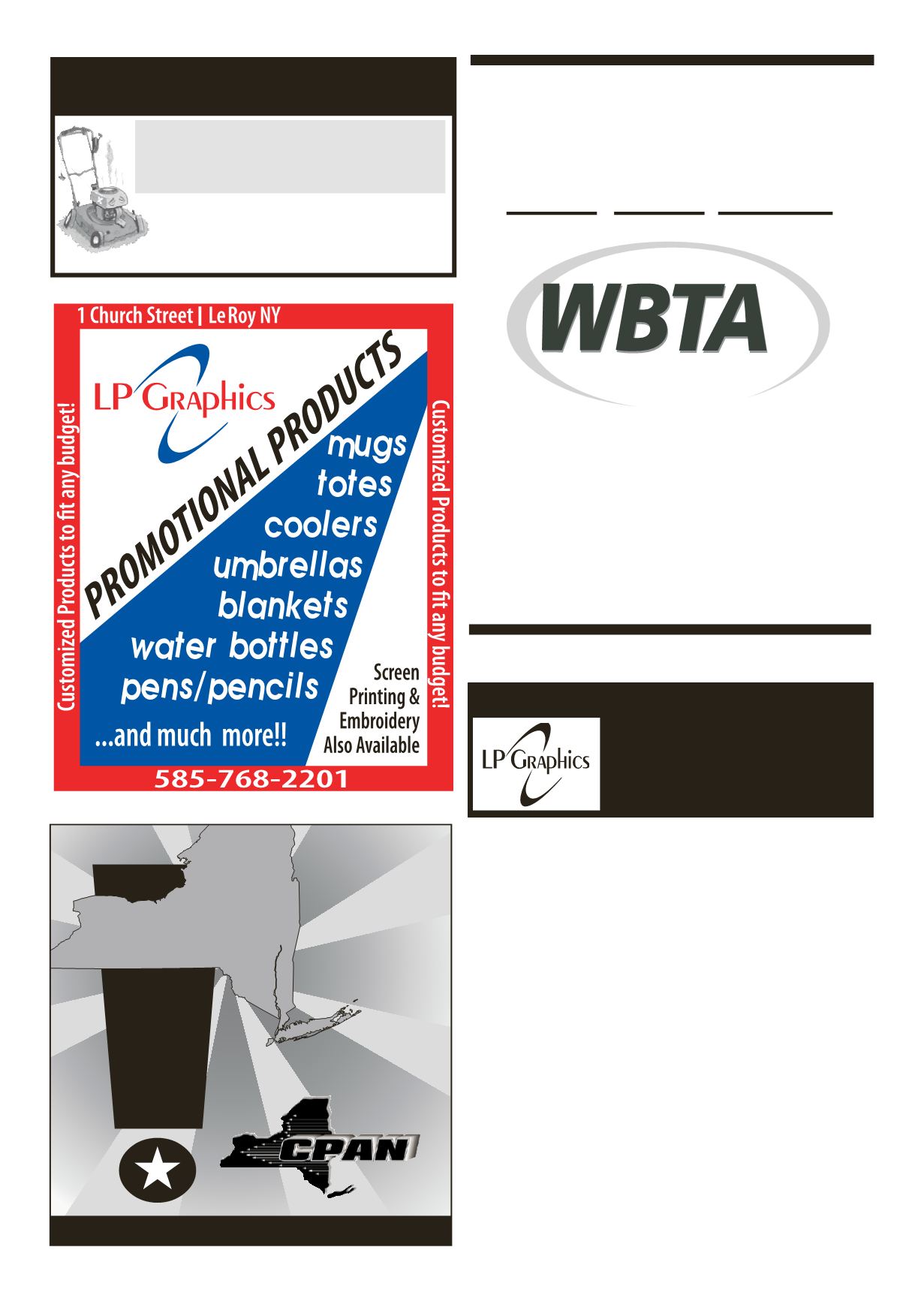 LEROYPENNYSAVER&NEWS -APRIL 20, 2014
1ChurchSt., LeRoy, NY14482
585-768-2201
FAX585-768-6334
WeDo
i
WBTARadio - 113MainSt., Batavia, NY - (585) 344-1490
SUBMIT
YOURAD
HERE
ONE
ONE
*$490 for15words. $15 foreachadditionalword.
AGreat Deal toReach theWholeState!
1) Acomplaintof IdentityTheft received inFebruaryby theLeRoy
PoliceDepartment resulted in the arrest of 21 year oldMeaghanL.
Schiavi of 43NorthMainStreet, PerryNY. It is alleged that Schiavi
was able togain credit card information from an acquaintance, then
used the information to make a purchase in the Village of LeRoy.
Schiaviwasarrestedon4/8/14andchargedwithonecountof Identity
Theft, anA-Misdemeanorand issuedanAppearanceTicket toanswer
the charge in theLeRoyTownCourt on 4/17/14.
2) 53 year old Marianne B. Molaro of 2224 Ham Rd., Oakfield
was arrested on 4/15/2014 by the LeRoy Police Department and
charged with one count of Grand Larceny in the Fourth Degree, a
class E-Felony. It is alleged that while working at a local business
in theVillage of LeRoy,Molaro unlawfully removed property from
the business which consisted of records or data which reflects or
records a scientific or technical process or any part thereof.Molaro
was arraigned before the Hon. MichaelWelsh of the LeRoy Town
Court andReleased on her own recognizance.
•Engine andTransmissionRebuilds
•Lawn andGardenEquipment •ATV's, Dirt Bikes
•PickUp andDeliveryAvailable
Hours: Tues.,Wed. 6 pm to 8 pm
Thurs., Fri., Sat. 9 am to 6 pm, Closed Sun.,Mon.
8525Rt. 237, Stafford,NY14143