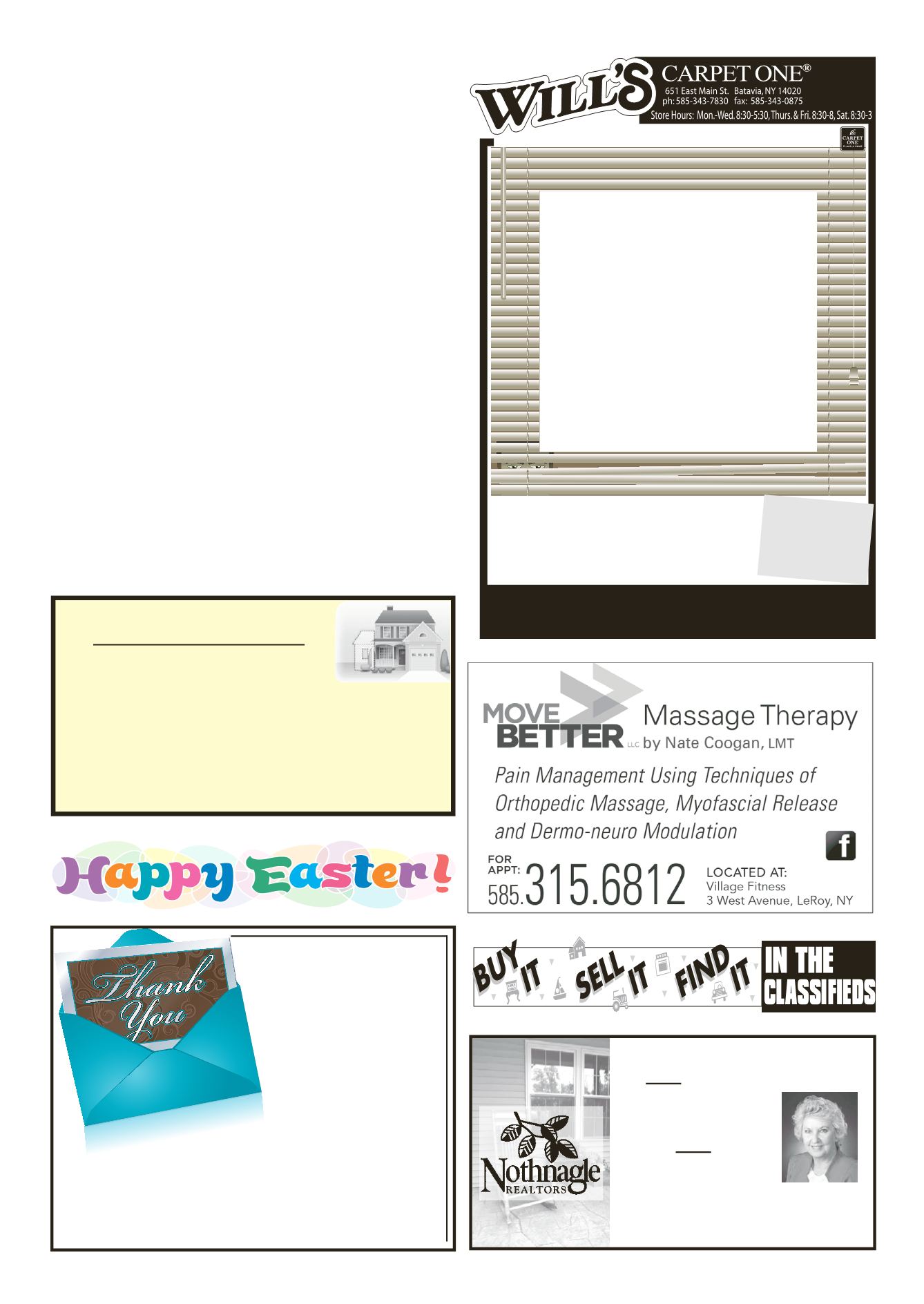 LEROYPENNYSAVER&NEWS -APRIL 20, 2014
Batavia
585-343-6750
NOW is theBEST time
toBUYwith the interest rates
at their lowest!
Don't wait
toBUY -
call
LindaBeaumont
for all your real
estateneeds.
LindaBeaumont
Home (585) 768-6315
LicensedReal Estate
Salesperson
Multi-MillionDollar Producer
• Professional InstallationAvailable
Hunter
Douglas
WindowTreatments
UpTo ...
Select Styles
FLOOR
&HOME
TheONE store for your perfect floor.
FREE
RUGSAMPLES
Limit 6
PerCustomer
Citizen Soldiers extend their
service to state and nation
MajorGeneralPatrickA.Mur-
phy, the Adjutant General, an-
nounces the recent reenlistment
of members of the New York
ArmyNationalGuard in recogni-
tion of their continuing commit-
ment to serve community, state
and nation as part of the Army
Specialist Kenneth Butler
from LeRoy, has reenlisted to
continue service with the 105th
First Sergeant Emanuel Ze-
rillo
fromLeRoy, has reenlisted
to continue service with the
Staff SergeantAdamCallan
fromCaledonia,has reenlisted to
continue service with the Head-
quartersServiceCompany,642nd
Guard has sustained our force at
or above 100 percent strength
for the better part of five years
now," Murphy said. "Keeping
those ready forces in our ranks
means thatNewYork is ready to
provide forces for statemissions
here at home, as we saw during
HurricaneSandyor for the feder-
almissionssupportingournation
around the country and around
"Each of our 16,000men and
women serving in the Army
and Air National Guard has an
important role and I'm pleased
that somany continue to reenlist
and remainpart of ourNewYork
For more information about
the New York Army National
ArmyNationalGuard
SoldierReenlistments
Aheartfelt thank you
to allmy
family and friends for
the thoughtful cards,
phone calls and
prayers.
Special thanks to Jon,
TheBigginsCrew
andBarryShade for
keeping things on schedule atwork
andMom andDad for always
being there forme.
BrianYauchzee
"CompleteCarpentry Service"
M
ILLER
B
ROTHERS
B
UILDERS
CustomHomes •Remodeling•Additions
Roofing• Siding
DANIEL
MICHAEL