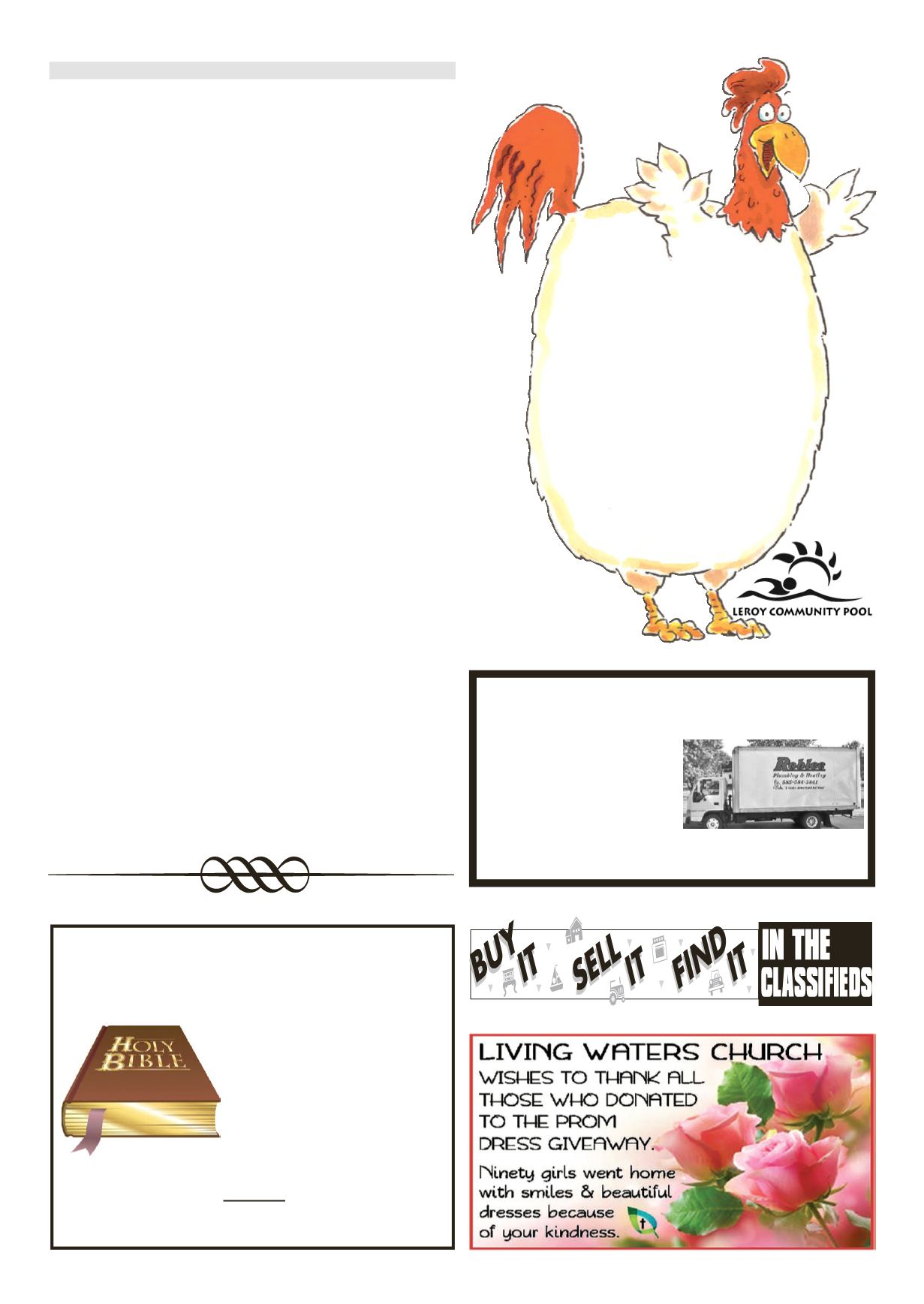 LEROYPENNYSAVER&NEWS -APRIL 20, 2014
ROBLEE
Plumbing&Heating, LLC
10991LakeRd., Pavilion • (585) 584-3841
Full Insured
LUXAIRE
GOULD
NYSCertifiedBackflowTester
Water&Sewer Lines •Water Treatment&ConditioningSystems
Sat.,April 26th
TrigonPark
On-site cooking provided by
Includes: 1/2 chickenwith roll
&3 sides (bakedbeans, salt potatoes,
cabbage salad)& bottledwater
CallAmyVanderhoof
withquestions
585.356.8978
AROUNDTOWN
byStephenR. Barbeau
Supervisor, Town ofLeRoy
(585)768-6910 x 231
Just some odds and ends I
would like topasson toyouwith
First, JeanneWalton,Director
of theYWCA inBatavia, gave a
presentation to the Town Board
recently toexplain their services.
Theyarenumerous,andmanyare
at little cost. Please go to their
website to learnmore, especially
if you are aLeRoy resident who
is in need of child care services
after school or are aware of an
instance of domestic abuse.
Second, theTownBoardunan-
imously passed a resolution, in
concertwith theGeneseeCounty
Legislature, in opposition to the
proposed LasVegas-style casino
inHenrietta.Asa town that relies
heavily upon sales tax revenue
for its services, thecasinowould
be a direct threat to Batavia
Downs Racino, and much of
that sales taxgenerated revenue.
Ultimately,Washington, DC has
Next, theBoardalsoadopted its
2015BudgetCalendar.Keydates
for thepublic are theOctober 23
publichearingandNovember13
adoption. As I have mentioned
earlier, and as described by
the Village Mayor and School
Superintendent on their recent
budgets' development, 2015
budgetingwillbemoreabout the
(lossof) revenues than theactual
expenditures.However,one item
in expenditures has caught the
Board's attention. Over the last
several years, anywhere from
$0 to $30,000 has been placed,
on an annual basis, in a high-
way equipment reserve fund for
the purchase of new highway
equipment. At present, we have
$99,900 in the fund.And, as luck
wouldhave it,weblewanengine
(plus assorted other problems)
on one of our plow trucks this
winter. Estimated cost of a new
truck- $225,000!Tomake a long
story (several meetings) short,
we knowwemust, on an annual
basis, commit at least $50,000
toward that reserve fund. That
increase in $20,000 per year is
one example of a budget chal-
lenge. Dowe reduce other areas
of the budget by that $20,000,
raise the tax rate (equivalent to a
little over six cents per thousand
to cover the increase- just for
that item!), buy used equipment
to reduce thepurchase costs (but
alsodecrease life expectancy) or
some combination? The Board
will beexploringall alternatives.
Finally, with spring approach-
ing, it is a good time to review
your calendars for summer gath-
ering plans and call the Town
Clerk's office (768-6910) for
BunnellPark reservations.Thank
you and see youAroundTown!
With evangelistNormSharbaugh
April 20th throughApril 23rd
April 21st - 23rd at 6:30 pm
10956SouthLakeRoad, Pavilion, NY
Call for information anddinner confirmation
585.584.3179