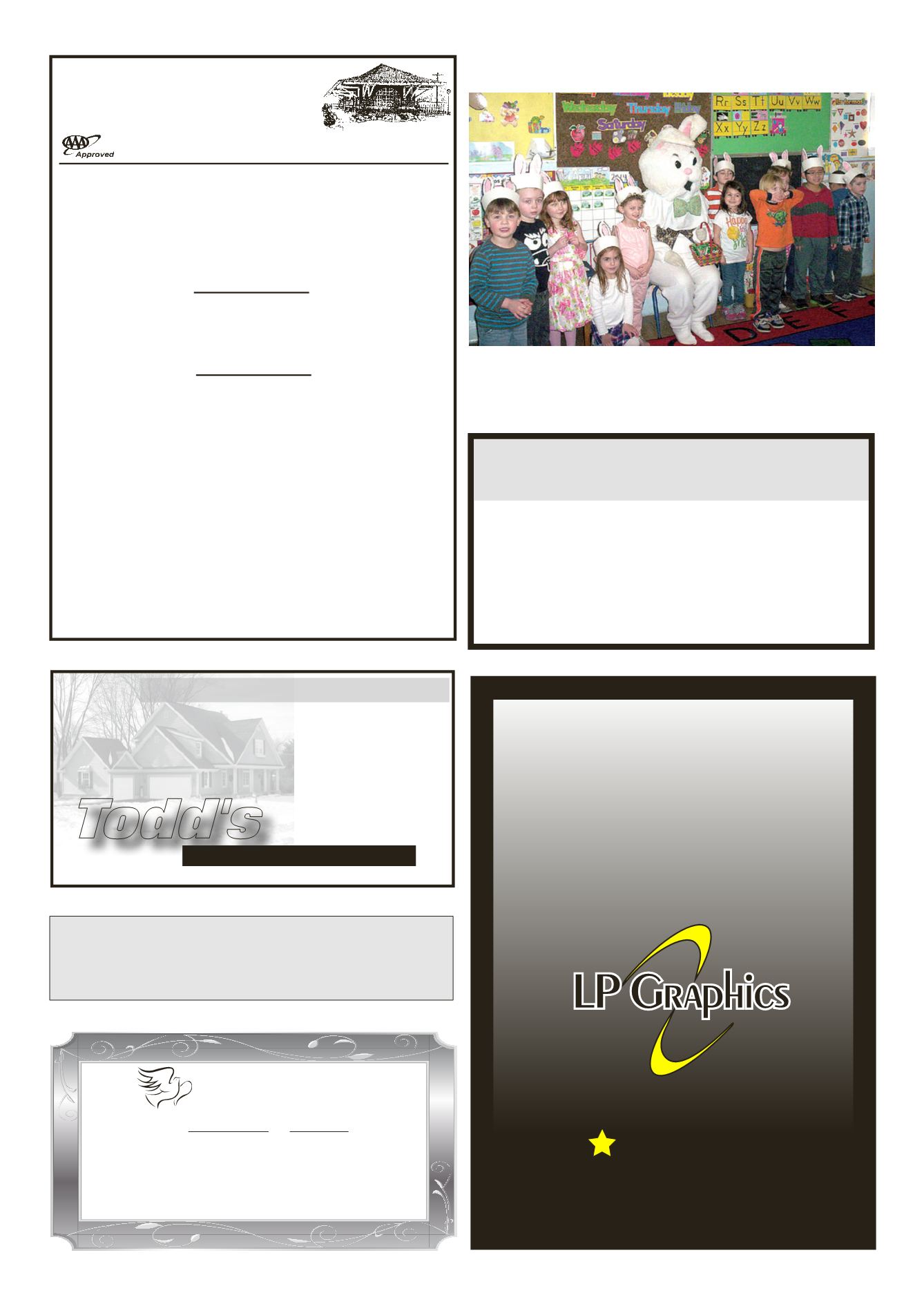 LEROYPENNYSAVER&NEWS -APRIL 20, 2014
D&RDepot
63LakeSt. (Rt. 19), LeRoy• 768-6270
Let'sMeetAt The ...
OpenForBreakfast, Lunch&Dinner - 7DaysAWeek 7am-9pm
TheDepot's new sister company,
DoubleLRental
heaters, bars, linens, dishes& catering supplies for your special occasions!
10%DISCOUNTwhen youuseboth the
D&RCateringServices andDoubleLRental for your event.
Visit doublelrental.com, or call us at (585) 344-0023
F
ALCONE
F
AMILY
Funeral&Cremation Service, Inc.
Director/Owner
Director /Owner
FuneralDirector
NewHomes •Additions •Garages •PoleBarns
ToddCarli • Phone 703-0964
Todd's
Decks •Windows •Doors
Kitchens •Baths
CeramicTile
Basement Finishing
CustomShelves/Built-Ins
Siding •Remodeling
Roofing • SnowPlowing
FULLY INSURED
SUPPORTYOUR LOCALADVERTISERS!
They help sponsor the local news section of the Le Roy Pennysaver.
THANKS FORYOUR SUPPORT!
HappyEaster ToAll!! –FromTheDepot Staff
(and theEasterBunny, Too!!)
SUNDAY,APRIL27thDINNERSPECIAL
BRACIOLLEwith red sauce - $15.99
(includes Italianwedding soup or salad, pasta, beverage
andCannoli cake)
SUNDAY,MAY4thDINNERSPECIAL
HomemadeCANANDIANCRABCAKESDINNER - $16.99
(includes Strawberry soup, potato salad, beverage
anda homemadeCreamPuff)
MOTHER'SDAYMAY11th - servingdinner from 11am-9pm
it's not too early tomake yourMother'sDay reservations
Offering a slightly limiteddinnermenu –
Including:ChickenPot Pie, PrimeRibs of Beef, Steaks, broiled
PorkChops, Ham Steak, Broiled Scallops, PoachedSalmon,
Pastas, and several other entrees
Children'smenu andSenior portions available
Remember – here at theDepotwe do not raise our prices on
holidays andwe strive to seat reservations on time.
LeRoyNurserySchoolhadEasterpartieswithaspecialvisit from
theEasterBunny!The children enjoyedhaving their families at
school, for anEaster egghunt, songs anddances. Picturedhere
is the 3DayPre-KClass.
LNSEasterParty
ALLWORKMANSHIP GUARANTEED • INSURED
297-9097 • 768-7737
• InteriorPainting
• Plaster/LathRestoration
•Drywall&Drywall Repair
•TextureRemoval
• Floors Stripped
&Refinished
•OldCeilings&Walls
MadeLikeNew!
MikeDarby'sPatch&Paint
1CHURCHST, • LEROY, NY • lpgraphics.net
WEHANDLEALLASPECTSOFPRINTING...
PROGRAMS
LETTERHEADS
BILLHEADS
FLYERS
BROCHURES
POSTERS
CARBONLESSFORMS
ENVELOPES
RAFFLETICKETS
NEWSLETTERS
RESUMES
TYPESETTING
RUBBERSTAMPS
ENGRAVEDSIGNS
NAMETAGS
COPIES
LAMINATION
COMMUNITYFAX
NEWSANDPICTURES
ADVERTISING
BUSINESSCARDS
HOURS: Monday thruFriday8:00 to5:00