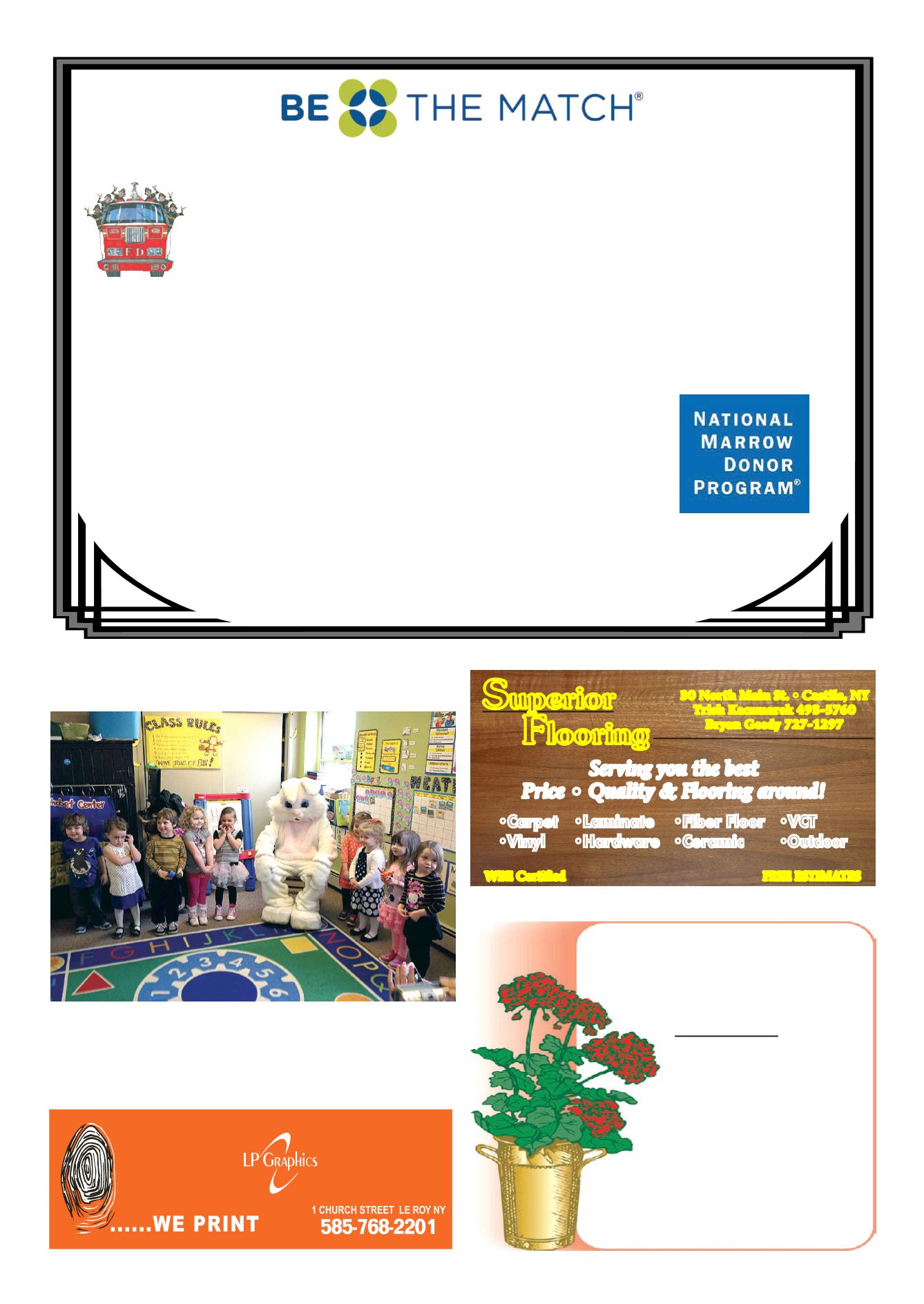 LEROYPENNYSAVER&NEWS -APRIL 20, 2014
30NorthMain St. •Castile,NY
TrishKaczmarek493-5760
BryanGeedy727-1297
We have it all!
WBECertified FREEESTIMATES
•Carpet •Laminate •Fiber Floor •VCT
•Vinyl
•Hardware •Ceramic
•Outdoor
Serving you the best
Price •Quality& Flooring around!
JoinTheBeTheMatchNational BoneMarrowRegistry
Sponsored by theCommunityFireCo. of Pavilion
on behalf of firefighter
Bill Kegler of Pavilion
.
Patients likeBill and hundreds of othermen, womenand children
whohave leukemia, lymphoma or other blooddiseases,
need abonemarrow or blood stem cell transplant and search
theRegistry every day for amatch.
Registration at thePavilionFireDept.Hall
Tuesday,April 22nd
5:00 pm to 9:00 pm
Must be between theages of 18and44 and in good health.
Amouth swab is all that is requiredat this time.
ForMore InformationCall 585.356.9405
LeRoyMusic Boosters
GERANIUM SALE
Benefiting
LeRoyMarchingBand&MusicDept.
OrderbyMay 1st
Pickup onMay 8th –
just in time forMother'sDay!
(Pick-up location isWolcott Street School
BusGarage 2 pm-6 pm)
-Many colors to choose from in 3.5" pots
NOT
- $2.75 each or $44 for a flat of 20 plants
Order forms available from any
marchingbandmember
or by callingTracyMcVicker at 943-7188
Thank you for supporting ourMusicDept.!
SunshineNurserySchool'sPre-kandNursery children enjoyed
Easterthemedactivitieswhilewaiting foraspecialguest to"hop"
in! Picturedherewith theEasterBunny is theNursery class.
EasterPartyAt SNS
lpgraphics.net