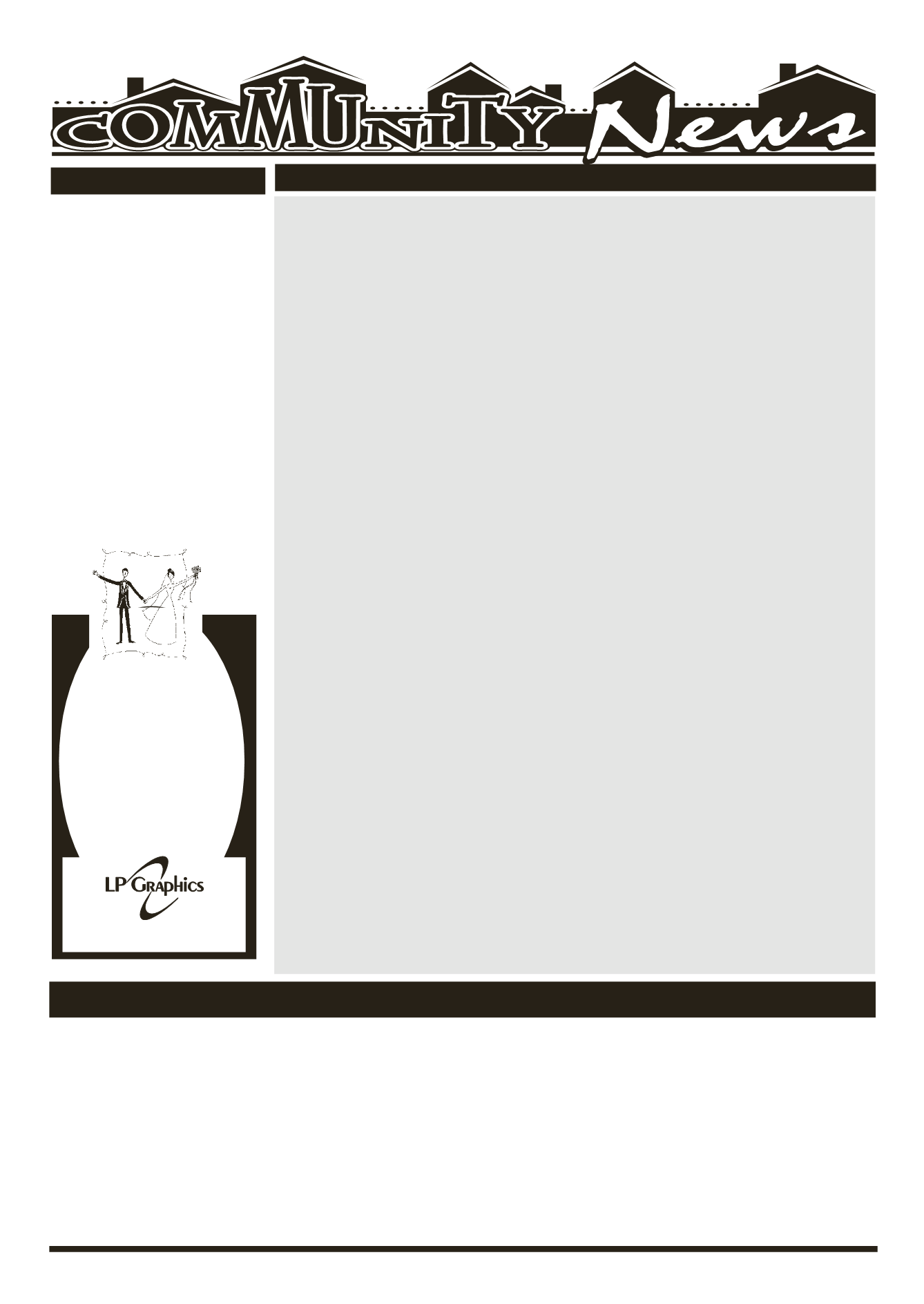 LEROYPENNYSAVER&NEWS -APRIL 20, 2014
AdvertisingTemplates
Entire contents copyrightedbyCarlsonCraft ® .
All rights reserved. 12-07
Invitations, Save theDateCards,
Wedding Accessories, Ceremony,
ReceptionEssentials, Bridal Party
Visit us today!
withwedding invitations and accessories
Stop in today to view our extensive collection
for every style and budget!
lpgraphics.net,Hours:Mon.-Fri.8-5 p.m.
1Church St., Le Roy • 768-2201
All GeneseeCounty residents, 60andolder, can takepart in thisweek'sactivitiesat theBataviaSenior Center, 2BankSt., Batavia. Formore information, call 343-1611.
WEEKLYEVENTS
OBITUARIES
ArthritisExercise
is scheduled tobeginat 9:30a.m.;
Bridge
is scheduled tobeginat 11:30a.m.
Cribbage
is scheduled for 1:00p.m.;
StaffMeeting
Quilters
are scheduled tomeet at 9:00a.m.;
Euchre
is scheduled tobeginat 1:00p.m.
CribbageandBridge
MusicalKeyboardLessons
ArtClassandLineDancing
TaiChi
ManyHands
SUNDAY,APRIL20
AWANAProgramat Penuel Christian Fellowship.
days12:15 to1:45pm.Ages5-17broken intogroups.Developing friendships.
Having fun. LearningaboutGod. Safeenvironment.
KonnectYouthGroupatLivingWatersChurch,
days from6:30 to8:30pm forages12-18. "BringDownall theWalls! Connect
withGod andConnectwithothers." Formore information, checkus out on-
lineat: livingwatersleroy.org/konnect-youth-ministry/
MONDAY,APRIL21
TOPS (TakeOffPounds Sensibly)
meetsMonday evenings from6:30-7:15
pm at the LeRoy Presbyterian Church, corner of Clay &Main Streets. Visitors
alwayswelcome. Call 768-2933 formore info.
TUESDAY,APRIL22
LCCP'sGRACE'SKITCHEN:
A FREE dinner everyTuesday evening, 5-7pm at
theLeRoyUnitedMethodistChurch,10TrigonPark.ParkingavailableonTrigon
Park& the lots to the leftandbackof theChurch.HandicappedEntrance in the
back of the Church. Takeout & delivery are available. For more info. contact
SelbyDavisat585-738-8882or
LeRoy ZoningBoardof AppealsMeeting
(as necessary), 7:30 pm at the
TownHall, 48MainSt. For further info. call 768-6910, ext. 223.
WEDNESDAY,APRIL23
PavilionPublicLibrary:
ComputerClass -ExcelBasics. 6 to8p.m.
Wednes-
day,April30 -OpenAccessSession
forquestions,devices,etc.Registration
necessary - (585) 584-8843. Call Library for info& questions.Woodrow Rd.,
StaffordHistorical Society
will be having its Annual MembershipMeet-
ing, 7:00pmat theTownHall locatedat 8903Route237. After theSociety's
businessmeeting and the electionofmembers to theBoardof Trustees, the
featured speakerwill beSueConklin, GeneseeCountyHistorian. Her presen-
tationwill beon the"Historyof theCountyHome".
VillageofLeRoyBoardMeeting
, 7pmat theVillageHall, 3WestMainSt.
THURSDAY,APRIL24
Genesee Veterans Support Network
(GVSN) supports the development
of Veterans focused AAmeetings every Thursday, 6-7 pm at the First Bap-
tist Church, 306 E. Main St., Batavia. Meetings led byMikeW. & are open to
non-veterans as well. Handicap accessible. For additional information call
GRACE'S CLOSET: A Clothing Giveaway Program
UnitedMethodist Church, 10TrigonPark, LeRoy. 9:30 am to11:30 am every
Thursday. Wehavewarm clothing for all ages. Bedding, curtains, comforters,
pajamas, shoes, boots. We are inneedofwinter coats for all ages.We accept
donations to be dropped off at the house next to the church. Please put all
bags INSIDE on the back porch. No electronics, TV's, computers, dishes, etc.
Anyquestions, call theoffice768-8980.
TownofLeRoyBoardMeeting,
7pmattheTownHallBoardRoom,48MainSt.
FRIDAY,APRIL25
Penuel Christian Fellowship,
One Step to Freedom addictionsministry, a
Christ CenteredAddictions program, aweeklymeeting every Friday at 7pm.
Call theChurch formore informationat768-6901or406-3863.
UPCOMINGEVENTS
LCCP'sMommy&MePlaygroup: Every 2nd&4th Friday,
Le Roy Physical Therapy (in the back gym). Anymoms and their birth-kin-
dergarten children are welcome to come enjoy socialization, lunch, coffee,
structuredgames& freeplay. $5permom
Byron Fire Department Open House: Saturday, April 26 & Sunday,
April 27
from 9am– 4pm. Take pictures of your kids in a fire truck, meet
fire department personnel, and see the equipment up close. Equipment
demonstrations & free blood pressure checks both days. On Sunday, see an
extricationequipment demonstration&enjoyaFREE spaghetti lunch. Byron
FireDepartment is locatedonRt. 262eastofRt. 237. Currentlyacceptingap-
plications for activeand socialmembers.
Sunday April 27, TheWNY Draft Horse Club
will be having it's annual
Old Fashioned Day
at the Honey Locust Farm in Caledonia. There will no
charge toget inor forparking, come spend thedaywithus.A chickenBBQat
noon, other foodwill beavailable too, crafts, demonstrations , plowingand
fittingof thefieldwithDraft horses, Ponies andOxen.Therewill alsobe free
wagon rides and a tentwith crafts for the little kids. An auction of donated
stuffwill be at 1:00 PM . for info call Dean 585-889-4439 address: 4259
Morganville CemeteryAssociationAnnualMeeting,
day,April30,2014.MorganvilleUnitedChurchofChristCommunityHall,8466
MorganvilleRoad, Stafford,NY, SteveBoldt, President, Phone585-739-4303.
TheCovingtonMethodistChurch ishavingtheirAnnualChickenBar-
becue andBazaar
on Saturday, May 3rd, from 4 till 7pm. Themenuwill
include: barbecued chicken, potatoes, rolls, salads, beans, and homemade
pie.Donationsare$9.00 foradults. $4.50 for childrenunder twelve.Takeouts
The LeRoyUnitedMethodist Church
SpringRoast
BeefDinner
on Saturday,May3rdat 10TrigonPark in theVillageof LeRoy.
Dinnerwill be served from 4pm till 7pm, with take outs beginning at 4:30
pm. Dinner will be served buffet-style andwill consist of sliced roast beef,
gravy,mashedpotatoes, butteredpeas, breads& rolls, saladbar, dessert and
beverage. Homedeliverieswithin thevillagewillbeavailablebycalling768-
8980and leavingamessageBEFOREFriday,May2nd. Handicappedparking is
availablebyparking inthebackofthechurchandusingthehandicappedramp.
First Baptist Church of PavilionNY
will be hosting a series of
Revival
Meetings beginning Easter Sunday Morning
baughwill be the guest speaker. Sunday'smeetings will commencewith a
Sunrise service at 7:30 am followed by services at 9:45 am, and 11:00 am.
Thepublic iswelcome.Mr. Sharbaughwill speak againMon.-Wed. evenings
at 6:30 pm. There is plenty of parking, we are handicapped accessible and
there is anursery. Callwithanyquestions to585-584-3179; ext #12, leavea
messageand the secretarywill call youback."
StoneChurchPresbyterianChurch -Women'sAnnual Rummageand
BakeFoodSale
-May1st, Thursday–5p-7p.;May2nd,Friday–9a–1p.Bag
Sale the2nd. -9a-1p., 7549S. LakeRd. (Rt.19)Bergen,NY.
CommunityCalendar Submissions shouldbe sent to:
BETHANY— Cherie Fleenor, formerly
Scudder, of Bethany, died very unex-
pectedlyApril2,2014, in Irpeen,Ukraine,
whileonanoutreachdentalmissionwith
her husband David. In lieu of flowers,
memorials may be made to PanCan.
org thePancreaticCancerOrganization,
1500RosecransAve.Suite200,Manhat-
CALEDONIA— LaVerne John Heale,
73, diedSunday (April 13, 2014). In lieu
of flowers, memorials may be made to
theAmericanKidneyFoundation, Cale-
doniaAmbulance, Hildebrandt Hospice
Care or FaithCommunityChurch.
LE ROY — Anne B. Liberti died Jan.
17, 2014, at age 96. Memorialsmay be
made to the Genesee County Nursing
Home, Memory Unit, 278 Bank St.,