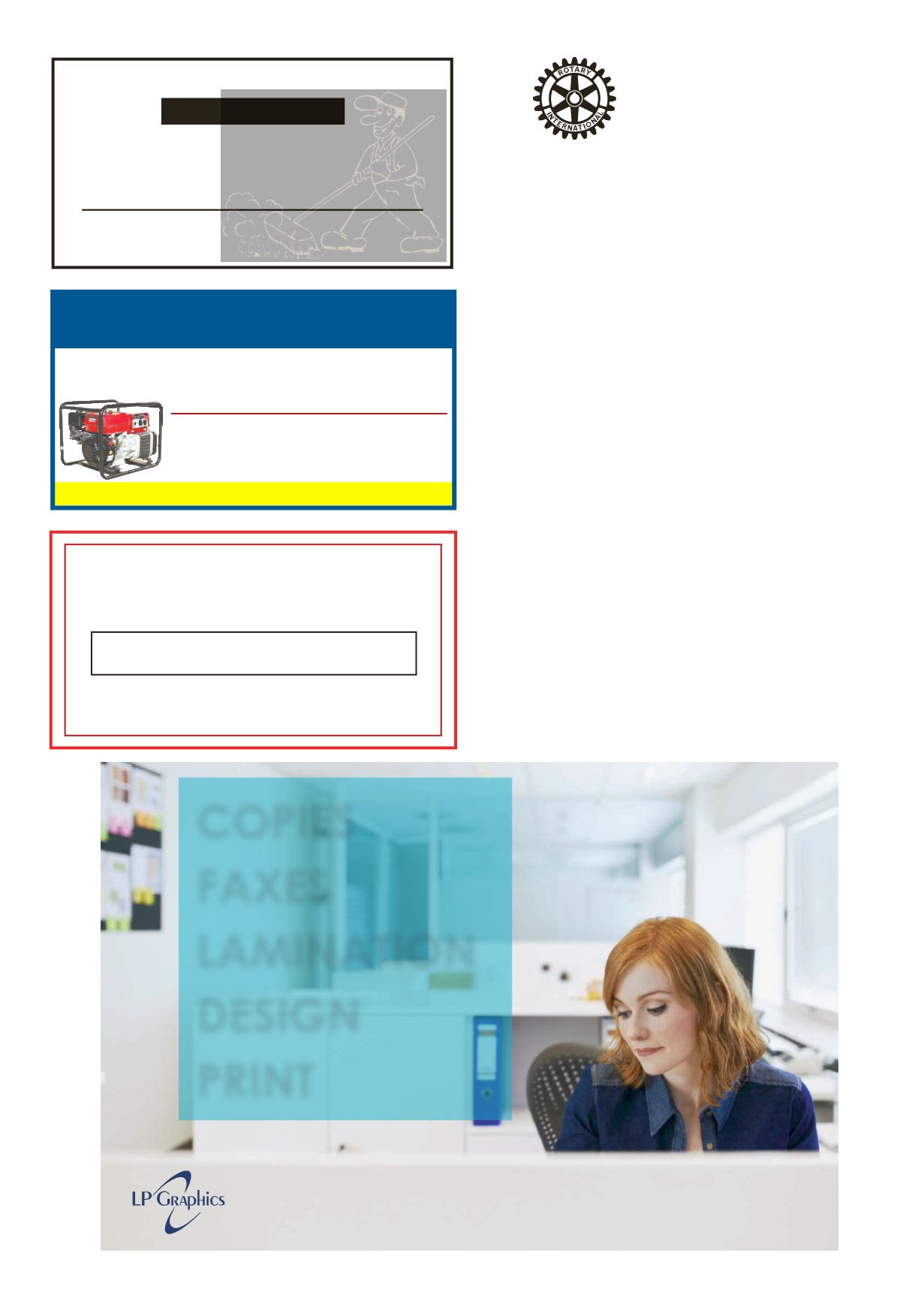 LEROYPENNYSAVER&NEWS - SEPTEMBER 25, 2016
ATV's • Snowmobiles •Generators • Snowblowers
Tuesday-Friday, 10 am to 4 pm, OtherTimesByAppt.
8525Rt. 237, Stafford, NY
Service&Repairs -ALLMAKES&MODELS
PickUp&DeliveryAvailable
AllMajorCredit CardsAccepted
Plumbing • Heating
Installation&Repair Service
For All Residential &Commercial Work
CleaningService
•Carpet &UpholsteryCleaning
•Spot Cleaning&Odor Removal
•Tile&WoodFloor Cleaning&Waxing
•Complete Janitorial Services
Notes for Sept. 14, 2016
After the Pledge of allegiance
and a prayer, President David
Graysonopened today'smeeting
with the announcement that it
wouldbeashortmeetingbecause
therewasnoprogramandhehad
The followingannouncements
were made: The Rotary Family
Picnic will be held this Sunday
at Bob& Lori Bennett's Home;
TheLeRoyHistorical Society is
holding their chicken barbecue
at Trigon Park this Sunday; The
Past President's Dinner will be
September 28th at Stafford CC.
There will be some great food
choices at bargain prices; Mary
Margaret Ripley will host a eu-
chre party onOctober 8th at her
house. Bob Bennett announced
that theApplianceRafflewill be
November 6th at theLegion and
Tracy Ford encourage rotarians
toattend theWalk toEndAlzhei-
were Ron Pangrazio, who had
an online makeup about book
reading. Nanette Chiuli covered
her twomisseswithgreencards,
LeRotary
Notes
as didTomCox, TimMoag,Rob
Murray and Phil Weiss. Randy
Vinkpulledout a breakfastwith
Fines were numerous today.
TracyFord,Anil Sawhney, Ran-
dyVink, TonyGugino andPres-
ident David all paid for having
had so much fun at the LeRoy
Business Council Golf outing.
Then,not tobe leftout,SamVagg
was fined for her appearance at
the dinner that followed. June
Dusen was fined for refusing to
admit her presence, thought it
was kind of obvious to everyone
else that shewas there.Christine
Gephart having been over fined,
hadher finepaidbyRobMurray
and PhilWeiss paid for a swing
set mishap which may or may
not have been connected to the
strange weather reports coming
After the 50/50, President
David was quick to close the
meeting and was last seen hur-
rying from the building. Please
like us on Facebook. Interested
in learning more about Rotary?
1ChurchSt., LeRoy, NY14482
585.768.2201
raphics.net
COPIES
FAXES
LAMINATION
DESIGN
PRINT