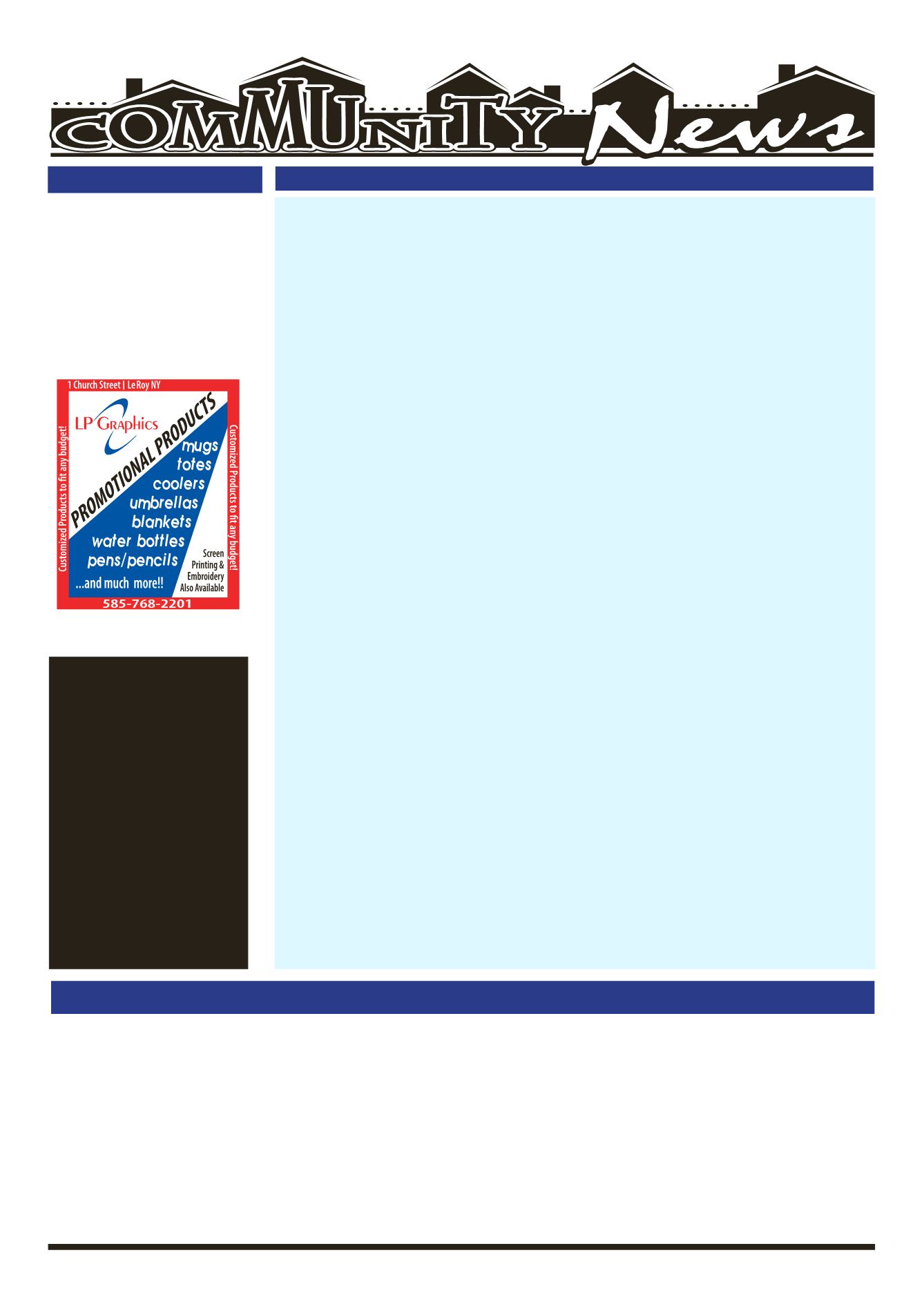 LEROYPENNYSAVER&NEWS - SEPTEMBER 25, 2016
Le Roy
Pennysaver
All GeneseeCounty residents, 60andolder, can takepart in thisweek'sactivitiesat theBataviaSenior Center, 2BankSt., Batavia. Formore information, call 343-1611.
SENIORCITIZENSACTIVITIES (September 26th - September 30th)
WEEKLYEVENTS
OBITUARIES
ArthritisExercise
is scheduled tobeginat 9:30a.m.;
Bridge
is scheduled tobeginat 11:30a.m;
Tai Chi
NewsletterAssembly
is scheduled tobeginat8:45a.m.;
Cribbage
is scheduled tobeginat1:00p.m.
Quilter'sGroup
is scheduled tobeginat9:00a.m.;
Euchre
is scheduled tobeginat1:00p.m.
TaiChi
isscheduledtobeginat9:30a.m.;
GentleFitness
isscheduledtobeginat10:30a.m.;
Cribbage
Bridge
isscheduled tobeginat1:00p.m.
ArtClass
is scheduled tobeginat 10:00a.m.;
LineDancing
is scheduled tobeginat 10:00a.m.;
Euchre
SUNDAY, SEPTEMBER25
MONDAY, SEPTEMBER26
TOPS(TakeOffPoundsSensibly)
meetsMondayeveningsattheLeRoyPresby-
terianChurch, corner of Clay&MainStreets.Doorsopenat6:00PMandmeeting
is from 6:30-7:15PM. Visitors are always welcome. Call 585-768-7103 for more
TUESDAY, SEPTEMBER 27
FoodlinkFreeMobileFoodPantry:
MorganvilleUnitedChurchof Christ is
partneringwithFoodlinkofRochestertohostafreemobilefoodpantry,Tuesday
at 3:30-5:30 PM at Morganville United Church of Christ, 8466 Morganville
Road (offRt237, 1milenorthof Stafford). Theexact food itemsandquantity
availablearenotknown,but freshproducewillbeavailable. Mustbe18years
ofage,no income requirementor ID required. Mustprovideownbags/vehicle
to transport items to your home. Food provided on a first come, first serve
basiswhile supplies last.
Preschool Storytime :
EveryTuesdayat11am featuring stories, craft and
songsatPavilionPublicLibrary, 5 WoodrowDr., Pavilion. For info: 584-8843.
GRACE'SCLOSET:
A clothinggiveawayprogram sponsoredbyLeRoyUnited
MethodistChurch,10TrigonPark, LeRoy,9:30 to11:30AMeveryThursday.We
haveclothing forallages.Weare inneedofboy'sclothingsizes0-3T.Donations
canbedroppedoffat thehousenext to the church. Pleaseputall bags INSIDE
on thebackporch. NOELECTRONICS, COMPUTERS,DISHES, etc. OpenTuesdays
5-6:30pm.Anyquestions call theoffice768-8980.
LeRoyZoningBoardofAppealsMeeting(ASNECESSARY)
TownHall, 48MainSt. For further info call 768-6910, Ext223.
Coding for Kids Program
for grades K-2 at theWoodwardMemorial
Libraryat3:20-4:20PM. Makeabracelet that spells yournameor initials
usingbinary code - the same languageyour computeruses! Registration
WEDNESDAY, SEPTEMBER28
Themonthlymeeting of the Stafford Historical Society
Wednesday, September 28at 7:00PMat theTownHall, 8903Route237. Our
programwill be: Ford Best and Scott Clark, well-known local reinactors.
Theywill arrive to themeeting dressed in themilitary uniform ofWW ll G.I.
andParatrooper andwill showandexplain theproper equipmentof theera.
FirstBaptistChurchofPavilion
isbeginning theirWednesdaynight youth
JOY CLUB
begins at 6:30 PM - 8:00 PM. Fun time of Bible stories,
Biblememory, gym and refreshment time. The teen group is also beginning
7:00PM-8:00PM. Anyquestionscall585-584-3179,ext#12 leaveyournumber
and the secretarywill call youback.
LEGO&Game Club
at theWoodwardMemorial Library for children in
grades K-6 at 3:20 - 4:20PM. Buildwith Legos, play board games with
your friends, or jamoutonGuitarHero. There is something for everyone.
Registration isNOT required.
THURSDAY, SEPTEMBER29
StaffordUnitedMethodist Church,
6134Main Road (Route 5) Stafford.
Chicken&BiscuitDinner,
Thursday,September29,takeoutsavailable 4:30
pm, serving5:00pmuntil soldout.Menu: chicken&biscuitswithgravy, real
mashedpotatoes, baby carrots, cranberry sauce, cabbage salad, homemade
Football Party
for grades 3-6 at theWoodwardMemorial Library at
3:20-4:20 p.m. Come celebrate the beginning of FOOTBALL SEASON at
the library!We'll bemaking foam fingers, megaphones, and playing a
few football-themedgames. Be sure towear your favorite team's colors!
FRIDAY, SEPTEMBER30
PenuelChristianFellowship,
OneSteptoFreedomaddictionsministry,aChrist
CenteredAddictions program, aweeklymeeting every Friday at 7pm. Call the
Church formore informationat768-6901or594-9575.
PenuelChristianFellowship
isorganizingayoungadult fellowshipandBible
study. Ages: 12andup, Time: Fridays from7-9pm, Study: thebookof Romans
(a16week course), taughtby JosiahGariboldi. Place: 7115WestMainStreet.
SATURDAY,OCTOBER1
Fall Festival
at theWoodward Memorial Library anytime between
10AM and 4PM Crafts for kids; donuts, cider and coffee providedwhile
UPCOMINGEVENTS
TheCovingtonUnitedMethodistChurch
ishavingtheirannualHamDinner
withBazaar andBake-saleonSaturday,October8th from4 -7PM.Themenu
will includeham,rolls,potatoes,squash,beans,applesauce,andseveralkinds
ofhome-madepies. Thechurch is locatedonSimmonsRoad,betweenPavilion
andPerry, inWyomingCounty.
Toddler Time for Twos and Threes
begins onMonday, October 3 at
theWoodwardMemorial Library. Program runs eachMonday through
November 14 from 10:30 - 10:50AM. Toddler Time is a storytime for
childrenwho are 2 and 3 years old and a caring adult. Rhymes, stories,
music, flannel boards, coloring, and bubbles! Call 768-8300 or register
Preschool Storytime
beginsonTuesday,October4 for childrenages3,
4,5and6attheWoodwardMemorialLibrary.ProgramrunseachTuesday
throughNovember 15 from 6:30-7:00PM. Stories,music, flannel board
stories,fingerplays,nursery rhymes, coloring, sign language, gamesand
bubbles!Childrenmustbe3bythestartingdate.Call768-8300orregister
CommunityCalendarSubmissions shouldbe sent to:
PAVILION ~Alan J. "AJ" Hargrave,
55, of Pavilion, passed away unex-
pectedly Thursday, (September 15,
2016) at United Memorial Medical
Center, inBatavia. In lieuof flowers,
memorials may be made to the
family, for distribution to various