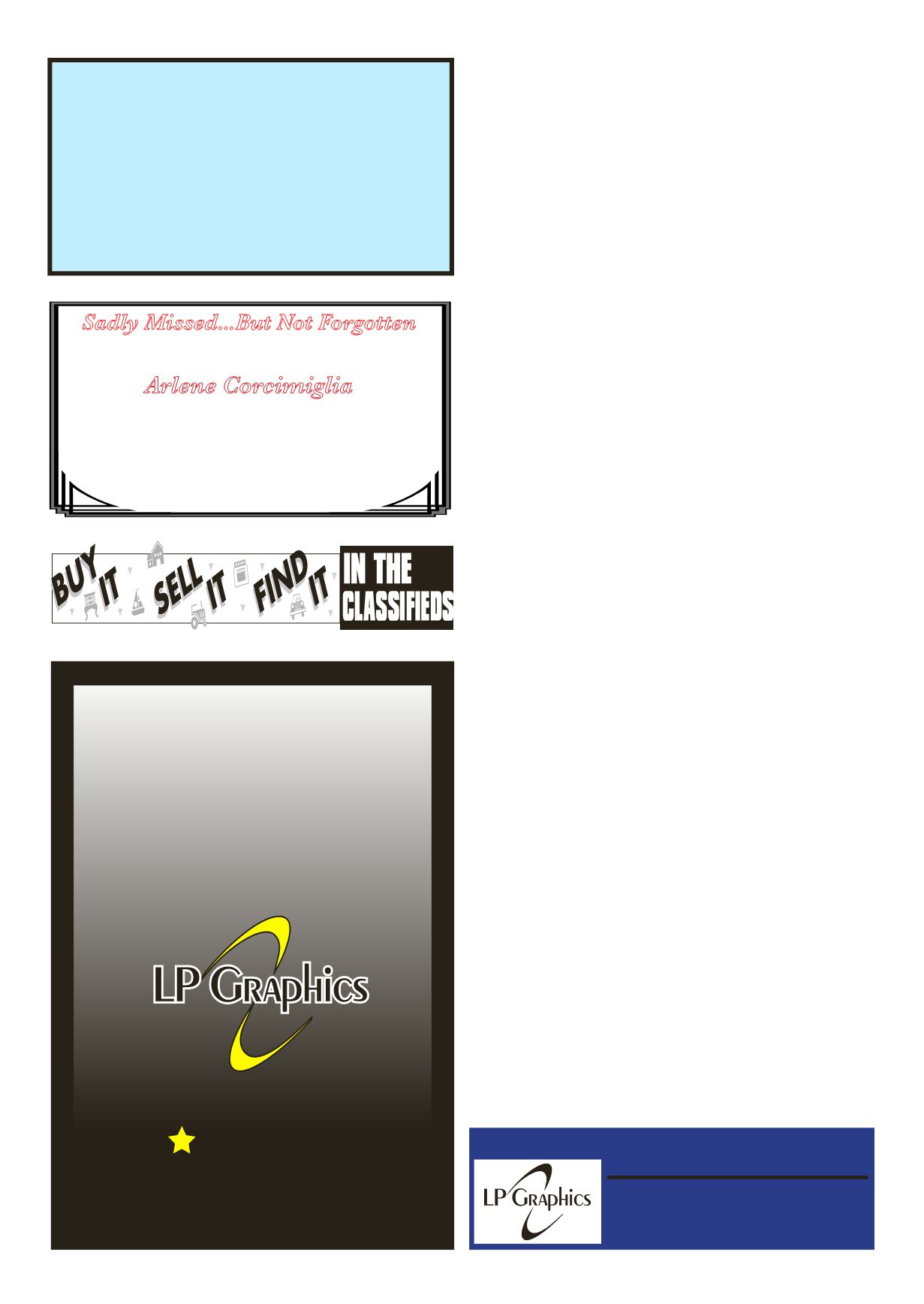 LEROYPENNYSAVER&NEWS - SEPTEMBER 25, 2016
WithGratitude andAppreciation
FRANCESCOA. (FRANK)ANTINORO
Our Lady ofMercyParish& 8:30Choir, hisDoctors,
LeRoyAmbulance, Falcone family, and all thatwere
involvedwithFrank's care. Thank you family, friends and the
community for your condolences, visits, calls, cards,masses,
food, flowers and donations during this very difficult time.
1CHURCHST, • LEROY, NY • lpgraphics.net
WEHANDLEALLASPECTSOFPRINTING...
PROGRAMS
LETTERHEADS
BILLHEADS
FLYERS
BROCHURES
POSTERS
CARBONLESSFORMS
ENVELOPES
RAFFLETICKETS
NEWSLETTERS
RESUMES
TYPESETTING
RUBBERSTAMPS
ENGRAVEDSIGNS
NAMETAGS
COPIES
LAMINATION
COMMUNITYFAX
NEWSANDPICTURES
ADVERTISING
BUSINESSCARDS
HOURS: Monday thruFriday 8:00 to 5:00
FlagFootball
AvonRedTeam
TheLeRoyflag football teams
traveled to Avon on Sunday to
play thehostBraveson theirnew
artificial turf. The Braves were
comingoffasuccessfuldayat the
Warsaw flag tournament where
they went unbeaten and once
tied. LeRoyRed&BlackTeams
werewell prepared and on point
all morning as they flexed their
littlemuscles and out dueled the
The RED team received the
ball on offense first and went
without afirst down in theopen-
ing drive. TheAvon coaches did
their defensive homework as
"#1 isGaillard, watchhim",was
shoutedearlyandoften.Donovan
Gaillard, the speedy wing back
was Avons focus, but you can't
stop him you can only hope to
contain him as he broke a 40
yard pass delivered from Ryder
Stiles settingupfirst andgoal on
theBraves 10yard line.Gaillard
would get the call again but was
stopped short on the 5 yard line.
On second down Kade Olovani
would take theball down the the
2yard lineas theBravesdefense
was aggressive and unforgiving.
ThenRyder Stiles threw a shov-
el pass to his younger brother
Carson who was flipped up and
twisted just shortof thegoal line.
Now, 4th & goal and scoreless,
Kade Olovanti ran up the mid-
dle,over a defender extending
his arms out in a pile of bodies.
After a long delayed call from
the referee ...TOUCHDOWN!
Olovanti scores his first career
touchdown as the LeRoy fans
Gaillard would shred the de-
fenseagainon theverynext pos-
session as the Stiles to Gaillard
AndreasCondidoriocontinued
his touchdown streak as he has
scored in 3 consecutive games.
Gaillard would add another
Touchdown to cap off an excel-
lent fastpacedoffensiveshowing
was led by Olivani and Carson
Stiles. Olivani would parlay his
first touchdown into his best im-
pression of JJWatt, as hewas in
thequarterbacks faceallmorning
grabbing4flags on the day. Car-
sonStileswhoplayedman toman
defenseagainstAvon'sbestplayer
allmorninghad4flaggrabs and
a thunderous collision to cap off
a great day for the RED squad.
Chandler Hall, JacobKeller and
Jacob Kamanski all played well
as a unit as Avon was only able
The Black squad was led by
Quarterback Peyton Privitera.
Privetira would throw a laser to
JudeChrist ona25yardpassear-
lysettingup their rungameas the
Braves defense was off balance
as Previtera playedflawlessly all
MarinKemp opened the scor-
ing as she is in the end zone as
often as the goal post. Kemp'
aggressiveness is the catalyst for
the Black teams toughness and
sets the tone for the entire day.
Speedster,GradyKanaleyhad
2 touchdowns as he was laser
sharp. Kanaleywould save his
best play for the last play of the
game. He ended the morning
on a dramatic game tying touch-
down,hurdlinganAvondefender
ashe touched thepylon inmidair
TheBlack squads defensewas
pacedbyJudeChristwho has the
entire left side lockeddownwith
BrennanWeber. Jon"hawkeye"
Bogan along with Caleb Schutt
andCamDunawaywould secure
multipleflags allmorning.
The next game is at 10:30 at
Hartwood park against rival
SadlyMissed...ButNot Forgotten
The Family of
ArleneCorcimiglia
would like to extend their
sincere appreciation for all the acts of kindness shown
to them during this time of sorrow.
Fromall of Arlene'sFamily
1ChurchSt., LeRoy, NY14482
585-768-2201
FAX 585-768-6334
WeDo